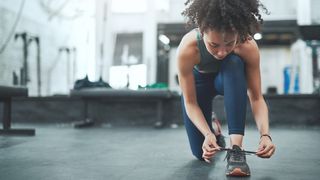 (Image credit: Getty Images / Jay Yuno)
After shelling out for a gym membership, you'd be forgiven for hoping you could skip the purchase of a new pair of workout shoes. And you can! As long as you take it easy, any old trainers will do, but if you're looking to make the most of your gym membership then investing in a pair of the best gym trainers could pay off. The right shoe can make a world of difference to your gym training.
The best starting point is to figure out what type of workout you plan to do, because that can steer you towards the most appropriate features.
There are plenty of do-it-all cross-trainers, but each model will prioritise features that lean towards a certain discipline, which we'll indicate in our recommendations below. The best CrossFit shoes have to combine enough cushioning to handle box jumps and short runs with the stability needed to handle technical lifts, as well as being durable.
The best weightlifting shoes include additional heel support and a stable base, which will set you up for success when lifting, especially squatting. They will also have a significant drop or offset (the difference between the height of the heel and the height at the front of the shoes), which helps mobility.
Another feature to watch out for is extra grip on the edges of the sole to aid quick lateral movements. This is helpful if you're attempting speed and agility training.
One word of warning: the best running shoes aren't a great option for the gym unless you plan on doing exclusively treadmill workouts. The extra cushioning makes for an unstable base when lifting weights and – since runners only move forwards – running shoes tend to lack support for quick lateral movements, making it easier to turn an ankle. Fear not if you are a runner who's planning to spend more time in the gym and want one shoe to do it all – we have a great pick from On that will suit you.
We've pulled together our picks for the best gym trainers for every need. Find the right pair for you and go get 'em, tiger.
The Best Gym Trainers
Best all-rounder for cushioning
Reasons to buy
+
Supportive
+
Comfortable
+
Stylish colourways
Reasons to avoid
-
Sizing can be tricky
-
Laces aren't the best
Reebok's Nano and Nike's Metcon (below) lines have been duking it out for the title of best all-rounder across many generations and they're difficult to separate. Our reviewer, who has used both, prefers the Nano X2 over the Metcon 7 for plyo work and short runs, where the Floatride foam – used in Reebok's excellent running shoes – shines through.
Compared with the Nano X1, extra padding has made for a more comfortable fit in the X2 and a heel clip has improved stability in the squat rack. The only issue our reviewer experienced was a little space on the sides of the shoe, which led to some lateral slipping – you may wish to order a couple of sizes and send back the ones that aren't right. The laces, too, weren't up to the build quality of the rest of the shoe.
Those quibbles aside, the Nano X2 is a comfortable all-rounder and good-looking, too – the right colourway may just tip your decision in its favour.
Read more in our Reebok Nano X2 review
---
(opens in new tab)
Nike Metcon 7
Best all-rounder for stability
Reasons to buy
+
Great stability
+
React foam midsole offers extra protection from impact
+
Rubber on arch provides traction for rope climbes
Reasons to avoid
-
Fit is too narrow for some
The Metcon line has long been popular with gym-goers looking for a shoe that can handle pretty much anything you throw at it. When lifting free weights, the flat, wide heel gives you the stability you need, and the latest version adds Nike's React foam to the midsole for extra comfort and protection when using the treadmill or doing plyometric exercises. If you're a fan of rope climbs then the rubber that wraps the arch of the foot provides extra traction, which is a fairly niche benefit, but a benefit nonetheless.
---
Puma Fuse
Best-value gym trainer
Reasons to buy
+
Relatively affordable
+
Durable
Puma may not have the recognition in the functional training world that Nike and Reebok do, but that won't be the case for long. Puma sponsors the HYROX fitness race and is undercutting the more established names with well-made workout shoes.
All the key design elements are here: heel clip, wide toe box, tough and breathable upper, and durable grip (the same used on its excellent range of running shoes, which lasts an especially long time).
---
(opens in new tab)
Nike Air Zoom SuperRep 3
Best for HIIT
Reasons to buy
+
Great stability and protection from impact
+
Unique features that help with various HIIT moves
Reasons to avoid
-
Cushioning means they're not suited to heaving lifting
Nike aspires to create shoes tailored to every kind of training session, and the SuperRep 3 has been made to suit the varied demands of HIIT workouts, although in practice it's great for all manner of workouts. The combination of a wide base and plump cushioning provides stability and protection from the impact of the kind of vigorous, jumping exercises that raise your heart rate. The SuperRep 3 also has a groove on the front called the burpee break, which helps you hold positions like planks, press-ups and, indeed, burpees when you're up on your toes. There's also an arc on the outside that adds extra stability for lateral movements like skater jumps. Nike has updated the fit on the earlier SuperRep to create more room in the forefoot while allowing you to tighten the midfoot with the adjustable tongue.
---
(opens in new tab)
On Cloud X
Good for runners
Reasons to buy
+
Firm yet has some cushioning
+
Also a great race shoe
Runners are repeatedly told to spend time in the gym to improve their strength and avoid injury, but really they'd rather be out running, so the requirements of a gym trainer for runners are often limited to only the exercises required to help them run – namely leg and core exercises. The Cloud X delivers with ease on these fronts. The firm heel provides the kind of support during squatting and lunging that running shoes fail to, with their squashy, cushioned soles. The upper on the toe box is all mesh so it's eminently breathable, and the sole is firm enough to transfer power while cushioned enough to attack box jumps in HIIT classes without jarring your knees. The best news of all for runners? The Cloud X has also developed a reputation as a great race shoe thanks to that mix of firmness and cushioning.
---
Under Armour TriBase Reign 4
Best Under Armour gym shoe
Reasons to buy
+
Excellent stability
+
Good for fast, heavy lifts
+
Enough bounce for short runs
+
Outsole has good traction
While the bottom of this shoe is not a precise triangle – that would have been an interesting experiment – it does harness the power of the popular three-sided shape to create a stable base for your workouts. The shoe has a low 2mm offset to further increase that stability, while the outsole features all manner of patterns to increase traction for heavy lifts or when jinking your way through lateral movements in an agility workout. It's a particularly good shoe for the fast, heavy lifts involved in CrossFit, and the Micro G foam midsole has enough bounce in it for the short runs involved in the sport as well.
---
(opens in new tab)
Vivobarefoot Primus Lite III
Good for barefoot training
Reasons to buy
+
Helps train your feet to support themselves
+
Sustainably produced with little impact on the environment
Reasons to avoid
-
Lack of support and protection
You may have never looked at the shoes Joe Wicks is wearing in his workout videos – difficult when you're out of breath – but we have, and the shoes he wears look like Vivobarefoot's Primus to us. There's no official relationship (can you imagine how much that endorsement would cost?), but the barely-there sole and wide, clown-like toe box which allows the toes to spread are unmistakable. The design doesn't protect your foot the way other trainers do, but the flipside of that is – as long as you take things slow and steady at first – you can strengthen your feet so they don't require any protection.
The latest Primus Lite has seen a big change in how it's produced with fewer materials employed and a greater proportion of recycled ones, so its impact on the environment is reduced. And once they're trashed you can send them to Revivo (a Vivobarefoot offshoot) instead of landfill to be repaired or reused.
---
Nobull Trainer
Good for CrossFit
Reasons to buy
+
Durable upper protects from abrasion
+
Multi-directional lugs offer grip when moving in all directions
+
Understated design
Reasons to avoid
-
Looks can be underwhelming
They may not look like much, but there's more than meets the eye to this understated functional fitness shoe from Nobull. In a world where shoe designers are seemingly trying to one-up each other when it comes to eye-catching products, Nobull has gone the other way and produced a slick design that doesn't show off its features. The upper is made from a single piece of durable material that's designed to prevent abrasion from equipment like ropes climbs, and there are guard plates positioned around the base of the shoe to increase the overall protection. Unlike running shoes, there's also an outsole lug pattern built for multi-directional movement, meaning you're feet will grip the ground regardless of which way you're going.
---
(opens in new tab)
Inov-8 Fastlift 360
Good for weightlifting
Reasons to buy
+
Good for all weightlifting disciplines
+
Versatile enough to be used elsewhere in the gym
While we'd recommend other shoes for specialists in deadlifting, Olympic or powerlifting, this trainer charts a course that can navigate all disciplines smoothly. That's thanks to the stable heel and secure Velcro strap, plus a little more flexibility and grip on the sole, which make the 360 more than capable of stepping away from the bar for a bit.
---
Reebok Nano X1 TR Adventure
Good for outdoor fitness
Reasons to buy
+
Popular shoe adapted for outdoor surfaces
+
Lugged outsole provides grip on wet and muddy surfaces
Reasons to avoid
-
Not as stable as indoor models
If the last couple of years has taught gym-goers anything, it's that we may not always have the luxury of a kitted-out indoor studio to train in. As well as dealing with the bad weather that often comes with exercising outdoors, it also means wearing shoes that are better suited to natural surfaces. The Nano X1 TR Adventure takes its cues from the popular Nano line-up – a range designed for indoor functional fitness – and adapts it for the more demanding needs of the outside world. The shoe still features Reebok's responsive Floatride midsole cushioning but also includes a lugged outsole to stop you from slipping around on wet and muddy surfaces, and a durable ripstop upper.
Sign up for workout ideas, training advice, the latest gear and more.
Thank you for signing up to Coach. You will receive a verification email shortly.
There was a problem. Please refresh the page and try again.