Amazon Dash Lets You Order Next-Day Deliveries of Protein Powder and Coconut Oil
By Nick Harris-Fry published
Amazon Dash does one-touch household shopping for you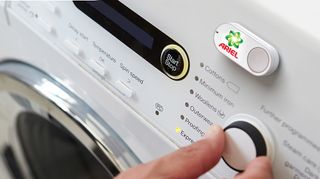 (Image credit: Unknown)
Superb news for the busy and idle alike, as with Amazon Dash your house goes shopping on your behalf, saving you a trip to Tesco for the daily essentials that are so easy to forget the moment you're not using them.
No more popping out in your dressing gown because you're low on Listerine (opens in new tab) or hoping co-workers won't notice that the only thing coming out of your Right Guard (opens in new tab) dispenser that morning was warm air.
Instead, as you notice your Nescafé (opens in new tab) running low you can instantly hit a button that you've placed by your coffee machine to ensure a top-up is delivered within 24 hours – swiftly avoiding an early morning meltdown with the added bonus of making you feel like you're in the future.
The instant physical purchase button is essentially free, as you get the £4.99 cost back in credit, and is set up via Wi-Fi through the Amazon Prime app. While only 48 brands are currently signed up in the UK, our early-adopting American cousins have been living in a smart-house world for a while now and have a growing selection of 150 brands – from Starbucks, Lavazza and Illy to Burt's Bees, Schwarzkopf and Garnier – on tap already.
The buttons can be scattered around your house so you remember to replenish your essentials while you're actually using them. Nobody enjoys shopping for protein powder (BSN (opens in new tab) and Optimum Nutrition (opens in new tab) available) or coconut oil (Biona (opens in new tab)), so if you're not staring directly into a dwindling packet of powder you're likely to forget you need it – and undergo the irritating experience of running out. Down to your last razor blade? Gillette (opens in new tab) and Wilkinson (opens in new tab) are on board. Hair threatening to abandon your head? Buzz for some emergency Regaine (opens in new tab).
There's also no worry that a mountain of Nicorette (opens in new tab) is going to turn up on your doorstep if you hit the button one too many times in a nicotine-deprived rage – once the order has been placed another won't be processed until your delivery has arrived. Just be aware that Dash takes 24 hours – even though Durex (opens in new tab) have signed up, that might be one to still make an emergency trip to the shop for.
Buy Amazon Dash buttons
Sign up for workout ideas, training advice, the latest gear and more.
Thank you for signing up to Coach. You will receive a verification email shortly.
There was a problem. Please refresh the page and try again.