Camping Essentials Checklist With Adventurer Andy Torbet
By Andy Torbet published
The essentials – and only the essentials – for a couple of nights' camping in the warmer months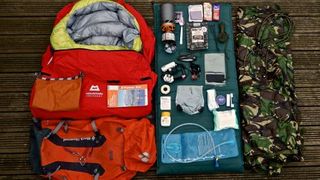 (Image credit: unknown)
So you're going camping. What should you take? I'll assume you're heading out between late spring and early autumn, and on foot – not by kayak, bike, dog sled or toboggan as that may alter the kit list advice a little. That means you'll want to travel light. It's not a gym session (unless you are using it as one, in which case by all means load up that Bergan and get running up that hill) and you'll be happier and safer if you're carrying as light as pack as possible. Trust me.
We're also talking about being out for no more than a night or two. Trying to survive out in the wilds for months at a time requires you to carry an awful lot of bushcraft knowledge, which might not weigh much but takes years to accumulate – I can't hope to cover it all here.
The list also doesn't cover clothing (apart from number 12) – don't take this to mean I'm advocating running around our National Parks with your bits hanging out but your head covered. Nor is it meant to be super-alpinist (ie ultra-light). It's just some sensible ideas to consider when thinking about your camping kit checklist.
Camping Essentials in Brief
Headtorch
Knife
Back-up headtorch
Navigation aid
Water
Food
Cooking utensils: small pot and fork or spoon
Camera
Simple first aid kit: zinc oxide tape, rehydrating sachets, lip salve, sun cream
Wash kit: mini toothbrush and toothpaste, wet wipes, talcum powder
Repair kit: paracord, zip-ties, gaffer tape
Hat
Stove
Large ziplock bag
Shelter
Sleeping bag
Sleeping mat
Dry bags
Rucksack
1. Headtorch
Being unable to see can either create or worsen a serious situation. You can have the best emergency kit in the world but it's not much good if you can't find it. Being able to see is also handy when you're making camp, cooking or going for a pee after sunset. If I only ever carry two things, this is one.
2. Knife
And this is the other. Yes, a knife makes you feel like a real man – a warrior – and it can help defend yourself and/or a fair maiden from wild beast and/or ruffians, but in the real world it's quite handy too. It's a tool, not a weapon (usually). The sort of knife you need depends on how you'll use it, but providing you're not using it to split logs or anything too forceful a simply lock knife will suffice. I have a titanium one – it's light and won't rust even if left in salt water. Make sure your knife is robust and sharp – in fact, learn how to sharpen it: it's a good man-skill to know and prevents your knife developing into nothing better than a badly-designed spoon.
3. Back-up Headtorch
If you need one you'll need two. I keep a second very small one around my neck when I'm sleeping. That way, when I wake tired and groggy in the middle of the night and I need to act fast, I can find my torch to find whatever else I need.
4. Navigation Aid
Some time ago I'd have said map and compass but these days we have Nav Apps, GPS on our watches and maps on our phone, so I'll just say this: know where the hell you are.
5. Water
Water is heavy, so how much you carry will depend on how often you can refill (purification will depend on where you get it from). I use a bladder system to drink on the move. When I've made camp I can hang it from a tree or rock with the bite valve lower than the bag and voilà – a squeezable tap. Remember that you'll need extra if your rations are dehydrated, and keep some in reserve for breakfast and morning brews.
6. Food
There are plenty of camping rations out there, from dehydrated (light but needs water) to boil in the bag (heavier, simpler and usually taste better). Both of these can be pricy, so a cheaper alternative is to bring noodles and tins of curry or chili in ziplock bags. If you're not walking far consider some morale-boost food like salami or chocolate, and remember to take a brew kit – tea, coffee, cocoa, soup, whatever will warm you up at night and kick start you in the morning.
7. Cooking Utensils
Bring a small pot to boil water and cook in, along with something like a fork or spoon (or Spork). I also use the pot to wash in, making sure to properly clean it out before and after. Mine are all titanium because it won't rust and is very light – and because I'm a big kit geek. Apparently, you can also bang the pot and lid together to scare away bears… good luck with that.
8. Camera
This doesn't mean that, in these days of social media, I believe that if you don't have a photo then it never happened. But taking pics can also tune you into what you're seeing and focus you on the interesting things around.
9. Simple First Aid Kit
I always take some zinc oxide tape (for covering hot spots, blisters, cuts, strapping sprains, mending clothes and shelters etc), rehydrating sachets (in case the going is harder than expected) and lip salve. The latter is a cure for cracked lips, chapped faces, cracked fingertips (like cracked lips but much more painful) or can be rubbed on inner-thighs, armpits and nipples to help with chafing. If it's going to be sunny, take some sun cream too. You can take more than this, but first think about what you're likely to have to deal with and bear in mind that there's only so much first aid you can self-administer before you need to resort to one of the best pieces of first aid kit in the country – the mobile phone.
10. Wash Kit
Again it's up to you how complicated this gets. If I'm only out for a night I'll take a mini toothbrush and a small amount of toothpaste (I grab the free ones from long-haul flights), a few of wet wipes (which double as toilet paper) and a little talc in a small ziplock bag for my feet and groin.
11. Repair Kit
Another one which can be overcomplicated. I'd take about five metres of paracord, a couple of zip-ties and some gaffer tape (a small amount, not the whole roll). With this you can repair guy-lines, shoelaces, ripped clothes, sleeping bags, bivis, hammocks, tents, bashas, rucksacks and generally engineer solutions to problems like you were the A-Team locked in a scrapyard with an on-site power tool shop.
12. Hat
For keeping your head warm. Always a winner when you stop for the night.
13. Stove
With the stove I'd suggest taking what you need. Having a heavy, bulky stove that can burn anything including yak pizzle up to 8,000 metres altitiude is great… but you don't need it right now. Get a lightweight stove and a small canister of gas. If it doesn't have a built-in ignition then take a lighter, too.
14. Large Ziplock Bag
Put all your rubbish, used food bags and used toilet paper in this so you can take it away. It gets sealed away from the rest of your kit and means you can just drop the lot in the first bin you see. It's simple: if you leave rubbish behind you are a dick.
15. Shelter
The issue of which shelter to go for is another full article, but in brief, here are your options:
Tent Maximum shelter but heavy and relatively time consuming to put up.
Bivi A simple waterproof outer than goes over your sleeping bag to keep off any dew, light rain or snow.
Basha A large waterproof sheet strung between two trees (or similar) and fixed at the corner to create a basic tent. Usually combined with a bivi.
Hammock Can be very comfortable and keeps you off the ground (in case of snake and scorpions – admittedly not a huge threat in Britain). You will need two strong anchor points.
16. Sleeping bag
You'll also need a sleeping bag appropriate to the temperature at night…
17. Sleeping mat
… and a mat to sleep on.
18. Dry Bags
I love dry bags. I have more than 30 of them. They're particularly important for two things: electrical equipment and sleeping bags. If you keep nothing else dry, make sure your sleeping bag is. You won't be able recover from the adventures of the day and rest for tomorrow's high jinks unless you're warm and comfortable and asleep. The best thing to do is double bag it. I pack my sleeping bag into my waterproof bivi bag and then that into a dry bag.
19. Rucksack
Look at what you actually need before selecting the size. If ever a rule was true it's this: regardless of the size of your rucksack you will fill it. Starting out with a big rucksack means you'll end up carrying more stuff, some of which you simply do not need. If I was taking a basha for a couple of nights' shelter and expected it to be reasonably warm, I'd get all I needed in a 40-litre rucksack. If I was doing this in winter I'd be looking at an 80-litre sack to accommodate the bulk of the warm clothing, extra fuel to melt snow for water, tent and winter sleeping bag.
Right, you're ready to go. Now bugger off into the wilds and enjoy yourself.
Andy is a professional cave diver, freediver, skydiver, climber, stunt performer and TV presenter. Between 2015 and 2016 he was the adventure correspondant for Coach and Men's Fitness UK, which predated, and then shared a website with, Coach.
Sign up for workout ideas, training advice, the latest gear and more.
Thank you for signing up to Coach. You will receive a verification email shortly.
There was a problem. Please refresh the page and try again.