The Best Sports Sunglasses For Every Occasion
By Nick Harris-Fry last updated
When it's time to play in the sun, keep your focus with protective sports sunnies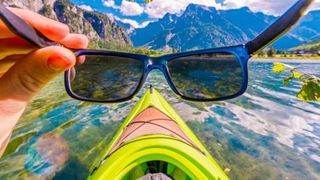 (Image credit: unknown)
Any pair of sunglasses should make you look stylish, rakish and generally like a badass – that's a given. But the thing about sunny situations is that you may be called into action at any moment: you're lounging in a park and someone produces a frisbee; a beach ball comes out of nowhere and threatens that sand sculpture of David you're building; Neymar appears and challenges you to a juggling-a-ball-on-your-head-off. Those free plastic shades you were given at a festival aren't going to do the job. A pair of these sports sunglasses will, though, and they'll all protect your eyes from harmful UV rays too. What's more, few things are more annoying than sunglasses continually sliding down your nose. If you want comfort and a stable fit too, then sports sunglasses are the way to go. We've also included pairs that are good for cyclists, runners and golfers.
---
Smith Lowdown 2
Best For An Active Lifestyle
(opens in new tab)
If you're not looking for sunglasses tailored to the needs of a particular sport, just a stylish pair that won't start to slip the moment you break walking pace, these are a great choice. Along with smart active features like stay-put rubber nose pads and a lightweight frame, there are 16 fashionable styles to make sure they're street- as well as sweat-appropriate. The ChromaPop lenses enhance the details of your surroundings so you can better spot that ball heading for your face, and have an anti-reflective coating on them.
Buy from Smith (opens in new tab) | From £80
---
(opens in new tab)
We're seriously impressed that SunGod allow you to customise your sunglasses extensively at no extra cost, and with the new Airas glasses you can change the colour of the frames, lenses, earlocks and icons, as well as deciding whether you want to go completely frameless or have a bottom frame. The frameless look is particularly lightweight and great for running, and the huge lenses on the Arias provide a vast field of vision for all sports. SunGod also recently launched its Infinite frames, which are made from 100% recycled plastic and are available to use across the company's range.
Buy from SunGod (opens in new tab) | £130
---
Higher State Half Frame Interchange 4 Run Sunglasses
Calling these sunglasses good value is quite the understatement. For £12 (and it is always £12, despite the notional RRP of £60), you get a comfortable lightweight frame and four sets of interchangeable lenses that offer 100% UVA and UVB protection. There are clear and yellow-tinted lenses for darker conditions, and blue and black ones for brighter days, and it's easy to pop the lenses in and out.
Buy from Sports Shoes (opens in new tab) | £11.99
---
Oakley Plazma
Most Versatile Sunglasses
(opens in new tab)
The Plazma glasses have a distinctive design with a full frame and large lenses that provide a wide field of vision, and a secure and comfortable fit to suit all sorts of sports. We've used them for running, cycling, strength and yoga sessions, as well as popping to the shops, though how well suited they are to that last one will depend on how attractive you think the frame's eye-catching shape is. The Prizm glasses are available with prescription lenses too, and you can get photochromic lenses to use all year round.
Buy from Oakley (opens in new tab) | £139 (photochromic £179)
---
Naked:Runner Primary +
Best For Wearing All Year (And For Prescription Sunglasses)
(opens in new tab)
The Primary + are lightweight, hardy glasses that offer an excellent fit for any kind of activity, but especially running. There's a wide selection of lenses and the cheapest option offers great value at just £40 for a set of simple grey sunglasses. However, we've been testing the ultimate reactolite lenses and highly recommend them for anyone keen on wearing sunglasses all year round.
These lenses are photochromic, so darken in sunny conditions but remain clear when it's cloudy, and they have both a blue mirror to reduce glare and a yellow tint to brighten up your view in low light. We've used them in blazing sunshine, on overcast days, in heavy rain and even on a treadmill in a garage, and always had a clear view. It's this versatility that makes these lenses a particularly good option for prescription sunglasses – which Naked:Runner also sells.
Buy from Naked:Runner (opens in new tab) | From £40, plus £65 for ultimate reactolite lenses
---
(opens in new tab)
These stylish, lightweight sunglasses are good for all kinds of sporting activities, but are especially good for those who enjoy watersports because they float. Of course it's not only anglers, surfers and SUP-ers who will enjoy the fact their sunglasses don't sink like a stone – it's a handy extra when you're relaxing on the beach or at a swimming pool too. By the way, if you're thinking "surely all sunglasses float", we did too so we tried it with a couple of other pairs and had to fish them out quickly from below the water surface. Dragon Alliance has a range of floating sunglasses in its H2O collection, but we reckon the DRAC is the pick of the bunch looks-wise.
Buy from Dragon Alliance (opens in new tab) | £99.90
---
(opens in new tab)
The EV Advancer frame is lightweight and has grip in all the right places to ensure these sunglasses don't budge even on your sweatiest runs. However, it's when paired with Oakley's Prizm Trail Torch lenses that these sunnies really come into their own for runners. The lenses increase the contrast of the path ahead to make it easier for trail runners to spot potential obstacles, and even when under tree cover your view remains bright and clear.
Buy from Oakley (opens in new tab) | £176
---
CimAlp Vision One Sport
Best For Cyclists Who Run And Vice Versa
(opens in new tab)
The lightweight Vision One Sport sunglasses are great for both cycling and running, with large frameless lenses that never fog up during intense exercise and a flexible frame that sits securely in place. You can shape the temple ends and nose grips to fit your head and face better, and you can customise the lenses and frame at no extra cost.
Buy from CimAlp (opens in new tab) | £89.90 (Currently reduced to £71.88)
---
Oakley Flight Jacket
Best Anti-Fog Sunglasses For Cycling
(opens in new tab)
You've no doubt spotted that these glasses don't have an upper rim, which is not a massive and costly oversight on Oakley's part but instead a killer feature for cyclists. Why? Because it ensures your field of vision isn't blocked when you're riding hard with your head down over the handlebars. Another clever feature is the Advancer nosepiece, which helps prevent the lenses fogging up – flip the lever and the glasses are moved away from your face slightly to improve airflow.
Buy from Oakley (opens in new tab) | From £194
---
(opens in new tab)
Pair these stylish, durable frames with Oakley's Prizm Golf lenses for the perfect combo when teeing off on sunny days. The lenses increase the contrast when viewing your surroundings, and the welcome result is that spotting hazards and finding your ball becomes easier – something that's especially useful for those who frequent the deep rough.
Buy from Oakley (opens in new tab) | £149
---
See related
(opens in new tab)
You're getting a whole lot of tech and style in this pair of all-rounders from a British company that specialises in ski goggles and sunnies for the adventurous. The brand's so convinced of the durability of its product that it offers a lifetime guarantee on the frames, and the lenses should be able to take a battering as well thanks to the three scratch-resistant layers. You can also easily customise a pair online, choosing between the six colourways, five lens colours and six logo treatments. And if the oval frame isn't doing it for you, SunGod also offers rectangular models including a Wayfarer-style shape.
Buy from SunGod (opens in new tab) | From £55, polarised £70
---
Sick of wearing headphones and sunglasses? We have good news. The Bose Frames Tempo glasses have speakers in the sides and can be connected to your phone or MP3 player via Bluetooth. The audio is targeted at your ears and we've found it to be surprisingly clear even when running by busy roads or in high winds. The sound quality is naturally not as high as with full headphones, but it's really not bad at all given that it's just a speaker near your ear, and while the frames of the glasses are bulky to fit in the speakers, they don't feel heavy when running or cycling. The main downside here is the price, and you can get a great pair of sports sunnies and a set of headphones for a lot less, but this is your best bet if you're keen on the combo.
Buy from Bose (opens in new tab) | £239.95 | Bose Frames Tempo review (opens in new tab)
---
(opens in new tab)
Extreme conditions call for extreme sunglasses and if you're regularly surrounded by snow reflecting sunlight at you from all angles, the Oakley Clifden glasses will be a worthwhile purchase. The Prizm Snow lenses admit just 5.5% of the light in your environment if you opt for the black version, while the goggle-style design has side shields and a bridge blocker to stop UV rays filtering in. The glasses also come with a chain to help ensure you don't lose them halfway up a mountain.
Buy from Oakley (opens in new tab) | £167
---
Engo Eyewear
Best Sunglasses With Heads-Up Display
(opens in new tab)
The heads-up display on these smart sunglasses shows your key running and cycling stats so you don't have to look at a watch or cycling computer on the go. The display is small and hovers just out of your eyeline so it's not distracting when you're not looking directly at it, and you can customise it to show the stats you want (though it is missing some options like lap pace for running). The Bluetooth-connected sunglasses also track your runs and rides, though you'll need a phone with you to start and log the workouts. The lenses are also photochromatic so you can wear them in all conditions.
All this tech wizardry comes with some drawbacks. The first is the high price of €427 (around £357), and the second is the large attachments to the nosepiece that house the tech required to power the display, which can be a little intrusive. We don't find it a great hardship to look down at a watch or bike computer during our activities, but if you dream of a heads-up display that shows your stats, then Engo's glasses deliver the goods.
Buy from Engo (opens in new tab) | €427 (around £357)
Sign up for workout ideas, training advice, the latest gear and more.
Thank you for signing up to Coach. You will receive a verification email shortly.
There was a problem. Please refresh the page and try again.