Athleisure Brands You Should Know About
By Kate Johnson published
The need to exercise can strike at any moment, so these fitnesswear brands have done away with the business of "getting changed"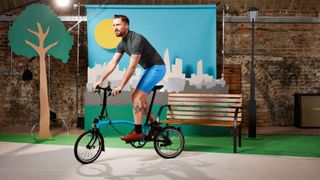 (Image credit: unknown)
Vulpine
Nick Hussey is the founder and creative director of the technically advanced, everyday cycling clothing brand
What inspired you to start Vulpine?
I've been a cyclist since I was a kid, and the only clothing available then was for racing. Later, when I was commuting I'd cycle to work, arriving sweaty, with a change of clothes in a backpack. If I didn't love cycling, I wouldn't have bothered.
No one was making commuter cycling clothing with technical fabrics, in the right cut for cycling that would work all day. There wasn't a brand that was inclusive which said to everyone, "However fast or slow you ride, you're all welcome". I launched in 2012 with five garments. I'm passionate about it. Authenticity is important. You can't fake an understanding of the sport.
What makes Vulpine different?
Attention to detail. We don't do wacky designs, we adapt classics. So, the Harrington rain jacket (opens in new tab) is a recognisable style that we modified. When you lean forward on a bike, your sleeves go up and the jacket feels tight round the armpits and shoulders. We added pleats and vents, articulated the elbows so there's less tension, dropped the length of the back and added subtle reflectivity. We don't use Velcro, we use magnets. Our black softshell gloves (opens in new tab) look plain, but you get vibration and pressure holding handlebars, so they have silicone padding in the palm. And we covered the fingertips as they feel the wind, but they work on a touchscreen and there's dark reflectivity on the knuckles for when you indicate.
Is it important where you source materials?
Where possible we use recycled fabric in our synthetics. We use natural fibres; quality lasts. Value is wrongly often only assessed in terms of price. I received samples of our black Merino T-shirt (opens in new tab) in 2010 and six years later I'm still wearing them. Merino wool looks casual, is soft to the touch and is antibacterial, so it never smells. I tested it by wearing the same T-shirt for 20 days and there was no odour, so it's perfect for commuting. It cools you by wicking sweat and warms you by acting as an insulator.
How do you describe the look?
It is stylish performance commuter apparel for on and off the bike. We're heavily influenced by British style and tailoring. It's heritage with a twist. We adjusted our Jinzu jeans (opens in new tab) with a higher back – they're tough, so you can hang a lock off the belt loops, with a diamond-shaped gusset [most jeans have uncomfortable seams you sit on] and we articulated the knee for movement. Our polo shirt (opens in new tab) is pure Merino and has details like flatlock stitching, so there are no rough seams. It has more give in the shoulders, it's longer at the back, it has an iPhone pocket and a strip of reflectivity.
How important is exercise to you?
Cycling is the most important thing to me, apart from my family. I started [cycling] at 13. I was rubbish at team sport, and suddenly, being skinny was an advantage. I was racing – it was an exclusive, intimidating world. Then I was injured and was told I'd never cycle again. When I did ride a bike again, every journey was – and still is – a joy. I suddenly saw the world in a different light.
What are you developing?
We launched the Chris Hoy collaboration last year. He wanted to create a brand and we both want more people to get into cycling. The range is called HOY Vulpine (opens in new tab) and it's road cycling performance wear, so it's tighter. Vulpine is for commuters and HOY Vulpine is for those who cycle a long way on the weekends. Our next big launch is our Made In Britain range, bringing high-end tailoring to the fore, and making the clothes in Lancashire and Scotland.
Pictured: HOY Vulpine road cycling performance wear
How do you combine performance with style?
It's simple to describe, but complicated to achieve. The premise is performance fabric and techniques in the trim and cut, such as waterproof zips, and making sure they form a stylish garment. The cut's really important; the silhouette when you're hunched over the handlebars is completely different to when you're sitting in a meeting. Our original rain jacket (opens in new tab) has hidden reflectivity, a pull-down storm guard and cuffs which are reflective on the inside so you can fold them out when you need to indicate, but you can hide the reflectivity in a meeting. It's currently on display in the Design Museum… my mum's made up.
Iffley Road
Pictured: Hampton marine blue running shorts (opens in new tab), £65, Lancaster gravel black running vest (opens in new tab), £50
Claire Kent and Bill Byrne founded the British crafted runwear brand
What inspired you to start Iffley Road?
Claire: We're extremely keen runners – we met through running over 20 years ago. We were fuelled by our love of running and having nothing nice to run in.
Bill: I'd shocked everyone by being one of the first to wear loud, red Lycra leggings from the New York marathon. We launched in 2013. We're called Iffley Road after the running track at Oxford, where Roger Bannister broke the four-minute mile. It's an historical site and a huge part of British athletics. The aesthetic of that era appealed: fewer logos, the attitude – it was the era of the last of the great amateurs – and the love of the sport. Claire had run while at Oxford University, so there was a personal connection, too.
What makes Iffley Road different?
C: Quality and fit. We go to great lengths to find fabrics that are technical and able to withstand repeated washes. Every time we repeat a garment, we refine it. Our goal is to create running clothes that are timeless.
Is it important to you where you source materials?
C: The fabric we use for most of our short-sleeved tops and vests is bespoke technical piqué which we developed in a Portuguese mill and is unique to us.
B: The fabrics are European, T-shirt fabrics come from the mill and the Merino wool for the tops comes from Italy, due to Italian expertise in wool.
How do you describe the Iffley Road look?
B: It's retro. We take that design inspiration and combine it with leading-edge technology.
C: All our tops have a riven hang loop in gold, purple and green, which are the colours of the original AAA [Amateur Athletics Association] stripe on Bannister's vest when he broke the four-minute mile. We don't celebrate the romance of our incredible history of runners enough. There's something beautiful about that classic British style heritage in fashion that's missing in running wear. We use muted colour inspired by the British elements: navy, black, grey and fell green. There's no neon.
How important is exercise to you?
C: I believe running changes your life. Whatever your problem is before you go running, you'll come back feeling better.
B: I'm a fan of exercising outdoors. It's as much of a workout as the gym: you can pull up on trees, for example.
What are you developing?
B: Hybrid shorts. We already have classic shorts (opens in new tab), pared back for racing or serious runners, and longer ones with side pockets that can fit a tennis ball.
C: We're developing jogging bottoms and tracksuits, but everything we create has to be functional. We'll never create anything that's not for running.
iffleyroad.com (opens in new tab)
Finisterre
Pictured, left to right: Burras jumper (opens in new tab), £75, Nimbus jacket (opens in new tab), £175, Kraken sweater (opens in new tab), £75
Tom Kay is the founder of the cold water surfing company
What inspired you to start Finisterre?
My background was around the sea, and surfing. I wanted to build products that the hardy British cold water surfer needed, rather than the bikinis and board shorts of the bigger surf brands, with a strong ethical and environmental angle. I started in 2002, and I made what I needed for the freezing cold. The first thing I made was a thick, warm, windproof fleece. I still see people wearing it. We make things to last as long as possible.
What makes Finisterre different?
We blend functionality and sustainability with a strong sense of style. We've addressed the products that were missing, and the way they're made and from what. We're responsible and transparent about where it's made. People weren't doing that ten ago, but we've done that since day one.
Is it important to you where you source materials?
Absolutely. For example, a lot of our Merino wool came from Australia and New Zealand and we wanted to find the same fine fibre wool here. We discovered a sheep called the Bowmont, which can survive this climate, and a farmer in Devon who had 29 of them. We've worked together and the flock has expanded to 250 over the last eight years. We've created our own 100% British supply chain for the wool.
Pictured: Petrel shirt (opens in new tab), £75, Coverack chinos (opens in new tab), £75
How do you describe the look?
It's influenced by where we are and the rugged surroundings – the sea is 250 metres away. But it has a refined style that's at home here or in a city. Our knitwear blends the aesthetic of the hardy, seafaring nation we are with our brand. Our Bowmont Polperro knit is based on the 18th-century fisherman's knit pattern. In those days, every Cornish fishing village had its own pattern. If you were swept overboard and drowned, when you washed up on shore, people would recognise where you came from based on the pattern on the knit. We've replicated one of those patterns in one of our knits.
How important is exercise to you?
It's a hard-working but healthy work environment. We don't think twice about surfing or swimming at lunchtime. It's exercise with a purpose – rather than going to the gym, we run on the cliffs, or mountain-bike. We're lucky to be here and we make the most of it.
What are you developing?
Lifestyle products born from the needs of hardy British surfer wear. We work with fabrics and manufacturers – we don't get it off the shelf. For our jeans (opens in new tab), we worked with a factory in Blackburn to help us reinvent a classic. We've developed water-repellent denim to our slim fit jeans (opens in new tab); it's never been done before. On another pair, we engineered the side seam of the pockets so if you've come out of the sea, it's easier to get your hands in if they're cold.
finisterreuk.com (opens in new tab)
Arc'teryx
Pictured left to right: Atom LT hoody (opens in new tab), £190, Norvan SL hoody (opens in new tab), £240, Alpha SV jacket (opens in new tab), £550, Alpha FL jacket (opens in new tab), £240
Carl Moriarty is design director of apparel for the Canadian high-performance outerwear firm
What inspired the creation of Arc'teryx?
The brand was started in 1989 by two climbers who weren't satisfied with the performance of their climbing equipment. They saw that the sailing and automotive industries were developing technologies to produce lighter, stronger, more durable products, and decided to experiment and adapt materials themselves. The name comes from the Archaeopteryx lithographica, one of the first creatures to evolve from land to flight. They liked the idea of where evolution and innovation can take you. On April Fool's Day (opens in new tab) we announced we were changing back to the full name and told everyone to send their jackets in to be re-embroidered.
What makes Arc'teryx different?
We want to create timeless purity, beauty and longevity. The design philosophy behind our strong, simple aesthetic is to apply only what's necessary to build a jacket. We try to simplify construction, reduce elements and organise them in the most harmonious way. We do all our product development and design and some of our manufacturing in Vancouver – designers work with pattern makers and sample sewers. It's unusual to have that capability on site [and] it means when we have a new idea, we can build it quickly and we have a stronger understanding of the process and what's viable.
Is it important to you where you source materials?
We have very strong partners to collaborate with in materials development. We're on a quest for a better experience – we constantly pursue the lighter, stronger, drier, more durable, more hydrophobic. Our biggest research and development partner is GORE-TEX. We use a very tightly woven and flat textile that stops fibres breaking, which would break the surface of a water molecule, leading the water to be absorbed into the material. Our newest version of this removes the outer textile completely and we use a Teflon film so the water is permanently beading, which keeps the product dry and breathable.
How do you describe the look?
We're driven by functional simplicity. We're trying to create a sense of athleticism, strength and dependability. Hoods on our jackets are designed to rotate with your head. Our Lithic Comp ski pant (opens in new tab) is a composite of waterproof GORE fabric with our own Trusaro softshell to keep it breathable and air permeable.
How important is exercise to you?
It's an essential component of my life. My background is in rock climbing in New Zealand. That's why I moved to Canada, which led to my career. We're based in the mountains so I have access to trail running, mountain-biking and skiing as part of my daily life. I run to work a few times a month – 16km of the 20km run is on a trail.
What are you developing?
We're just about to launch our ski mountaineering boot. It's a boot for alpine climbing, but it crosses over as a ski touring boot, due to a new level of ankle dexterity. Out here in the Pacific Northwest, climbing objectives are set far back in mountains, with a long ski approach to get to the climb. Previously you'd need two pairs of boots – one to ski in and one to climb in – but you can do both now.
Sign up for workout ideas, training advice, the latest gear and more.
Thank you for signing up to Coach. You will receive a verification email shortly.
There was a problem. Please refresh the page and try again.