Are You As Fit As Britain's Fittest Farmer?
By Nick Harris-Fry last updated
Take on these five fitness challenges to find out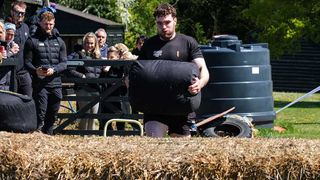 (Image credit: Unknown)
It's a rare job that actually helps to keep you healthy and if you spend your days chained to a desk you may daydream of moving to the countryside for the more satisfying physical labour of farming. Well, snap out of it, because farming has become increasingly mechanised – so much so that industry publication Farmers Weekly (opens in new tab) launched the Britain's Fittest Farmer competition earlier this year to highlight the need for farmers to take time out to focus on their physical health and mental wellbeing.
The winners of the competition – Fiona Penfold from Somerset and Sean Cursiter from Orkney – completed five physical challenges and then went through an interview with the judges that focused on mental health. Both were quick to highlight the link between physical activity and mental health – something that applies to any job, field- and desk-based alike.
"If you're sat in a tractor all day, it's not better than being sat at a desk in an office," says Penfold. "To have a healthier mind, you need to do some exercise. I think farmers' mental health has been getting worse because the physical element of their work has decreased gradually."
Farming can also be an isolating profession, especially in the Orkney Islands where the days are short in winter.
"On Orkney, there's a lot of farmers on their own with 80 cows living a lonely existence – they might not see another person for weeks," says Cursiter, who makes an effort to socialise by playing rugby for Orkney's first team.
"There are 24 hours in the day, so you need to give one to yourself," says Cursiter. "It's good to have a hobby and I don't find that my sport has a negative effect on the farm.
"I've just come out of lambing, working 16-hour days. You're knackered, but if you can find time to do some exercise then it actually re-energises you and takes your mind off of things on the farm."
You can watch video highlights of the final on YouTube, and if you fancy taking on the physical tests completed by Penfold and Cursiter, you'll find them below. Fair warning: to exactly replicate the challenges you'll need hay bales and some other farm-specific equipment, so do what you can to replace those with standard gym kit if you don't fancy explaining to a farmer why you're tossing their hay bales around without permission.
Round 1: Quick sand
Carry five sandbags of increasing weight 10m to be loaded on to a hay bale. Once the last sandbag is loaded, jump over three bales and remove the flag from a fourth bale to stop the timer.
Round 2: In the fields
Start with 30 chest-to-floor burpees, then sprint 400m off-road (a self-powered treadmill is a good substitute if your gym has one). After that jump on an assault bike and burn 60 calories (men) or 40 calories (women) as quickly as possible, before finishing with another 400m off-road sprint.
Round 3: Farmer's toil
This round begins with five farmer's deadlifts using a trap bar, followed by a 100m farmer's walk, then a 100m tyre drag and a 15m round-bale push (use a prowler sled in the gym for the last two exercises).
See related
Round 4: Tyre change
Start with 20 ground-to-overhead weight plate lifts, using a 15kg weight for women and 20kg for men. Next burn 30 calories on a SkiErg machine as quickly as possible, then flip a tyre for a distance of 20m, jumping onto the lip of the tyre after every flip. Finally, grab a grain sack and carry it 20m.
Round 5: Grit and grains
The big finale is the simplest but probably the most challenging. Hold a weighted grain shovel in each hand with your arms raised laterally for as long as you can.
Photographs: © Colin Miller/RBI
Sign up for workout ideas, training advice, the latest gear and more.
Thank you for signing up to Coach. You will receive a verification email shortly.
There was a problem. Please refresh the page and try again.