Try This Adam Peaty-Approved Gym Workout To Improve In The Pool
By Jonathan Shannon published
Not his actual workout, obviously, we don't want to break you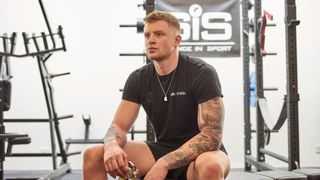 (Image credit: unknown)
Photographs: Tom Watkins/Science in Sport
Serial world record breaker and gold medal collector Adam Peaty has been dominating the breaststroke category in the pool since 2014, taking golds at the world, Commonwealth and European championships and breaking both the 50m and 100m world records multiple times. After a monster performance in the pool at the Rio games in 2016, Peaty's been pretty relentless and is eyeing up the defence of his Olympic title at Tokyo, Paris, and even LA in 2028.
We spoke to Peaty at an event to promote Science In Sport's PROTEIN20 bar (opens in new tab) (he's an ambassador for the sports nutrition company) to get a sense of how he trains in the gym and pass on any tips that may help amateurs hoping to improve their swimming. While you only need to glance at Peaty to see he's pretty stacked, he told Coach that he hits the gym to help his swimming, not to get big. "I'm trying to avoid hypertrophy as much as I can," says Peaty, who typically sticks to five reps for three to four sets for the big compound lifts – "creeping into the strength and power phase," he says.
That approach also dictates the weight he works with and the tempo he works at. "My squat one-rep max is 160kg," says Peaty, "but I'm never going to kick that much power in the water, so it's more beneficial to do 100kg or 120kg for more reps. And you'll get more doing it fast. So a lower weight but faster."
Peaty told Coach how his training now also takes into account injury prevention. "If I'm doing bench presses, I'll do lots of really low-weight cable flyes just to make sure that the muscles are moving right after the session," says Peaty. "After squats, I get a resistance band on between the knees. It's really easy to lift heavy weights like a caveman, but making sure we're looking after all the little muscles is important for us."
In addition to time in the water, Peaty will spend at least ten hours a week in the gym, and to answer the obvious questions, yes, he's knackered all the time, and yes, he burns through the protein. "Being with SiS is very beneficial because I can know provide myself with as much or as little protein as I need.
"The PROTEIN20 is a good option for me: less sugar, fewer carbs and high protein so I'm maintaining my lean muscle mass. BCAAs (opens in new tab) complement my performance in the pool and Hydro tabs (opens in new tab) [electrolytes to help Peaty say hydrated]. Those are the main three, sometimes with a Whey 20 (opens in new tab) depending on what kind of day it is. I don't like to follow any plans, I've always taken by feel."
To help you replicate Peaty's training ethos in the gym, he talked us through a very stripped-down version of his routine.
Sets 3 Reps 5
"Squats work my quads and glutes," says Peaty, "two very important muscles for breaststroke – that's where most of my power comes from. I like to keep my feet parallel and pointing forwards in line with my hips, and knees in line with my shoulders. Push your knees outwards and take a deep breath as you go down and breathe out on the way up."
Sets 3 Reps 5
"This improves the strength across my chest which is needed to catch the water efficiently and effectively," says Peaty. "Make sure your elbows don't go past 90° or you open yourself up to tendon injuries. I come down quite slowly and then elasticate it all the way back up."
Sets 3 Reps 5-10
"Again, this improves my upper-body strength, but this time connecting the muscles on the front of my torso with my back muscles, which also plays an important part in catching the water.
"Always try to get your chin across the bar. If you're not doing that and you're not going all the way down you're shortening your movement. And you can also hold at the top for an isometric pause."
See related
Extended crunch
Sets 3 Reps 20
"Having a strong core is extremely important," says Peaty, "especially in breaststroke where you need a strong base.
"Make sure you go back to your full length, because otherwise you'll just be shortening those muscles. As a swimmer you need to be lengthening as much as possible, so that's why we do all our movements at full range instead of half range. Get all the way back down as far as you can – don't touch the floor – and then come back up as fast as you can."
Sets 3 Reps 20
"This works most of the muscle groups," says Peaty. "I enjoy this as it's fast and pretty much replicates what I do on a pull-out [the underwater phase at the start and after each turn]. Get on your tiptoes to extend fully, or even do a little jump, and use two medicine balls [one in each hand] if you can."
Science In Sport ambassador Adam Peaty is supporting the launch of PROTEIN20 (opens in new tab), a low-sugar, high-protein bar.
Buy from Science In Sport (opens in new tab) | £2.50
Jonathan Shannon has been the editor of the Coach website since 2016, developing a wide-ranging experience of health and fitness. Jonathan took up running while editing Coach and has run a sub-40min 10K and 1hr 28min half marathon. His next ambition is to complete a marathon. He's an advocate of cycling to work and is Coach's e-bike reviewer, and not just because he lives up a bit of a hill. He also reviews fitness trackers and other workout gear.
Sign up for workout ideas, training advice, the latest gear and more.
Thank you for signing up to Coach. You will receive a verification email shortly.
There was a problem. Please refresh the page and try again.