A 30-Minute Functional HIIT Circuit Anyone Can Try
By Nick Harris-Fry last updated
Grab a kettlebell and a pair of dumbbells, and clear a space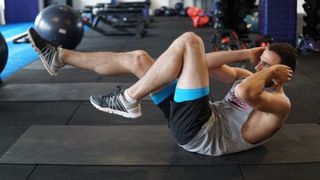 (Image credit: Unknown)
In This Series
30-Minute Functional HIIT Circuit
Photography: Jim Crossley, F45 Kingston
There are many ways to approach the gym. You can work on your cardio with some treadmill, exercise bike or rowing machine sessions, or you can focus on building muscle. You can also take a functional approach, training muscles for the tasks they perform in everyday life, rather than the gym (this method also builds some impressive-looking muscles as a happy byproduct).
This HIIT workout from the functional specialists at F45 Kingston takes the latter approach, basing the session around compound exercises which target multiple joints and muscle groups at once. It will take just under 30 minutes to complete, making it ideal for a lunch break. If you find it a bit easy, try this more advanced AMRAP workout from F45 Kingston.
How To Warm Up For This Workout
If you're going to get the most out of a HIIT workout, you need to be firing on all cylinders from the start, and that means doing a proper warm-up beforehand. Now, you might well be doing HIIT because you're short on time to exercise, but trust us when we say that a worthwhile warm-up need only take a few minutes.
The key to a good warm-up is thinking about the specific muscles you're about to use and focusing on getting those muscles ready to go. Ahead of this HIIT workout you'll want to start with some dynamic stretches – here's a great seven-move warm up routine to use – and then go into a few exercise-specific warm-ups. The simplest way to do this is to run through a round of the exercises from the workout you're about to do, completing just a few reps rather than working flat-out to time, and reducing the weight you'd use for any move that calls for a kettlebell or dumbbell.
Once you've done that, you'll be able to hit your first circuit proper at full speed safely. If that means your workout is 40 rather than 30 minutes, that's a fair trade-off. And if you really do only have 30 minutes max, then it's usually smarter to shorten the workout than to skip the warm-up.
Functional HIIT Workout
The circuit involves nine functional exercises, most of which are bodyweight exercises, although you will also need a kettlebell and a pair of dumbbells.
For each exercise complete as many reps as you can within 35 seconds, then rest for 25 seconds before moving on to the next exercise.
Complete three rounds of the circuit. If you're not sure how to do any of the moves click the header for a full explanation, and make sure to bear in mind the dos and don'ts from the F45 coaches.
Do: Initiate the move with the hips, not the arms
Don't: Swing higher than eye level
Do: Raise your hands above your head when you jump
Do: Consider skipping the press-up at the bottom of the move, it's optional
Do: Keep your knees close to the floor to engage your core
Don't: Let your back arch
4. High knees
Do: Keep knees high and tempo fast
Don't: Dip your head and hunch your shoulders
Don't: Flare your elbows – keep them tucked in
Don't: Let your hips dip – keep your core engaged
Do: Bend your knees to land softly
See Related
Do: Bring the dumbbells all the way to your shoulders and push then above your head
Don't: Curve your back as you extend the dumbbell
Do: Get as low as you can
Don't: Round your back or look down
Do: Keep your shoulders off the floor
F45 offers high-intensity, 45-minute, circuit-based group training sessions. Visit f45kingston.co.uk (opens in new tab)
Sign up for workout ideas, training advice, the latest gear and more.
Thank you for signing up to Coach. You will receive a verification email shortly.
There was a problem. Please refresh the page and try again.