The Best Standing Desks And Why You Need To Try One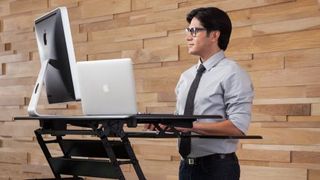 (Image credit: Unknown)
Even before COVID-19 lockdowns fundamentally shifted the pattern of office workers' daily lives, most Brits spent a lot of time sitting down: in the car, at a desk, or on the sofa. And if you spend the majority of your life in a sedentary position, that simply isn't great for your health.
New work-from-home directives and restrictions on leisure and travel from governments have exacerbated the problem. For many of us the movement involved in commuting, heading to a café for lunch or just mooching around the office for a chat has been lost.
If that's been your experience, we hope you have started doing some home workouts or are taking advantage of the outdoor exercise allowance each day – but even so, one bout of movement isn't enough to counteract spending the rest of your time sitting.
"Research [published in The Lancet] has found that we need to do between 60-75 minutes of moderate- to high-intensity exercise a day to counteract the negative health effects of sitting for eight hours a day or more," says Dr Sarah Deedat, Bupa UK's senior public health and behaviour change advisor.
"Most of us do not achieve this. However, there are things we can do to reduce the effects of sitting down for too long, including going for a walk on our break, taking the stairs instead of the lift, or standing on our commute to work each day."
A standing desk is another great way to break up the long sedentary stretches of the working day.
"It's best to alternate between sitting and standing if you can," says Deedat.
"If you usually sit down all day, try standing for short periods of time with the intention of standing for a total of two hours a day. Once you're comfortable with this, work towards standing for a total of four hours a day."
A standing desk isn't a panacea, however, and it's also wise to not push the standing too much if it feels uncomfortable.
"You should also try doing some light exercise throughout the day, such as going for a short walk and desk stretches, along with your usual exercise routine," says Deedat.
"Listen to your body. If you're feeling any tension or pain, adjust your position and check your desk is ergonomically set up."
The Best Standing Desks Converters
All the following options rest on a desk, providing a handy platform to elevate your screen when you're sitting (if you exclusively use a laptop, factor in the cost of a Bluetooth keyboard), and then rise into the right position for standing, like a phoenix from the flames of your former sedentary self.
Yo-Yo Desk
Like the Halter above, the Yo-Yo Desk has two platforms – one for a screen, the other for a keyboard – and uses handles on either side to raise and lower it. It differs in that there are only 15 preset heights (but that should be plenty) and it's not pre-assembled, although it shouldn't take more than five minutes to set up. On the plus side, it is a bit sturdier than the Halter, which might take on more importance if you tend to hammer the keyboard when typing.
Yo-Yo DESK® 120 (WHITE) Height Adjustable Standing Desk [120cm Wide]. Superior sit-stand solution suitable for all workstations and standing desk workplaces. (opens in new tab)
£379.95 Buy now (opens in new tab)
Varidesk Pro Plus
(opens in new tab)
The Varidesk Pro Plus is a streamlined option that can fit on a smaller desk. It has two tiers for keyboard and screen and comes in three sizes: 30in, 36in and 48in (76/91/147cm).
Buy from Varidesk (opens in new tab) | £365
See related
The Best Adjustable Standing Desks
Starting from scratch? Then consider a true standing desk with a mechanism in the legs, normally electrified, to raise and lower the desk.
Flexispot E6
(opens in new tab)
This easy-to-use adjustable desk covers everything you could want from a standing desk and adds a bit of extra tech for precision's sake. The frame comes in a choice of two colours – black or white – and offers 11 options in desktop colour, along with a range of sizes. The desk is adjusted using a keypad that displays its exact height, and the range of available heights is expansive at 60-123cm.
You can program three preset heights to make switching between them even quicker, and even set reminders so you're notified when to sit and stand to ensure you keep changing your position throughout the day.
Buy from Flexispot (opens in new tab) | Frame £399.99, desktop from £79.99
Ikea Bekant
For many people, buying furniture means a trip to Ikea, so why should it be any different for standing desks? The Bekant comes in a range of colours and can be adjusted at the press of a button from 65-125cm. There's also plenty of room on top for a cup full of the little pencils you stole while buying it.
Buy from Ikea (opens in new tab) | £415
Posturite DeskRite 300
(opens in new tab)
At up to 180cm wide, this standing desk is an expansive, unfussy option with the only detail being two handy cable tidies. The electric mechanism is adjusted at the press of a button and set-up is just as easy, because Posturite will install it for free. It's not the most affordable option, but simple things that are done well tend to cost more.
Buy from Posturite (opens in new tab) | From £1,253.94
Nitro Concepts D16E Carbon
(opens in new tab)
It's not just office workers who log long unbroken spells at their desks: gamers can log marathon computer sessions as well, and they have specific requirements from a standing desk – requirements that a company like Nitro Concepts, famed for its gaming chairs, is well set to meet.
Those start with a large surface and a high maximum load, because the powerful processors and extra monitors that are essential to gaming are not particularly small or lightweight. The Nitro Concepts D16E has a 160cm x 80cm surface and a max load of 70kg, and the height can be electronically adjusted from 71cm to 121cm, which is obviously better than a manual control to shift that weight.
The desk also has three inlets on the surface to help manage cables, another gaming essential, because the wiring involved can very quickly get out of hand if you're not careful.
Buy from Currys (opens in new tab) | £349.99
Sign up for workout ideas, training advice, the latest gear and more.
Thank you for signing up to Coach. You will receive a verification email shortly.
There was a problem. Please refresh the page and try again.