How To Start Exercising At The Gym If You're Over 55
By Nick Harris-Fry published
Age is just a number – take it from this 59-year-old PT, who can help anyone to start training in the right way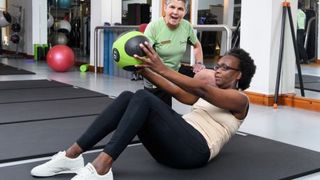 (Image credit: Unknown)
Going to the gym when you've taken a break from exercise can be daunting for anyone, but that can especially be true for older people. Research from Public Health England suggests that older people feel more self-conscious when exercising in public.
To create a welcoming environment for older people, gym chain David Lloyd Leisure (opens in new tab) has committed to having a fitness trainer aged 55 or over in each of its clubs (on average, at least) by 2022.
It's a fantastic initiative and to help spread the word, we enlisted David Lloyd trainer Celia Findlay, who is 59 and switched careers from training horses to training people in her 30s, for some advice for older people at the gym.
First off, are horses or people easier to train?
They're very different! Horses can't answer back, not verbally anyway. I wouldn't go back to horses – I'm very much a people person and I love my job.
What types of training do you recommend for older people at the gym?
I work a lot on mobility, balance and strength work. Balance is one of the biggest things people tend to lose as they get older. It's also about giving them more confidence in the gym as well.
Do you mainly work with bodyweight exercises or free weights?
I start off with just bodyweight and then, as they progress, go on to free weights as well. It's all about using proprioception [your sense of your body's position] and coordination. As we slow down, our brain slows down, so I'm very much a believer in doing exercises that involve using the brain.
Is there equipment or styles of training that older people should avoid?
I would maybe say the Smith machines and the really heavy weights, like barbells, unless they're confident. But you do see a few older people in our clubs who use barbells and Smith machines, and generally if they feel confident about using something, then there's nothing really that they can't use.
Are there any other particular challenges for older people?
One of the biggest things is technology. It moves on, so it's harder to use some machines. The cardio machines in particular. I get asked, "What button do I press to get this, this and this?"
For cardio, do you recommend low-intensity sessions? Or are there HIIT classes for older people?
I teach a circuit class where I tend to do a mixture of strength work and cardio. It's a HIIT class but a slightly lower-impact HIIT class. But there's no reason to slow down as you get older. I'm 60 next year and I'm certainly not trying to slow down. I just did a 100km race!
How often should you train when starting again after a long break from the gym?
I usually start with half-hour sessions two or three times a week. Low-intensity stuff, maybe using gym machines. You probably just do one or two sets to start with. I don't like my clients not being able to walk down the stairs the next day. I want them to have a good workout, enjoy it and come back for more!
See related
Do you have any other advice for older people at the gym?
It's good to have goals, whatever age and ability. That little challenge or stepping stone keeps you motivated. Older people tend to have slightly different goals than younger people. The mobility side of it is big, and sometimes they come in with niggles and injuries, and we try to help them rehab and get rid of those.
What would you say to an older person considering becoming a PT?
Don't be scared of a career change! I have no regrets.
Find out more about David Lloyd's Active Ageing (opens in new tab) initiative
Sign up for workout ideas, training advice, the latest gear and more.
Thank you for signing up to Coach. You will receive a verification email shortly.
There was a problem. Please refresh the page and try again.