Why These PTs Are Opening A Women-Only Fitness Studio
By Sarah Lienard published
StrongHer Space is a brand new strength and conditioning studio for women in east London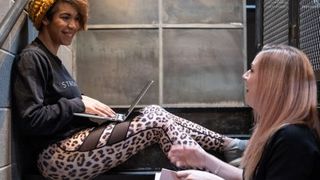 (Image credit: Unknown)
Tig Hodson and Sam Prynn both trained as professional dancers but when they switched careers and became personal trainers, they soon became frustrated with the lack of diversity within the fitness industry and the information targeted at women on social media. In response, they founded female-focused fitness brand StrongHer, whose first studio is newly up and running.
StrongHer Space (opens in new tab) is a strictly women-only strength and conditioning studio in Bethnal Green. Its aim is to remove the barriers to exercise for women while educating and empowering them to create positive habits.
Coach spoke to Hodson
and Prynn about their experiences training women, and what a female-only studio has to offer.
What are the benefits of a women-only training space?
Prynn: The biggest thing is getting rid of the intimidation factor. Most women say they don't like going to the weights area where there are men watching and commenting. Our coaches are great, the vibe is friendly and welcoming, and you'll want to be here.
Hodson
: In general, the fitness market only really talks to about 20% of women and alienates the other 80% – we offer a space for every single woman and a sense of belonging. Our members can shout for a tampon across the room and no-one will judge them. We've had women who have come into sessions and cried because they've had a crap day, or their pelvic floor has gone because they've jumped – it's all those little things which a lot of people don't think about. In this space, there's zero judgment because someone else in the group will be like, "Yeah, that's happened to me!"
What makes StrongHer Space different from other gyms?
Prynn: We wanted to create a space that eliminated the majority of barriers that stop women from getting into fitness. For example, when we were running group sessions in other spaces, we realised that Muslim women didn't have anywhere to train where they could take their hijabs and headscarves off. Obviously also cost, accessibility, timings, childcare – we do everything we can to take all these factors into account.
Hodson
: We've also been asking our members what they want. We could build a gym around what would work for us personally, but that's not necessarily going to help women who don't feel comfortable.
What are the benefits of resistance and weight training for women?
Hodson
: There are so many. Physically, strength training is good for preventing osteoporosis [which disproportionately affects women] and can be beneficial for PCOS [polycystic ovary syndrome], as well as diabetes and insulin problems. It's not going to get rid of these conditions, but it helps to regulate them. Building muscle allows your body to be, as we say, StrongHer for longer.
We focus on the mental side of training a lot too – helping to manage stress and anxiety. When you're in the studio, you can just pick up the weight, be in the moment, focus on that and then drop. Strength training gives you a sense of power, the sense that anything is possible.
See related
What are the biggest lessons you've learned through training women?
Hodson
: It's disheartening to see how many women don't believe in themselves. You'll give them like an 8kg kettlebell and they'll tell you they can't lift it… I'm like, "Your handbag is 8kg babe, you can!" It's getting them to shift out of this mindset that they're not good enough.
Prynn: I've learned the same thing, but not only within fitness – within business too. It's crazy how much women doubt themselves. They'll say, "I might be able to do that" rather than, "I can do that".
Hodson
: I've also learned how little most women actually know about their menstrual cycle and how it affects them – it's something that we focus on a lot, which is another benefit of being a women-only space. We'll ask what day they're on and tailor it to how they're feeling that day. If you go to a normal class they'll be like, "Do it! Go!" but it's not always about smashing it, it's about listening to your body. Women also absolutely love cardio – mainly because they've been taught that they should do it.
Prynn: I think that's starting to shift. For example, they'll take up running because they think that's what they're supposed to do, and then they'll have some injuries and realise that they need to do some strength training. People are also starting to see more strength training transformations on Instagram, so it is changing – but women are also still told that they should do lots of cardio.
For more information visit the StrongHer website (opens in new tab). Memberships start from £99
per month.
Sarah is an experienced health writer, previously holding the title of health editor at BBC Good Food (opens in new tab). Sarah has contributed reviews, interviews and features to Coach.
Sign up for workout ideas, training advice, the latest gear and more.
Thank you for signing up to Coach. You will receive a verification email shortly.
There was a problem. Please refresh the page and try again.