Five Fitness Classes To Try At Balance Festival 2019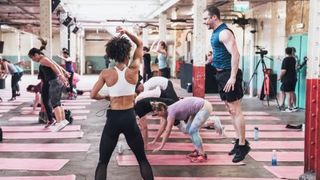 (Image credit: unknown)
There are less than two weeks to go until Balance Festival (opens in new tab), a health and fitness weekender in Shoreditch, east London. Those attending are in for a treat: not only can they stock up on their favourite beauty products while supping on a protein smoothie, but the best classes from the hottest fitness studios and instructors around are available for them to enjoy. However, as with any festival, the jam-packed schedule makes it tough to know what to pick to get the most from your day. To help, we've rounded up five must-try classes. In no particular order…
1. KXU – The Games
The new kid on the block brings a strongman/woman ethos to proceedings. Expect a full-body assault from this 25-minute class that will have you wielding a sledgehammer, flipping a tyre, working a rope and pushing heavy stuff around as you test both your strength and endurance. It's not for the faint-hearted – the phrases "I can't" and "I'm done" are banned, and heavy sweating and DOMS are guaranteed.
2. Method Movement – Bondi Method
Take inspiration from the lithe folks who strut along Bondi Beach with this 45-minute workout that promises to deliver all of the three Ss – sculpting, shaping and shredding. The mix of weight training and cardio moves will target your glutes and set your heart rate soaring to help you feel more confident when it gets so hot that clothes come off.
3. UNIT – Squad
There's no "I" in "Squad", and this calorie-torching 25-minute class focuses on teamwork as much as fitness. The mash-up of strength, cardio and mobility moves should provide enough of a challenge to have you bonding with your new pals – as long as you take your share of the load.
See related
4. Blok – Blok Party
If all of the above sounds a bit intense (because it is), how about doing your best Beyonce impersonation in a pulse-pounding dance-based workout? Enjoy fun routines worthy of a music video that will work your body hard without it feeling like hard work. Hair flicks are optional, sass is not.
5. Boom Cycle – Pussycat Dolls vs Spice Girls
Don't cha wannabe in this spin class? Of course you do – it's the ultimate celebration of girl power… on a bike. If you've tried Boom Cycle before, you'll know how much a laugh you can have while shaping your legs and bum. Sing along to your favourite tunes and pound the pedals – you'll be having too much fun to realise you're even working out.
Buy tickets (opens in new tab) | From £24.50
Sam covers women's gymwear for Coach, and is a qualified pilates and exercise-to-music instructor.
Sign up for workout ideas, training advice, the latest gear and more.
Thank you for signing up to Coach. You will receive a verification email shortly.
There was a problem. Please refresh the page and try again.