Rabble Is Bringing Fitness Games To An Open Space Near You
By Jonathan Shannon published
It's a different way to get active, and lots of people are going to love it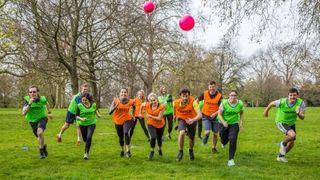 (Image credit: unknown)
Few adults find themselves thinking back to PE at school and wishing there was some way they could pay to do that again. But how about those playground games where you'd tear around making up increasingly complicated rules? Now you can pay to do that, or a version of that, thanks to Rabble – a company that hosts social, inclusive ball and running games in more than 50 locations around the UK.
Sure, you can already get active playing games, but that mostly means team sports. Now while we love team sports they tend to come with a set of difficulties – getting a team together week in week out can become like pulling teeth, and then finding the right league for your level (and vibe) can also be a bit of a crapshoot.
On the other hand, you can turn up to Rabble solo or with as many or few friends as you can muster. And you'll often be chucking soft pink balls – both small and large – around, which should put off the annoyingly over-competitive.
I tried a lunchtime session held for the people who work for Rabble by founder Charlotte Roach. After a warm-up there was a series of constantly changing games mixing up dodging, throwing and catching with running – always running. As someone who wished their childhood stint at Cubs had more games of British Bulldog and less learning of practical skills, this was right up my street, far more so than repeating exercises for time as I had done that morning in a HIIT session at a boutique gym. And because there's so much running in Rabble you'll burn just as many calories as you would in a gym class.
I also found the way Rabble's games were set up made it easy to accommodate different fitness levels. Despite being a fitness company the staff weren't a collection of bronzed and ripped Instagram influencers (no offence, Rabble – the people who work for Coach don't fit that description either as you found out when you met me), but tweaks to the rules got everyone involved and there were clearly opportunities in each game for everyone to get little wins, especially in variations of Capture The Flag where the surfeit of flags made it a chaotic free-for-all.
The cost of a Rabble session varies according to the instructor, but you can try your first session free using the code FUNFITNESS. See if there's a game near you on joinrabble.com/locations (opens in new tab).
Jonathan Shannon has been the editor of the Coach website since 2016, developing a wide-ranging experience of health and fitness. Jonathan took up running while editing Coach and has run a sub-40min 10K and 1hr 28min half marathon. His next ambition is to complete a marathon. He's an advocate of cycling to work and is Coach's e-bike reviewer, and not just because he lives up a bit of a hill. He also reviews fitness trackers and other workout gear.
Sign up for workout ideas, training advice, the latest gear and more.
Thank you for signing up to Coach. You will receive a verification email shortly.
There was a problem. Please refresh the page and try again.