What To Do At The Gym
By Nick Harris-Fry published
Unsure of how to make the most of your gym membership? These tips from top PTs will help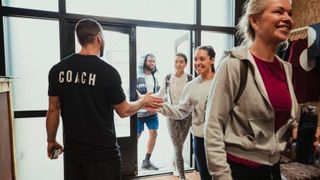 (Image credit: unknown)
In This Series
A gym membership can make getting fit a lot easier. With access to equipment, personal trainers and group classes, many people find exercise significantly more appealing than when doing it alone at home.
You will, however, also need some kind of plan to get the most out of your membership. When you're embarking on a new fitness kick it's not always easy to know what you should actually do when you turn up at the gym. To help you out, we asked personal trainers for their top tips on what to do at the gym when you're just starting out.
Set A SMART Goal
"Your absolute first priority should be setting a goal," says Luiz Silva, fitness manager for Castle Royle (opens in new tab). "Without a goal, you will have no direction and will be far more likely to quit within the first month. Make sure your goal is Specific, Measurable, Achievable, Realistic, and has a Time Frame – otherwise known as SMART Goals. Something like 'I want to be able to run 5K in under 30 minutes by July' is far better than 'I want to get fit', and 'I want to be able to squat 50kg by August' is better than 'I want to tone up'."
Do Something You Enjoy
"Partake in exercise that you actually enjoy and not what you think you should be doing," says Jared Blunden, personal trainer at PureGym Milton Keynes (opens in new tab). "If you're doing exercise that you don't enjoy, you won't stick to it and you'll soon stop going to the gym. Progress, especially when it comes to fat loss, comes from consistency, so you need to choose a type of exercise that you enjoy and can consistently adhere to. It could be yoga, running, weightlifting, tennis… the list is endless and all of them can help you to reach your goals."
Keep A Record Of Your Workouts
"My biggest advice with strength training in a gym is to keep a record of your workout, noting how many reps and sets you did and the weight you used," says Nicole Chapman (opens in new tab), creator of six-week online workout programme Power of Mum. "This will allow you to track progression and be more efficient by not wasting time lifting weights that don't test your muscles. And if you apply progressive overload – continually challenging your body to improve on performance over time – you will physically see yourself getting fitter and stronger."
Little And Often Can Make All The Difference
"You don't have to spend hours in the gym," says Adam Daniel, Wattbike (opens in new tab) master trainer. "A little exercise – 10 to 30 minutes – done regularly is better than nothing. Adding just modest amounts of physical activity to your weekly routine can also have a profound effect on your mental and emotional health."
Ask Questions
"Most gyms offer a free induction to new members where you'll be shown around by a PT or fitness instructor, so ask them as many questions as you can so that you feel comfortable and confident using the equipment," says Silva. "A lot of personal trainers also offer a free first session, so make the most of it to get you started."
See related
Check Your Expectations
"You didn't get out of shape overnight, and you're not going to instantly transform your body either," says Daniel. "Expecting too much too soon only leads to frustration, so focus on the process and being consistent. While the improvements in mood and energy levels may happen quickly, the physical pay-off will come in time."
Be Realistic With Your Routine
"When setting your routine, ensure that what you choose to do is realistic and fits around your life," says Blunden. "If you know you can't get to the gym for 6am, don't set your target to be at the gym for 6am. Realistic solutions pave the way for long-term change."
Sign up for workout ideas, training advice, the latest gear and more.
Thank you for signing up to Coach. You will receive a verification email shortly.
There was a problem. Please refresh the page and try again.