New Year's Resolutions Ideas From Personal Trainers
By Nick Harris-Fry published
Sign yourself up to these targets to enjoy a fitter and healthier 2020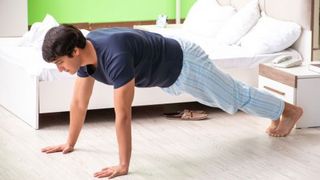 (Image credit: unknown)
We're pretty sure someone in the last week will have asked you about your resolutions for 2020. Perhaps you've already got one lined up – but if not, we can help. Well, not us, but personal trainers, who have the expertise to suggest resolutions that fall squarely in the sweet spot between "achievable" and "will actually make a difference". That's why we enlisted a squad of them to provide their best suggestions for New Year's resolutions. Here's to a fitter, healthier and happier 2020.
Exercise First Thing
"A resolution to set you up for success is to perform a handful of exercises when waking up," says Jamie Ray, lead HIIT instructor at Another_Space Gym (opens in new tab). "Once you've popped out of bed, start your day with ten squats, ten sit-ups and ten press-ups. To keep improving, add two more reps to each exercise each week."
Go For A Walk Every Lunchtime
"Make small lifestyle changes to be more active," says Keith McNiven, founder of Right Path Fitness (opens in new tab). "It's brilliant to start going to the gym, but also think about small changes that you can make to your lifestyle. Research now suggests that being inactive can be as bad for us as smoking or being obese, so if your job is primarily desk-based, make a point of taking a lunchtime walk, and getting up and moving every two hours."
Book A Challenge
"The best way to stick to fitness goals is to book a challenge in January for later in the year," says Michelle Dand, head of fitness product and programming at David Lloyd Clubs (opens in new tab).. "You can break the training up into realistic chunks and have a goal to work towards so you stay motivated."
Needs some inspiration for your challenge? Dand recommends the London to Brighton Bike Ride (opens in new tab), the London or Brighton marathons (opens in new tab), or an obstacle course race like a Tough Mudder (opens in new tab) or Spartan Race (opens in new tab). If that's not enough, we have plenty of suggestions for other marathons and half marathons, cycling sportives, charity challenges and adventures races in the UK.
See related
Eat More Plants
"I'm not saying you have to go vegan, but simply adding more plants to your diet is a great way to get numerous health benefits," says Tom Forster, PT and co-founder of FIT DELIS (opens in new tab). "Plants are loaded with vitamins, minerals and phytonutrients. They are essential for supporting a healthy gut because they are the primary means by which we consume prebiotics and fibre. And if you consume more plants, you'll find weight loss will naturally occur due to the greater consumption of fibre, vitamins and minerals."
Drink More Water
"Make a commitment to drink more water – ideally a minimum of two litres per day," says Leo Medley from David Lloyd Clubs. "Your body is made up of millions of cells, and each of those cells requires fluid to function effectively and efficiently. If you don't have enough water inside the body you are preventing it from operating at the optimum level. Improved hydration will improve concentration, energy levels and general performance – all of which are major factors in weight management."
Sign up for workout ideas, training advice, the latest gear and more.
Thank you for signing up to Coach. You will receive a verification email shortly.
There was a problem. Please refresh the page and try again.