Are You Doing Enough Physical Activity?
By Nick Harris-Fry published
Over a third of adults in the UK aren't getting enough exercise – are you making the grade?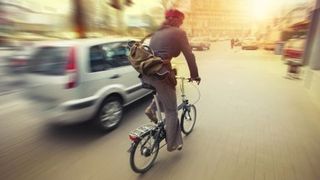 (Image credit: unknown)
A major new study involving 1.9 million adults in 168 countries has found that more than a quarter of the global population were insufficiently active in 2016, with one in four men and one in three women worldwide not undertaking enough physical activity. It's also a problem that's not improved between 2001 and 2016, unlike other major global health risks like smoking.
In the UK it was found that an even greater proportion, 36%, of adults were not sufficiently active. This meant they didn't hit the recommended level of at least 150 minutes a week of moderate activity like walking, or 75 minutes of vigorous activity like running.
Stats from the study by researchers from the World Health Organisation (WHO) and published in The Lancet Global Health journal also revealed that fewer men than women in the UK were insufficiently active, 32% compared with 40% – a trend that was also noted elsewhere.
Levels of inactivity were more than twice as high in high-income countries (37%) than in low-income countries (16%). One of the regions displaying an increase in insufficient activity over the period was high-income Western countries, which is probably explained by more desk jobs and the transport people use to get around. Commenting on the report, Dr Melody Ding from the University of Sydney wrote, "While declines in occupational and domestic physical activity are inevitable it is essential to incentivise transport and leisure-time physical activity". If you're falling short of the targets, perhaps it's time to buy a commuter bike and start cycling to work?
See related
In an effort to address the problem, the WHO launched an action plan in June this year which detailed 20 policy areas to create more active societies. This includes areas like building and maintaining cycling and walking infrastructure, and providing facilities for recreational sports.
How much exercise you should do differs between individuals, and the benefits of it are also far greater than just looking after your long-term physical health. That said, if you are worried about your own levels of activity then hitting the 150 minutes a week of moderate exercise target is a great place to start.
This level of aerobic exercise will help with your cardiovascular health, but the NHS also advises doing two strength workouts a week that hit all the major muscle groups. If you're not sure what that involves, this strength workout for beginners ticks the required boxes.
Sign up for workout ideas, training advice, the latest gear and more.
Thank you for signing up to Coach. You will receive a verification email shortly.
There was a problem. Please refresh the page and try again.