Festive Fitness Challenges To Keep You Moving Between The Mince Pies
By Nick Harris-Fry last updated
Give yourself a break from the Christmas cheer with one of these fun festive challenges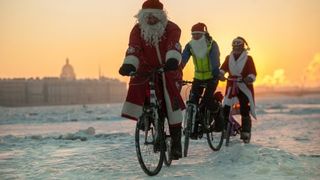 (Image credit: unknown)
Christmas time, as we all know, is a time for mistletoe and wine. A time when children sing Christian rhyme. All the kids in your neighbourhood will be doing it – it's just what they do at this time of year.
It is not, traditionally, a time for fitness. People tend to stay indoors and eat and drink as much as they can, all the while being serenaded by their children singing Christian rhyme, no doubt.
However, it doesn't have to be this way. There's no law saying you can't sneak in a quick 5K, or a lengthy bike ride, before settling down to the next massive meal on the Christmas schedule.
To help you keep your fitness regime intact during the festive period, why not try your hand at one of the challenges below. Fair warning, some are harder than others – most people will find bashing out a 5K easier than doing 1,000 press-ups, for example.
Rise Up 31 Day Everesting Challenge
Everesting is the practice of finding a steep hill then riding up and down it until you've clocked up elevation gain equivalent to the height of Mount Everest. It is as mad as it sounds and a feat of endurance not to be taken lightly. Thankfully, this challenge asks you to do it virtually using a turbo trainer or the like, and spread the attempt over a manageable 31 days – although climbing 8,448m is still no easy task. The challenge is hosted on RGT Cycling, a free cycling platform like Zwift, and has been given the seal of approval by Everesting.CC, the "custodian of the Everesting concept". To have your attempt validated, you have to raise money for World Bicycle Relief.
Start fundraising (opens in new tab)
Advent Running
This festive challenge asks you to run (or do any other type of exercises) for 30 minutes a day on every day from 1st December to Christmas Day itself. It might seem like a daunting idea, but we found that you'll quickly learn to relish that 30-minute (or more) block as a time to escape the business of the season and focus on working up a sweat.
Follow on Instagram (opens in new tab) | Free
Christmas Accumulator Challenge
Great Run has put together this virtual event to give you the chance to earn a medal for keeping active in December. The idea is simple enough: log 12 runs between 1st and 25th December to bag yourself a Christmas-themed medal. If you want some ideas to mix up your runs there's an Advent Calendar with 12 tasks to tick off, including running a PB and adding Christmas decorations to your trainers for one run.
If just completing 12 runs isn't enough of a challenge there are overall distance goals of 30, 60 or 100 miles (50, 100 or 160km) to shoot for too, and you can of course run more than 12 times in the period.
The main challenge is for runners aged 15 and over, but there is a Junior Challenge (opens in new tab) as well. This involves running eight or more times between 1st and 25th December, and there are 10 tasks to complete alongside your runs.
Sign up (opens in new tab) | £15 (£10 for the Junior Challenge)
Soar Solstice Challenge
A late-breaking addition, so we'll let Soar's Instagram post explain, but tl;dr – free gloves!
Mr Motivator's Christmas Jumper Day Workout
Christmas Jumper Day falls on 10th December and raises money for Save the Children. As part of the celebrations the charity has partnered with fitness app Sweatcoin and the legendary Mr Motivator to host a virtual workout at midday.
Sign up for Christmas Jumper Day (opens in new tab)
Walking Home For Christmas
This charity challenge in aid of Walking With The Wounded can be as easy or as hard as you like. Simply sign up to walk a distance of your choice at some point between Friday 10th and Monday 20th December. That can mean walking a couple of miles from your house every day of the challenge, doing one carefully planned hike to draw some Strava art, or trekking a marathon.
Sign up (opens in new tab) | Free, plus fundraising
Race Santa
This virtual challenge, which raises money for children's charity Barnardo's, involves walking or jogging at least one mile a day every day from 1st December until 24th December. The aim is that the collective miles logged top 24,901 (40,074km), which is the equatorial circumference of the Earth, thus beating Santa as he races around the world to deliver presents. This kind of implies Santa is beelining it around the equator and not zig-zagging around to hit every chimney, but those are details we can ignore when it comes to raising money for children.
Sign up (opens in new tab) | Free, plus fundraising
See related
Rapha Festive 500
This cycling challenge, which has been running since 2010, asks riders to rack up 500km between Christmas Eve and New Year's Eve. You can log your rides on Strava to be part of the official challenge, or you can pick up a Festive 500 brevet card at certain clubhouses if you want to record your rides longhand.
Sign up (opens in new tab) | Free
You're probably thinking that's too many press-ups, but the good news is you don't have to do them all at once – you get from 24th December until 1st January. The bad news is that's still an average of 111 press-ups every day. Thankfully, we've got some tips on how to accomplish the pec-busting feat.
Sign up for workout ideas, training advice, the latest gear and more.
Thank you for signing up to Coach. You will receive a verification email shortly.
There was a problem. Please refresh the page and try again.