Join The Body Coach Joe Wicks For A World Record-Breaking Workout
By Nick Harris-Fry published
Be part of a 4,000-strong crowd taking Wicks's HIIT class and help raise money for the Teenage Cancer Trust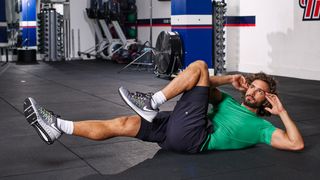 (Image credit: Unknown)
The chance to train with Joe Wicks – fitness icon, best-selling author, social media superstar and haver of excellent hair – is not something to be sniffed at, and if you have to share that experience with 4,000 other people then so be it.
This July, the Body Coach is aiming to break the Guinness World Record for the largest high-intensity interval training class. The current record, which stands at a considerable 3,687 people, was set by nutrition company Herbalife at LA Live in Los Angeles on 7th March 2015.
Wicks is attempting to break the record with a class at Hyde Park in the evening of Wednesday 5th July as part of the Barclaycard Presents British Summer Time festival. To secure your place in the record books you'll need to buy a ticket on axs.com (opens in new tab). Tickets cost £5 (including a £1 booking fee) and proceeds will go to the Teenage Cancer Trust charity.
Before you sign up, however, know that you need to complete the 30-minute HIIT workout if you want to be part of the number counted towards the record. No shirkers allowed. To quote the Guinness World Records (opens in new tab) rules on the matter:
"To get the record, Joe Wicks's HIIT programme must combine alternating high-level intense exercise with lower-level recovery exercises, and each participant will have to exercise continually for an entire 30 minutes."
Imagine being the person who slinks out after 20 minutes to leave Wicks short of the record. Imagine the shame. Do not mess this up for Joe. He wants this.
"I can't wait to stand on the Great Oak Stage and look out on thousands of people all working hard to get fit and lean and, hopefully, we can all break a world record at the same time – the atmosphere is going to be absolutely buzzing!"
If you're not sure that you're up to the challenge, try one of the workouts in our exclusive Joe Wicks Four-Week Fat Loss programme and see how you get on.
Sign up for workout ideas, training advice, the latest gear and more.
Thank you for signing up to Coach. You will receive a verification email shortly.
There was a problem. Please refresh the page and try again.