Greg Whyte's Tips For Staying Fit At 50
By Nick Harris-Fry published
The former Olympian on his 50at50 challenge and his love of open-water swimming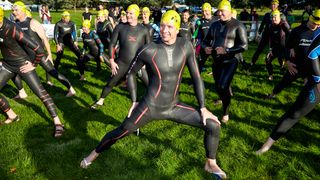 (Image credit: Unknown)
A century ago you'd be forgiven for thinking you could probably skimp on the exercise once you hit 50. In fact life expectancy for English men didn't squeak above 50 until 1910. Nowadays, however, people live to 80 with NHS-crippling regularity, so it's a good idea to stay active and healthy when you reach your half-century.
One man who is certainly not slowing down at 50 is Greg Whyte, the former Olympic pentathlete and all-round physical activity expert. In fact, Whyte has stepped it up a notch with his 50at50 challenge, a series of 50 iconic swimming events he's taking on throughout his 50th year.
The week before he headed to the Caribbean for his latest swim, we spoke to Whyte about 50at50, the delights of open-water swimming and how people can keep in shape at 50.
What made you want to do 50at50?
Swimming has always been my love. That's where I started my athletic career before I migrated to modern pentathlon. I've gone back to swimming, and open-water swimming in particular. Coming back into it I realised swimming remains niche. That sounds a bit crazy but when you consider that there are nine million adults in the UK who can't swim and that a third of children leave primary school unable to swim, you realise that swimming isn't actually as popular as you might think.
I wanted a big physical challenge, but also to do something that's a bit more philanthropic. The campaign for this year is about highlighting the importance of swimming and showing people how great it can be.
RECOMMENDED: The Benefits Of Swimming
What kind of swimming events are you doing?
I'm back in the pool racing for the first time in almost 20 years, which has been a re-baptism of fire! I'm going to go out to the World Masters Swimming Championships this year. That's on the pool side. Then there's open-water events – there's such a range. Last weekend I was swimming in a canal in Glasgow for a Red Bull event called the Neptune Steps, then this week I'm going to what is probably one of the best swimming venues in the world: Nevis in the Caribbean. I'm swimming the Nevis to St Kitts channel.
Are there any events you're particularly looking forward to?
I'm going back to Lake Annecy in France, which is sort of my spiritual home when it comes to open-water swimming. It is just fantastic. I'm also going back to the Solent, swimming to the Isle of Wight and back. I did that with David Walliams back in 2006.
I'm also doing swims that are non-organised events with David Walliams, Davina McCall, John Bishop, Greg James – just to raise the profile of swimming and get the message across. I'm really excited, every challenge has its own individual character.
Why is open-water swimming special?
There's a liberation about it. It's incredibly cathartic. For much of our lives now, we talk about stress – it's a common part of us. There's a freedom to open water. Once you're doing it safely, getting into an open-water environment is just amazing. It's such a fantastic experience as well as great exercise.
Do you have any tips for getting into open-water swimming?
If you're going to start open-water swimming make sure you do it in a safe environment. The best place to do that is with with an organised group. Ten years ago nobody swam in open water, whereas now there are plenty of open-water venues that are well organised, controlled and life-guarded. I would definitely do that the first time. Make sure you're well looked after.
It's fair to say most 50-year-olds aren't up to doing 50 swimming events, so what advice do you have for a regular person trying to stay fit at 50?
I have this mantra: "nothing good comes easy". That resonates with even greater truth the older you get. You have to work hard to get fit and then to stay fit as you age. That said, working hard doesn't mean to say it's not fun. That's the real key to it.
What you see from the swims I'm doing is that they are exciting and fun, albeit tough. My best advice is to choose things you enjoy, but also challenge yourself with things you've never done before. Why? One, because if you're not very good at it, you have to work a lot harder and you get greater gains. Two, doing something new, learning a new skill, is so exciting that it brings enjoyment into what is quite a tough environment. Swimming is a great example of that.
Sign up for workout ideas, training advice, the latest gear and more.
Thank you for signing up to Coach. You will receive a verification email shortly.
There was a problem. Please refresh the page and try again.