Take On London's Best Fitness Classes At Balance Festival
By Nick Harris-Fry published
This celebration of active life features a smorgasbord of gym sessions to sample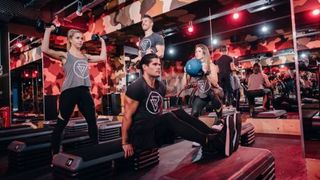 (Image credit: Unknown)
London's fitness scene is busier and better than ever, but the massive variety of boutique gyms and the number of classes they offer can be daunting. And dipping a toe in the water is potentially expensive, with many classes costing north of £20 a pop, so you want to be sure you're going to get your money's worth.
What you really need is one huge festival that incorporates taster sessions of a bundle of different classes, so you can try a few in one weekend and find your favourite. Well, there is such a festival coming this May, which is lucky because this article would really have fizzled out otherwise.
Balance Festival (opens in new tab) offers you the chance to try out sample sessions from some of the most popular fitness studios in London, such as Barry's Bootcamp, F45 and Equinox.
Given the amount of classes available to try, you'd be hard pushed to fit them all in, not to mention absolutely knackered if you even attempted it. To help set up your schedule, here's some more info on a few of the studios at the festival.
F45
One of Coach's favourite classes of 2016, F45's sessions are fast, intense and surprisingly enjoyable. The frenetic 45-minute HIIT workout involves a mix of cardio, bodyweight exercise and weight training. f45training.co.uk/londonbridge (opens in new tab).
Barry's Bootcamp
To make it easier to fit into your festival diary, Barry's has scaled down its classes to a 20-minute taster session at Balance, so there's no excuse for not to trying it. Each class involves a mix of cardio routines on treadmills and weights training. It's tough, as we found out when we tried doing a class every day for a week. barrysbootcamp.com (opens in new tab).
BOOM Cycle
Spinning studios have sprung up in every corner of the capital in recent years, but if you've so far resisted their charms, this might be the perfect place to give them a go. BOOM Cycle's taster session involves 30-minutes of HIIT cycling set to a tub-thumping soundtrack. boomcycle.co.uk (opens in new tab).
RECOMMENDED: Chris Hoy's Reasons To Try Spinning
Another_Space
This boutique gym is bringing an explosive 35-minute Box HIIT class to Balance Festival – the perfect chance to take out any of life's frustrations on a punch bag. anotherspace.london (opens in new tab).
Urban Tri
Not a class, but Balance Festival's unique take on the triathlon. Rather than the standard swim-cycle-run, participants take on a 25-minute HIIT class, a 6km run and a 30-minute yoga session.
Fitness is not the only focus of Balance Festival either, with every aspect of a healthy lifestyle covered from nutrition to the best in athleisure wear.
The festival runs from 12th-14th May. Early bird tickets cost from £24 for a session and £42 for a day pass and £75 for a day pass plus Urban Tri spot. Buy on balance-festival.com (opens in new tab).
Sign up for workout ideas, training advice, the latest gear and more.
Thank you for signing up to Coach. You will receive a verification email shortly.
There was a problem. Please refresh the page and try again.