Pokemon Go Won't Make You Fitter, Sorry
By Nick Harris-Fry published
As fun as it is (and boy is it fun), Pokémon Go doesn't raise step counts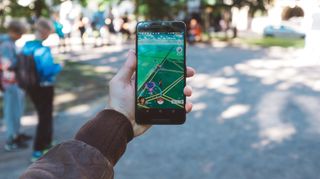 (Image credit: Unknown)
When Pokémon Go launched in July a wave of nostalgia-based hysteria spread across the world, causing the app to smash download records as millions took to the streets to chase down childhood favourites last seen on Gameboy screens.
Fans not only proclaimed how enjoyable it was, but also suggested it could be the antidote to a sedentary lifestyle, as Pokémon Go required users to walk around the real world in pursuit of virtual monsters.
However, researchers from Harvard University, who hopefully didn't drop anything too important to focus on Pokémon, have published a study which suggests the fitness benefits of the app are shortlived.
While Pokémon collectors did notch 955 extra steps per day in their first week playing the game, by week six they returned to the same activity levels they had before downloading the app.
RECOMMENDED: The Best Health And Fitness Apps
So bad news for those hoping Pokémon Go was going to be the turning point in the battle against obesity, but the app's continuing evolution might yet make it a useful tool in promoting activity.
Regular updates have kept people coming back to the game and a few recent changes may result in boosted step counts.
A tracker feature which shows nearby Pokémon is being added to the game, encouraging players to go out of their way to catch rarer beasts.
Even more likely to re-energise players is the recent announcement of new Pokémon being added to the game. On December 12th, the first batch of "Gen 2" Pokémon was introduced, including the likes of Pichu and Togepi.
These new Pokémon can so far only be caught by hatching them from eggs, which involves walking 2km, 5km or 10km, so people will need to get out there to nab them.
In addition, a major Christmas event is likely to encourage players to hit the streets during the festive period. Previous seasonal events for Halloween and Thanksgiving have offered incentives to play during the holiday, such as double experience points.
So far the only Christmas benefit announced is that you can catch Pikachu's wearing a Santa hat up until the end of December, but more Yuletide treats are likely to come nearer the big day.
All this means it's perhaps too early to write off Pokémon Go as a way to encourage activity. If you play the game regularly, you are basically forced to go outside for a bit, so if the app's recent updates bring players back, expect higher step counts around the world.
Sign up for workout ideas, training advice, the latest gear and more.
Thank you for signing up to Coach. You will receive a verification email shortly.
There was a problem. Please refresh the page and try again.