The Agony And Ecstasy Of Starting To Work Out
By Christian Williams published
We said we'd help Virgin Radio presenter Christian Williams get fit. This week, he had his first session with PT Ruben Tabares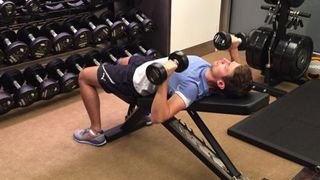 (Image credit: unknown)
So how do I feel after one week? A bit broken, if I'm honest, but – and this is a huge but – I feel amazing at the same time! Let me talk you through it.
I met Ruben Tabares, the personal trainer who's agreed to help me get fit, and this guy knows his stuff! From workout plans to nutrition, he's on top of it all. We sat down for a good 30 minutes talking about my lifestyle, what I like eating and drinking and how much… even down to when I was last ill and any times I've been "taken out" by anything like food poisoning. We spoke about how many times I'd been on antibiotics as this makes a difference due to how many times my body has had to build up its good bacteria again – you can tell he's rubbing off on me already!
Then, after he gave me a crash course on why eating healthy is actually worth it and the science behind the idea that "you are what you eat", we got into the fun part – hitting the gym. Yay!… ish.
Because we only have six weeks, Ruben said we need to hit this hard, but first he needs to make sure my body is ready. There is no point in going straight in and lifting huge weights as I will just injure myself – then it's game over. So for the next week or so I'll be putting my body through adaptation.
The only adaptation I have done up to this point was adapting to living off a diet of super noodles and vodka at uni. Alas, this adaptation was slightly different.
It's about lots of reps with a low weight – 100 reps in fact. I did one day of upper-body and one of lower-body lifting light. And wow did it hurt.
I did feel a little stupid when in the gym, lifting the lowest weight in front of a load of guys who were built like steam trains, but Ruben told me a story which helped. Once he went into a gym filled with intimidatingly huge guys – but he soon discovered he could lift more than them because he had built his muscles in the correct way rather than just building them to look big. This spurred me on and I just got on with it. After a while I found I couldn't care less about what they thought – I was just happy I was starting the right way and confident it would pay off in the long run.
After the first session I went for a swim to warm down. I call it a swim, but it was more like watching someone drowning. I just spent 20 minutes splashing around really!
If I've made it sound as if I didn't enjoy it, I've told it wrong – in fact, every single thing I did was made enjoyable because Ruben knew how to take my mind off the actual workout. Talking about girls seemed to do the trick. Also the phrase "LOCK IT IN" really helped. It just got my mind into a place where even though I might have thought something was not possible, I did it! It was mind over matter.
After my workout and near drowning I actually felt so alive. Full of energy, fitter, better educated and, actually, more confident in myself already.
I know I don't magically now have a six-pack, but again, my goal is not to just have a better-looking body but also to be educated about how to eat healthy, train well and become a fitter human being.
Weirdly, I'm actually not looking forward to my day off on Sunday. I love the feeling you get from a good workout – it's actually quite addictive!
For my next couple of blogs I'm going to talk you through the exercises I'm doing and how I've changed my eating.
Oh, and I've not touched a beer since my previous blog – I've actually gone off even wanting one. Have I changed this much already?! Guess we'll find out if it sticks!…
RECOMMENDED: Read more from Christian
Christian Williams presents the weekend breakfast show on Virgin Radio, 6-10am.
Follow Christian's fitness journey at coachmag.co.uk/christian, on his show on digital radio (opens in new tab), online at VirginRadio.co.uk (opens in new tab) or via the Virgin Radio app (opens in new tab), and on Christian's Twitter (opens in new tab) and Instagram (opens in new tab) with the hashtag #coacheffect.
Christian Williams is a presenter on Virgin Radio and in 2016 Coach helped Christian get fit, and you can follow and learn from his progress here.
Sign up for workout ideas, training advice, the latest gear and more.
Thank you for signing up to Coach. You will receive a verification email shortly.
There was a problem. Please refresh the page and try again.