FitBrit 2017: Are You Britain's Fittest? Prove It
By Coach Staff published
Take part in the UK's biggest fitness challenge, in association with Men's Fitness, Women's Fitness and DW Fitness First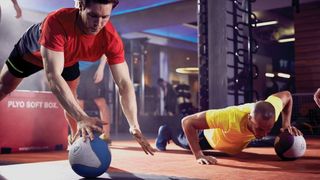 (Image credit: Unknown)
FitBrit 2017 is here, brought to you by Men's Fitness and Women's Fitness in association with Fitness First and DW Sports gym. We're looking for the UK's fittest men and women and you can take part in this year's FitBrit challenge in all Fitness First and DW Sports gyms, even if you're not a member.
So if you want to give your training regime new focus and set your eyes on the prize of calling yourself the UK's fittest, here's what you need to know.
What is FitBrit 2017?
It's the ultimate test of speed, strength and stamina, requiring you to perform nine different exercises back-to-back in the fastest time possible at a Fitness First or DW Sports gym.
All times are then uploaded by a member of staff to the leaderboard and the fastest amateur athletes will be invited to the grand final in the UK in November.
Where can I enter FitBrit 2017?
All you need to do is go to your local Fitness First or DW Sports gym and take the challenge. It doesn't matter if you're not a member: you can get a free three-day pass (opens in new tab) so you can enjoy all the facilities as well as trying to set a new FitBrit personal best!
Entries for the competition close on the October 27th.
Share your results on social media with the hashtags #FitBrit and #Risetothechallenge.
What are the categories?
The Open category is open to everyone, giving you the chance to compete against the fittest in the country to be crowned FitBrit champion. The Masters event is for people aged 40 or over on or before the final date for submitting your time. The Team category is for two people.
The individual categories require you to complete all the events in order, while the team effort requires participants to alternate between exercises.
The Challenge
800m run (0% incline)
20 barbell front squats (30kg men / 20kg women)
Alternate arm medicine ball press-ups (20 men / 10 women)
20 alternating dumbbell snatches (16kg men / 10kg women)
1.5km bike (L14 men/ L10 women)
30 kettlebell swings (24kg men / 16kg women)
20 chest-to-floor burpees with lateral deck jump
30 barbell push press (25kg men / 15kg women)
400m row (drag factor 130-140)
Watch The Final Of FitBrit 2016
Coach is the place to come for all your health, fitness, and personal wellness needs.
Sign up for workout ideas, training advice, the latest gear and more.
Thank you for signing up to Coach. You will receive a verification email shortly.
There was a problem. Please refresh the page and try again.