Bucket List Gyms (Yes, They Do Exist)
By Joel Snape published
All gyms are not made equal. If you're holidaying in Britain this year, sneak one of this lot into the itinerary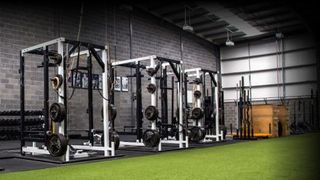 (Image credit: Unknown)
The Commando Temple, London
Yes, it's run by a real ex-commando (strength coach Rob Blair) and yes, for aspiring strength athletes the Temple is a near-religious experience. With specialists in calisthenics, strongman, powerlifting and Girevoy (Russia's national sport, which involves high-rep kettlebell lifting) on staff, you'd be hard-pushed to find a bit of strength kit that's not packed into its three railway arches – but highlights you're unlikely to see elsewhere include a Conan's Wheel, a 512kg tractor tyre… and a full-sized ship's anchor.
Best bit of kit: "One thing you won't see anywhere else is Thor's Hammer, an industrial crane scale designed to test your strength at the very top end of a deadlift," says Blair. "So far, I'm happy to say, I hold the record at 612kg." bestronger.co.uk (opens in new tab)
The Ninja Training Ground, Stroud, Gloucestershire
Unsurprisingly, our American brethren have been quick to embrace the concept of training for Ninja Warrior, constructing entire replicas of the course in giant warehouses and tracts of woodland. In the UK, your options are a bit more limited – but True Function, owned by Ninja Warrior UK competitor Dion Trigg, squeezes a dozen of the show's toughest obstacles into a space the size of a small bungalow. And yes, it does Ninja Training classes.
Best bit of kit: Most of the course's tough bits are covered – Sextuple Steps, Plank Bridge and Jumping Spider most definitely included – but the gym's piece de resistance is the Salmon Ladder. diontrigg.com (opens in new tab), facebook.com/truefunctionuk (opens in new tab)
Spartan Performance, Consett, County Durham
For the man used to battling a swathe of bench-and-curl bros for his gym's solitary squat rack, Spartan Performance is nirvana: not only does it have four of the little beauties, all backing on to Olympic platforms, but it's also got a full-length artificial-turf running track (for prowler sprints) and an array of kit that would shame most NFL training facilities. Finally, it's run by World's Natural Strongest Man competitor Jack Lovett, who is the nicest giant strength athlete you will ever meet. Well worth the drop-in fee.
Best bit of kit: "I love a quality power rack, but my current favourite – used extensively in our programmes – is the Rogue Yoke," says Lovett. "It's a fantastic squat stand that can also be used pressing, prowler pushes or pulls, overhead carries and my favourite, Zercher carries." spartanperformance.co.uk (opens in new tab)
This story is taken from Gym Punk, the weekly email newsletter from Men's Fitness. Let this kind of goodness into your inbox by signing up to Gym Punk (opens in new tab).
From 2008 to 2018, Joel worked for Men's Fitness, which predated, and then shared a website with, Coach. Though he spent years running the hills of Bath, he's since ditched his trainers for a succession of Converse high-tops, since they're better suited to his love of pulling vans, lifting cars, and hefting logs in a succession of strongman competitions.
Sign up for workout ideas, training advice, the latest gear and more.
Thank you for signing up to Coach. You will receive a verification email shortly.
There was a problem. Please refresh the page and try again.