Altitude Training: The Lung-Busting Challenge of Hypoxic Chambers
By Coach Staff last updated
Coach heads for new heights in Third Space Soho's hypoxic chamber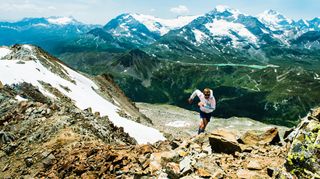 (Image credit: Unknown )
In This Series
Altitude Training: The Lung-Busting Challenge of Hypoxic Chambers
Anyone who has ever spent time at high altitude will know that the fantastic views come with a price. The thin air will have you gasping in no time at all, and any kind of activity at altitude becomes far harder. That might make you think it's best to avoid over-exerting yourself when miles above sea level, but there are actually a host of advantages to training in a hypoxic chamber.
Why Try Altitude Training?
Spending even 15 minutes working out at great heights is not easy, so you'll want plenty of bang for your buck in terms of fitness benefits. Coach asked Bobby Rich, personal trainer at luxury health club Third Space, what ordinary people could expect from a couple of sessions a week in a chamber that simulates the effects of high altitude on the human body.
"One of the largest benefits from using a hypoxic chamber is the increase of red blood cells, which allows for more oxygen and nutrients to be carried in the blood straight to your muscles.
"For a professional athlete this allows them to work at a higher intensity, thereby increasing their aerobic capacity. The red blood cells also carry away waste quicker, allowing the athlete to have a higher lactate threshold and to recover faster. This is still a huge benefit for ordinary folks. Due to that increase of red blood cells, you will benefit from an improved immune system, improved blood circulation and decreased blood pressure [if high]."
Coach tried out altitude training in the rarefied air of Third Space Soho's hypoxic chamber, taking on its "Elevation Challenge". This consisted of a 1,000m row, a 50cal assault bike, a 1,000m run with three per cent incline, and 10 burpees – all done as quickly as possible.
It is ridiculous how much harder everything becomes once some extra height is added to the equation. Coach managed most of the row, but by the time the absurdly difficult assault bike ride was finished, everything was hurting to the point that the 1,000m run took two-and-a-half minutes longer than it would normally.
You don't need to go all out and do a similar challenge, but you can be sure that moving any kind of workout up to mountain height will make it twice as hard in half the time.
Where to Try Altitude Training in London
Third Space, Soho
Members at the Soho branch of Third Space can "enjoy" training in the on-site hypoxic chamber, and take on the Elevation Challenge where you can win six months' complimentary membership. From £150 monthly, 67 Brewer Street, W1F, thirdspace.london (opens in new tab)
The Altitude Centre
For one-off classes and solo workouts at altitude, head to The Altitude Centre, which hosts spinning and running sessions. From £29, Trump Street, EC2V, altitudecentre.com (opens in new tab)
Words by Nick Harris-Fry
Coach is the place to come for all your health, fitness, and personal wellness needs.
Sign up for workout ideas, training advice, the latest gear and more.
Thank you for signing up to Coach. You will receive a verification email shortly.
There was a problem. Please refresh the page and try again.