Is this why people avoid legs day?
By Coach Staff last updated
65% of Brit's don't know where the quads are located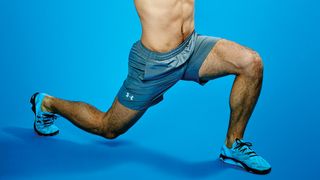 (Image credit: Unknown )
The result comes from Skulpt Aim (opens in new tab), which promises to be the first fitness tracker to help people understand their bodies by rating the quality of individual muscles.
In a poll of 2,000 people it found that despite 77% of Brits exercising at least once a week, 1 in 5 still can't name any muscles in the body from the following list: adductor muscles, pectorals, biceps, rectus abdominis, trapezius, deltoid, achilles tendon, quadriceps, obliquus abdominis, triceps, lumbar muscles, latissimus dorsi, gluteals, sternocleidomastoid, hamstrings, gastrocnemius and transversus abdomini.
There are some eyebrow-raising stats as well, such as 10% of those who exercise twice a day believe the pectorals are located in the lower leg. If the person spotting you next time you bench press gets this one wrong it might be time to ask someone else for help.
For those of you who want to brush up on their knowledge, here's a detailed breakdown along with the answers. (In case you had any gaps in your knowledge.)
| | | |
| --- | --- | --- |
| Muscle | Location of muscle in the body | Percentage of Brits who don't know where the muscle is located |
| Deltoid | Shoulder | 88% |
| Rectus abdominis | Stomach | 71% |
| Quadriceps | Front of the thighs | 65% |
| Hamstrings | Back of the thighs | 64% |
| Gluteals | Bottom | 63% |
| Triceps | Back of the upper arm | 58% |
| Pectorals | Chest | 43% |
| Biceps | Front of the upper arm | 26% |
Coach is the place to come for all your health, fitness, and personal wellness needs.
Sign up for workout ideas, training advice, the latest gear and more.
Thank you for signing up to Coach. You will receive a verification email shortly.
There was a problem. Please refresh the page and try again.