Four Unexpected Benefits Of Yoga
By Coach Staff published
There are a number of positive effects yoga can have on your mind and body. Here are four you may not know about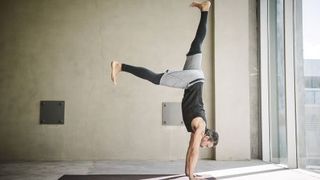 (Image credit: Unknown)
Yoga Can Help Add Muscle
"In the gym we tend to work isolated muscles though pretty linear ranges of motion, which slightly misses a trick," says Vinyasa yoga teacher and Manduka ambassador Adam Husler (@AdamHusler (opens in new tab)). "Lay out a supportive yoga mat in your house and through consistent yoga practice, you'll start to appreciate the benefit of integrating all body parts into particular movements as you naturally begin to build more functional mobility. You'll develop that sweet balance of flexibility and strength. Over time the injuries will happen less, recovery will be faster and your gym work will begin to have more real-world use."
RECOMMENDED: "Guys Who Do Weights Or Run – Yoga Changes Their Lives"
Yoga Can Help Sculpt A Six-Pack
"Yoga might not specifically target those surface-level muscles that get you washboard abs, but every pose does bring your awareness to 'the core of the core' – the muscles that interact with the pelvis, particularly the psoas," says Husler. "Once you get to grips with activating these muscles in basic poses you'll start to engage them as you lift or do calisthenics. To feel what I'm talking about, get in a plank position, then touch your right shoulder with your left hand without moving anything but your arm, then your left with your right. Keep alternating and go slow – no fly-swatting. It's not as easy as it sounds."
Yoga Can Help Avoid Injury
"Yoga isn't a stretching class and as you get more experienced, you'll understand the subtleties of what's happening to your body," says Husler. "As that self-awareness increases you can start to apply it to your gym sessions, your sports and your recovery regime. Yoga got me to engage my core more effectively in boxing bouts and helped me survive an ultramarathon. An extra bonus is that there isn't any winning at yoga – you just have to do something that's subjectively hard for you and breathe through it. And sometimes you get to just lie on a bolster, with your legs in the air and sneak in a little nap. Just don't snore."
Yoga Can Help You Smarten Up
Practising mindfulness, a form of meditation, could offer a host of mental benefits such as improved memory, accelerated learning and reduced stress, according to research from Harvard Medical School. Scientists compared brain scans of long-term meditators with those of a control group and found that the former "had more grey matter in the frontal cortex, which is associated with working memory and executive decision making".
If you're new to mindfulness, it can be tricky to achieve the serene state that allows you to enjoy the full effects. If that's the case, you may want to take up yoga, which will deliver the mental benefits while also giving you a workout that helps to strengthen your core and reduce your risk of injury.
RECOMMENDED: Mindfulness Exercises and Apps Even Cynics Will Want to Try
You'll find it difficult to stay mindful if you're trying to extract your gym shorts from awkward places mid-pose. To fast-track your mental contentment, make sure you're wearing the right gear.
The new range from yoga specialist Manduka is kind both to the environment (it's made using a combination of recycled polyester, plant-based material and organic cotton) and to your body.
The Minimalist tank (opens in new tab) (pictured, £32) is made with a lightweight stretch mesh fabric to aid movement, while the Atman tights (opens in new tab) (pictured, £72) have contoured flat-locked seams and an elastic waistband to maximise comfort and performance. manduka.com (opens in new tab)
Coach is the place to come for all your health, fitness, and personal wellness needs.
Sign up for workout ideas, training advice, the latest gear and more.
Thank you for signing up to Coach. You will receive a verification email shortly.
There was a problem. Please refresh the page and try again.