18 Things To Do With Your New Apple Watch 7
By Nick Harris-Fry last updated
Did Santa leave the new Apple Watch under your tree? Here's what you should do with it first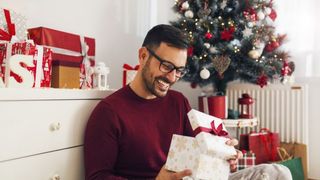 (Image credit: Unknown)
So you've received the Apple Watch Series 7 for Christmas. Congratulations – it's time to say a big heartfelt thank you to whoever gave it to you. But you're also going to have to apologise because you're likely to spend the rest of the day playing with your new toy and ignoring those around you. There's an awful lot you can do with your fancy new smartwatch, so find a nice armchair and work through this list of features we think are the most important.
1. Sort Your Watch Face
You're going to spend a lot of time looking at this, so make sure the watch face shows what you want – whether that's your favourite photo, your activity stats, a kaleidoscope, delightful coloured smoke that billow across the screen, or a character from Toy Story. Can't decide? Create a few and once they're set up, you can swipe sideways between them on the watch itself whenever the mood strikes you.
2. Pick Your Complications
Once you've selected your style of watch face, it's time to complicate things. Complications are small nuggets of info that also link to an app. You can have, say, the date (which clicks through to your calendar), the weather, your everyday activity tracking, a timer, or hundreds of other things including links to activity apps like Strava or Nike+ Run Club. The Apple Watch 7 has a bigger screen than past editions and this has been put to good use by the Infograph watch face, which has space for up to eight complications, so you can have all your favourite apps close to hand every day.
3. Organise Your Dock
Click the lower button on the side of the Apple Watch to bring up your Dock, which contains your favourite apps. You can set these up in the iPhone Watch app and manage them from the watch itself – swipe left on an app to remove it from the Dock.
4. Go Configure
Head to Watch Orientation in the General section of the Watch app and you can not only select right or left wrist, but also which side you want the buttons to be on.
5. Choose Your Activity Goals And Notifications
The Apple Watch 7 is a superb daily tracker and filling the three activity rings will quickly become an obsession. Make sure your Move goal is realistic, though – 500 active calories a day is standard, but very active people might want to look at 600-plus. You can also modify how interactive the activity tracking is on the Watch iPhone app, which allows you to turn on or off hourly move alerts and coaching – the latter chiming in with pointers throughout the day to help keep you on track to hit your activity goals.
6. Set Up 4G (If You Have It)
If your Watch is the cellular model you'll need an EE or Vodafone sim and contract, then head into the iPhone app and click on Mobile Data to set up your 4G.
7. Download Your Favourite Fitness Apps
The native Apple Workout app has all the sport modes you're likely to need, but doesn't export the data it collects to third-party apps you may already be using. Fortunately, most third-party apps have dedicated Apple Watch apps, including Strava, Runkeeper and Nike+ Run Club, so if you already have a favourite fitness app downloading it to your Watch should be a priority.
See related
8. Explore New Fitness Apps
While you might already have some favoured fitness apps on your phone, there are some Apple Watch specific options you probably won't have come across before. The best of these is WorkOutDoors, which essentially turns the watch into a sports tracker that's on a par with a Garmin or Polar device. It costs £4.99 but we'd say WorkOutDoors is nigh-on essential for keen runners and cyclists in particular. Other great apps to try out on your Apple Watch include iSmoothRun and Yourace.
9. Throw Away Your Tesco Clubcard
Two clicks on the lower side button on the Apple Watch will bring up your payment card, which is convenient in itself – but it's far from the only card you can stash in your Watch wallet. You can set up your Tesco Clubcard and even link your most-used stores so the card automatically pops up when you walk into your local branch. You can also put train, cinema and plane tickets in your new wrist Wallet, making the Apple Watch by far the most useful smartwatch available at the moment.
10. Stay Up To Date With News And Sport
There's a lot of football on over the Christmas period, but you're also meant to be "spending time" with "family and friends", so get the Forza app and set up goal notifications for your favourite teams. If you're more of a newshound, then the BBC News app will ensure you're kept up to date without having to conspicuously check your phone. In fact, whatever you want to keep up to date with, there will be an app to download.
11. Make A Decision On Fall Detection
The Apple Watch can now detect if you've taken a hard fall while wearing the watch and automatically brings up the option to call emergency services. You can dismiss this alert, but if you're immobile for a minute it will make the call automatically. It's a potentially life-saving feature and it's turned on automatically for users who enter their age as over 65 years, but it can be triggered incorrectly, especially if you partake in high-impact exercise regularly. Decide whether you want it on or off and choose appropriately in the My Watch section of the app.
12. Ramp Up The Haptic Feedback
Open the Watch app, click Sounds & Haptics, then move the Haptic Strength slider all the way to the right and turn on Prominent Haptic. The powerful buzzing will mean you never miss a notification.
13. Sync Your Music
If you turn on the Heavy Rotation playlist the Apple Watch will automatically add all the music you listen to most on your iPhone's Music app and do so when it's charging at night, which is very handy indeed. You can also select playlists to sync over next time it's charging, which is worth doing if you already have a running or gym mix.
14. … And Your Podcasts
Head to the podcasts section in the Watch app and you can choose which ones you want to be automatically synced to the Apple Watch when it's charging – everything you have or just a few select favourites.
15. Get An Apple Music Subscription
This is an extra cost but one worth paying, considering how well music is integrated on the Apple Watch. Once you've subscribed, just ask Siri to play any music you can think of, or songs from any era, and your Watch will duly oblige. It's almost magical and if you have an Apple Watch with 4G you can do this without a phone in sight. Time to amaze your oldest relative. Hey Siri, play Michael Bublé's Christmas album. Again.
16. Set Up Your Heart Rate Notifications
The Apple Watch is all about heart health. It can take an electrocardiogram and notify you if your heart rate drops too low or rises too high for an extended period seemingly without cause – if you're exercising you won't get the high heart rate alerts. In the Heart section of the Watch app you can set the heart rate level that will trigger these alerts, or turn them off entirely. Getting high heart rate alerts when sedentary is a sign that you may need to speak to your doctor.
17. Check The Noise Levels Around You
The Noise app on the Apple Watch checks the decibel levels around you and lets you know if they're dangerously high. Although its main use is for pointing out any regular periods of your week that are spent in worryingly noisy environments, it can give important information on how loud the annual Christmas Day Trivial Pursuit argument is getting.
18. Try Apple Fitness+
Fitness+ is Apple's excellent guided workouts app. You'll also get three months' access free when you buy an Apple Watch, so it's well worth giving a go once the festive celebrations are out of the way. The range of workouts in the app is impressive and includes cardio, yoga, strength and HIIT workouts.
Sign up for workout ideas, training advice, the latest gear and more.
Thank you for signing up to Coach. You will receive a verification email shortly.
There was a problem. Please refresh the page and try again.