Best Cheap Fitness Trackers
By Alan Martin last updated
There are now plenty of options for fitness fans on a budget. These are our sub-£100 favourites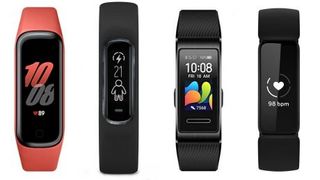 (Image credit: unknown)
In the early days of wearables a search for "best cheap fitness trackers" would retrieve a bunch of jumped-up Bluetooth pedometers. But 12 years on from the launch of the original Fitbit, the market has matured significantly, and even sub-£50 devices have screens and a set of features far beyond mere step-counting. Almost all have heart rate monitoring as standard, and some even have built-in GPS for accurate running or cycling stats on the go.
In fact, budget trackers have improved so much that knowing which one to buy can be more than a little tricky. That's why we've picked the best ones available under £100, paying attention to features, style, battery life and the quality of the app. It's not just about the price – though of course a low cost of entry is extremely welcome.
While the dividing line between fitness tracker and smartwatch has become increasingly blurred, if you'd prefer something with a bigger screen and more smartphone integration, be sure to check out our guide to the best smartwatches.
Best Fitness Trackers Under £50
(opens in new tab)
RRP £39.99
Xiaomi's Mi Band fitness trackers have done a superb job of undercutting the opposition without skimping on features. The latest model is the Mi Band 5, which theoretically retails at £40 but is rarely seen over £30, and offers everything that made the previous versions so popular (bright AMOLED screen, excellent stamina, water resistance and decent sports tracking) while making a few solid quality-of-life improvements along the way.
The battery life has dipped a little, but it's still an impressive two weeks, and the pay-off is more than worth it. Xiaomi has bumped up the screen size to 1.1in (28mm), as well as adding REM sleep tracking and a barometer. It has also increased the number of tracked sports to 11, with added support for rowing machines, elliptical training and yoga.
There's also a new way for more casual fitness fans to track progress in the form of a Personal Activity Indicator (PAI) number. In short, if you keep your PAI figure above 100 each week, you're less likely to have heart problems – according to a study from the Norwegian University of Science and Technology – and Xiaomi makes this easy to track.
There's no GPS, and the Mi Fit app still feels a little underdone, with no option to connect to the likes of Strava or Runkeeper. For the price, though, it's hard to be too upset about that.
(opens in new tab)
RRP £49 | Samsung Galaxy Fit 2 review
While Samsung is better known for its Galaxy Watch series of pricy smartwatches, the Korean company has established itself as a key player in the budget sector with the cheap and cheerful Galaxy Fit 2.
To make a fitness band that's under £50, Samsung has had to make serious cutbacks on its previous wearables, but it's impressive how much you still get for your money. The bright 1.1in (28mm) AMOLED screen is highly readable, and the Galaxy Fit 2 is very effective at spotting when you're working out and logging it automatically, should you forget to start it up yourself.
We miss having a physical button to press, and the clasp design can make the band a bit uncomfortable. The Samsung Health app also feels a bit shallow for those who like to pore over the data, and there's still no web version. Despite this, the Galaxy Fit 2 is a good choice for those who already use Samsung phones and don't want to spend over £200 on a Galaxy Watch.
Buy from Samsung (opens in new tab) | £49
---
(opens in new tab)
RRP €44,90 (around £39) | Amazfit Band 5 review
The Amazfit Band 5 attempts to bring low-cost fitness trackers into a new realm with the surprise inclusion of Amazon's Alexa smart assistant. Swipe left on the screen, ask a question and – assuming your phone is nearby – your answer will be printed in tiny text on the screen.
If that sounds gimmicky, frankly that's because it is. But the rest of the Amazfit Band 5 makes quite a compelling package given it's usually under £35. As well as the same PAI calculation as the Xiaomi Mi Band 5 (above), the Amazfit Band 5 includes a blood oxygen sensor, support for 11 exercises and a stress measurement tool. If the latter shows you that you're too tightly wound, you can do a guided breathing exercise from your wrist to calm down.
Buy from Amazfit (opens in new tab) | €44,90 (around £39)
---
See related
Best Fitness Trackers Under £100
(opens in new tab)
RRP £69.99
The Huawei Band 4 Pro immediately sets itself apart from every other tracker on this list with a huge addition: a built-in GPS tracker. That means you can go out running or cycling without your phone, and still be confident that the data recorded will be useful for analysis later. With this feature and everything else turned on, the battery life is still five days, or 12 days if your use is more sporadic.
On top of this, it has a few features that cheap fitness trackers can only dream of. It'll measure your VO2 max, for one, and also give you recommended recovery times based on your heart rate zone data.
Considering it is seldom sold for its retail price of £69.99, and will often slip into the sub-£50 category, there really aren't many drawbacks – or few that don't apply to every other fitness band, like a small screen (0.95in [24mm] in this case) that's fiddly to mess around with mid-workout. That said, the Huawei Health app definitely holds it back from reaching its full potential: not only does it have no web version, but it only allows you to connect with Google Fit and MyFitnessPal.
Buy from Huawei (opens in new tab) | £69.99 (currently reduced to £44.99)
---
(opens in new tab)
RRP £89.99 | Fitbit Inspire 2 review
It was Fitbit that fired the starting pistol on the fitness tracker gold rush back in 2009, but it has been in danger of being shown up by cheaper pretenders for some time. But while the Fitbit Inspire 2's black-and-white OLED screen feels a touch antiquated compared with the younger upstarts, it offers two things that go a long way to justifying the higher cost: Fitbit Premium and the superb Fitbit app.
Premium should cost £79.99 per year, but Fitbit provides 12 months' worth free of charge. It's excellent for people who want to get a bit more out of their wearable, with advanced insights, bespoke workouts, running guides and guided audio or video workouts. The Fitbit app, meanwhile, isn't just brilliantly intuitive and widely compatible with other software, it's also extremely popular. The chances are you'll see at least a few friends registered, allowing them to compete with them, which can really help with motivation.
At £90, the Fitbit Inspire 2 feels pricy from a hardware perspective, but as an overall package it remains a sensible choice for lots of people who want a more hands-on workout companion.
Buy from Fitbit (opens in new tab) | £89.99
---
(opens in new tab)
RRP £99.99
The Garmin Vivosmart 4 is a little long in the tooth now, but with no Vivosmart 5 in sight, it remains a worthwhile option if you're set on a Garmin-branded device. At £100, you do pay a premium for the brand, but it's a stylish device with impressive features that have gradually made their way down from Garmin's more expensive offerings. VO2 max? Check. Fitness age? Check. Body battery? Check.
The 0.75in (19mm) screen is a bit fiddly, and given it's at the very top of the sub-£100 price bracket the lack of GPS is disappointing. Still, the accompanying Connect app is packed with data for fitness nerds, and it remains the best fitness band the company makes for now – even if we dearly hope Garmin releases something more modern soon.
Buy from Garmin (opens in new tab) | £99.99
Alan is a freelance tech journalist and mostly covers fitness trackers for Coach.
Alan was not what you would call a big fitness guy growing up, but has been radicalised by parkrun and taken up running in a big way. Although nowhere near podium at races, as a late starter he does at least know that he can still get faster. Alan has written for ShortList (opens in new tab), Tom's Guide (opens in new tab), Trusted Reviews (opens in new tab) and Expert Reviews (opens in new tab), among others.
Sign up for workout ideas, training advice, the latest gear and more.
Thank you for signing up to Coach. You will receive a verification email shortly.
There was a problem. Please refresh the page and try again.