Sleep Tracking Arrives On The Apple Watch This Autumn
By Jonathan Shannon published
It's one of the improvements coming with the release of Apple's new wearable operating system, watchOS 7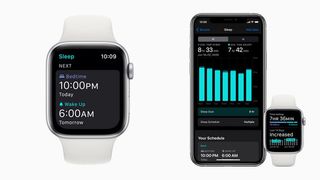 (Image credit: Unknown)
In our eyes the Apple Watch is the undisputed champion of fitness smartwatches, combining genuinely useful smart features with accurate heart rate and GPS tracking hardware. The one glaring omission in its suite of features, compared with virtually every other health wearable, is sleep tracking – perhaps because the Apple Watch's battery life hasn't been up to the task of handling heavy use during the day and night.
That's all set to change in the autumn once the new Apple Watch operating system, watchOS 7, is released as an update to the Apple Watch series 3, 4 and 5. Along with sleep tracking this will bring enhancements to watch faces, more workout types to choose from, cycling directions, and a way to monitor your headphone use to protect your hearing. There will also be hand-washing tracking to make sure you scrub for a full 20 seconds.
The sleep tracking, while welcome, looks surprisingly basic, reporting only the time in bed spent asleep and awake. Apple says it measures these using the device's accelerometer, so we assume Apple has disabled the heart rate monitor to conserve the battery. That would explain why the feature doesn't stack up to rival fitness brands. The heart rate monitor is what Fitbit uses to provide details on the sleep stages of REM, light or deep sleep, while Polar uses it to measure heart rate variability which informs its data about how well your autonomic nervous system has recovered.
See related
The new watchOS does add features that help you go to bed and wake up at consistent times. Wind Down allows you to trigger apps or music at the same time every evening to help you relax, while haptic alarms where the watch vibrates gently can be set to gently rouse you from your slumber.
In another indication that Apple is concerned about battery life, the watch will notify you if the battery is too low to last the night in the hour before the device thinks you'll be going to bed. It will also clearly display the state of the battery when you wake up.
The hand-washing feature, however, is a peerless offering. The Apple Watch will recognise sounds and movement to guess when you're washing your hands and trigger a 20-second countdown.
It will also prompt you to go keep washing if you stop short of that recommended period, and you can set up reminders to wash your hands when you arrive home. Information on the frequency and duration of your hand washing will be displayed in the Health app on your iPhone if you want to prove to others you're on top of your hygiene.
In the current watchOS, the Noise app keeps tabs on ambient sound to alert you if the volume is loud enough to affect your hearing. In watchOS 7, your use of headphones will be logged and you'll be told if you exceed certain limits for both duration and volume (based on WHO recommendations) that might put your hearing at risk.
The ability to personalise and share watch faces, as well as the addition of dance workouts to the list of workout types, are banner updates in Apple's eyes – but we're more intrigued by the new ability of the Apple Watch to provide cycling directions.
Plotting routes for bikes, especially in major cities, is no easy feat. We've used some services that often put cyclists on major roads where back streets would be far preferable. It's one of the first things we'll try when watchOS 7 launches in the autumn because with more and more people cycling, a quick and convenient way to guide you through a city safely will be worth its weight in gold.
Jonathan Shannon has been the editor of the Coach website since 2016, developing a wide-ranging experience of health and fitness. Jonathan took up running while editing Coach and has run a sub-40min 10K and 1hr 28min half marathon. His next ambition is to complete a marathon. He's an advocate of cycling to work and is Coach's e-bike reviewer, and not just because he lives up a bit of a hill. He also reviews fitness trackers and other workout gear.
Sign up for workout ideas, training advice, the latest gear and more.
Thank you for signing up to Coach. You will receive a verification email shortly.
There was a problem. Please refresh the page and try again.