You Can Now Save Your Apple Watch Workouts To Strava Directly
By Nick Harris-Fry published
You no longer need a third-party app to share your Apple Watch workouts on Strava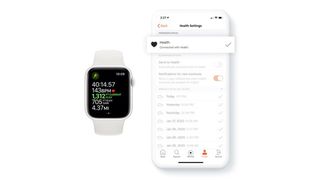 (Image credit: Unknown)
The Apple Watch is the most popular wearable in the world, and that's in no small way because of its sports and activity tracking features. Strava, for its part, is one of the most popular activity sharing apps in the world. Considering those two facts, it's been more than a little annoying not to be able to sync workouts tracked in the Apple Watch's native Workout app to Strava directly.
There are workarounds. You can use another app to track your workouts on the watch that did sync to Strava. You can even use the Strava app. However, the Apple Watch's native Workout app is better than most third-party sports apps available – for one, it can make use of the Series 5's always-on screen, something third-party watch apps like Strava cannot. The other solution is to use the Workout app and then pay for a third-party app like RunGap or HealthFit, which could take the workout data and export it to Strava for you.
From now on, however, you can use that Workout app and sync it to Strava! That's because Strava is now integrated with Apple's HealthKit, which is where your workout data goes after you save it on the watch.
It is not, however, fuss-free. It requires more faff than with most wearables. If you save a workout on a Garmin, Polar or Fitbit device, for example, you can have it set up to automatically sync to Strava. With the Apple Watch you have to manually import that workout to your Strava profile each time, taking you a couple of extra clicks. Looking on the bright side, some people might prefer to have the option of sending everything to Strava or just some workouts.
See related
You also have to set it up in the first place if you want to take advantage of the new integration – it won't happen magically. First you need to go to your Strava profile on your iPhone, select Settings, then Applications, Services, and Devices, and then Connect with Health. Apple will then jump in asking you to confirm the set-up – tick all the categories there to complete the link.
Once you've done that, the workouts you have done in the past 30 days will show up automatically on your Strava profile, and you can select which ones you want to import in your Strava feed. Then, in future, you'll get a notification from the Strava app when you save a workout so you can pop in and then import it to your feed.
The ability to sync workouts from the Apple Watch's native app to Strava easily really should have been standard on the device from the off – like it is on almost every other wearable – but better late than never. Enjoy all that extra kudos coming your way on Strava!
Sign up for workout ideas, training advice, the latest gear and more.
Thank you for signing up to Coach. You will receive a verification email shortly.
There was a problem. Please refresh the page and try again.