15 Things To Do With Your New Fitbit
By Nick Harris-Fry last updated
If Saint Nick brought you a Fitbit Sense or Charge 5 this year, here's what you should do with it first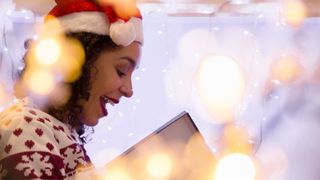 (Image credit: Unknown)
If a new Fitbit fitness tracker or smartwatch topped your wishlist this Christmas – and Santa duly obliged – it's time to grab a glass of Buck's Fizz and head to a quiet corner for half an hour to set up the device. This guide covers the first steps to take to ensure you get the most out of the features available.
1. Set Your Primary Activity Goal
An activity target is only useful if it's achievable and something you actually care about. If 10,000 steps isn't doing it for you, change your goal in the Fitbit app. In general we rate Fitbit's Active Zone Minutes as the best activity goal. It uses your heart rate to log minutes towards a target of 150 minutes of moderate exercise a week, or 75 minutes of vigorous exercise, which is in line with NHS and WHO guidelines.
2. Pick Your Watch Face
You're going to see this screen on your smartwatch or tracker a lot, so make sure you pick something you want to look at. Head to the Fitbit app Clock Faces section to make your choice, whether you prefer a stat-laden screen or something more stylish. If you're using a band be prepared for a more limited selection of options.
3. Add Your Favourite Exercises
Fitbit's bands like the Charge 5 and Inspire 2 come loaded with six sports modes, but you don't have to stick with the ones selected automatically. In the Fitbit app you can swap out one of the standard options and add other modes such as Martial Arts, Pilates or Circuit Training. If you have a smartwatch like the Fitbit Sense it can also hold up to 20 sports modes, so there's no picking and choosing required.
4. Sort Your Notifications
Your Fitbit will get calls, texts and calendar events automatically once linked to your phone, but for notifications from specific apps, you need to set them up in the Fitbit app. On day one, though, you may find that there are no apps to choose from. That's because they won't appear until you've set up your device and then received a notification from that app on your phone. Yes, it's a bit of a faff – but now you know you won't need to spend Christmas Day sulking because your Versa 3 seemingly doesn't work.
5. Try Fitbit Premium
Fitbit's subscription service Fitbit Premium costs £79.99 a year, but you get a free trial with a new device, so it's worth investigating the extra features offered, such as more in-depth sleep tracking as well as a host of workouts and training plans.
6. Take Some Measurements
Fitbit's devices keep getting smarter and if you have a Sense or Charge 5 it can take an electrocardiogram (ECG) measurement from your wrist, as well as tracking your electrodermal activity (EDA). The former will check that you have a normal heart rate rhythm, while EDA is a good indicator of your stress levels. When you sleep your Fitbit will also track your blood oxygen saturation levels for you to look at in the morning.
7. Download Some Apps
Fitbit's third-party app market is not especially well developed (yet), but it's getting better. Some great options include the C25K Trainer app, which will help new runners build up to running 5K without stopping, and the Spotify Control app. You can see which Fitbit devices are compatible with each app in the App Gallery, found in the profile section of the Fitbit app.
8. Pick Your Intervals
The Interval sports mode is fit for any kind of activity (running, cycling, jumping jacks): just set the times you work and rest for and the device will buzz at you to keep you on track during the session. You can't do this on the device itself, though – only through the Fitbit app on your phone. To avoid disappointment in the gym when your phone's in your locker, we recommend you set it to the Tabata protocol: 20 seconds of work followed by ten seconds of rest, repeated eight times. While you're at it, turn vibrations up to strong in the settings menu, because if you're doing Tabata properly and going all-out you might miss a milder buzz telling you to rest.
9. Socialise
One of Fitbit's great strengths is its massive user base, and the chances are a few of your friends and family will also be getting a Fitbit this Christmas to join the many others who already have one. Add them in the Friends section of the app and you can compete to see who is the most active – it's great motivation to stay moving.
10. Race Around Yosemite
Check out the Challenges section of the Fitbit app and you can sign up to race against your friends over two virtual courses set in Yosemite National Park. That's 35,800 steps on Valley Loop or 62,500 steps along the Pohono Trail. Keep checking back in to see your progress and unlock the panoramas of Yosemite.
11. Configure Your Activity Screens
The default screen for activities like running shows three stats: two that are fixed (at the top and bottom) and one in the middle that you can flick through to show different info. You can also adjust the data that's displayed in each of these – if you just want heart rate, current pace and average pace for running, for example, then you can get rid of other stats like calories so you don't have to spend ages swiping through the whole lot to find out what you want. On the watch, find the start screen for the exercise you want to edit and click the cog in the top left corner.
12. Decide How Relaxed You Want To Be
It's worth using Relax – Fitbit's guided breathing sessions app – once in a while or even every day, because it's a time-honoured method of chilling out. Before you do, click the settings cog in the app and pick how long you want your session to be.
13. Sign Up To Deezer
If you're not already a member of this music-streaming rival to Spotify and Apple Music, sign up pronto because Deezer is well integrated with Fitbit's smartwatches. You can sync playlists over to the watch and listen to them without your phone. You may well wonder why we're not recommending using the Spotify app, and that's because you can't move playlists over to the device to listen to offline – the app just acts as a remote for Spotify on your phone. For Fitbit users, Deezer is by far the better option.
See related
14. Sync Up Your MyFitnessPal And Strava
Fitbit's a lover, not a hater. It's accepting of other fitness apps, such as RunKeeper, MyFitnessPal and Strava, and is more than happy to sync up and share info with them, thus creating one big happy fitness family. For a full list of apps it'll buddy up with, see Fitbit UK's partnerships page.
15. Customise Your Dashboard
Hit Edit in the top left corner of the app and hide any data that you're not fussed about seeing to make your Fitbit experience as streamlined as possible. Then drag the metrics around until you're happy with the order. A five-minute job, but a satisfying one.
Sign up for workout ideas, training advice, the latest gear and more.
Thank you for signing up to Coach. You will receive a verification email shortly.
There was a problem. Please refresh the page and try again.