10 Tips For Getting The Most Out Of Your New Garmin Fitness Tracker
By Nick Harris-Fry last updated
If you found a Garmin under the Christmas tree this year here's how to make best use of it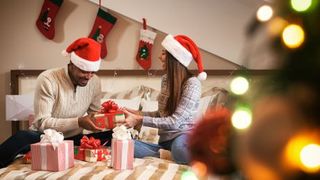 (Image credit: Unknown)
Garmin's line-up of fitness trackers and sports watches is vast and seriously impressive, with several of our favourite running watches found within its ranks. As a result, they make popular Christmas presents, and if you've unwrapped a new Garmin this year then lucky you – you're going to love it.
However, if you're going to get the most from your Garmin it's worth taking the time to get to know it better, because they're not always the most intuitive devices to use out of the box. We've tested and reviewed pretty much every Garmin tracker and running watch out there, so thought we'd help with a few tips on finding and setting up the key features on your new watch.
1. Set Up Your Sports Tracking
While today's Garmins have all manner of fancy extra features, they're all still sports trackers at their core. This is one feature that's easy to work right out of the box: just hit start, choose your sport, wait for GPS and off you go. But one thing you can do to improve your experience is set up your data screens to show the stats you want.
Runners in particular have a wealth of options to pick from including time, distance, pace, heart rate and cadence. You can do this in the running menu, where you should also turn auto lap on or off according to your preferences.
Pictured: Garmin Fenix 6 Sapphire
2. Choose A Training Plan
Did you get a running watch for Christmas to help you train for your first big event? Then head to the Garmin Coach section of the Connect app and you'll be able to set up an entire training plan based on your target and current ability, which you can then sync to your watch. At the moment there are plans for 5K, 10K and half marathon races, with all the workouts already set up so your watch will remind you when to run and what kind of run to do.
If you need a marathon plan, head to our complete guide to marathon training. We have plans for all abilities.
3. Load It Up With Music
Many of Garmin's watches now offer music playback, which includes the Forerunner 245 Music running watch, the Vivoactive 4 and Venu 2 smartwatches, and the powerhouse Fenix 6 Pro and Forerunner 945 multisport watches.
If your watch has music then you can plug it in to your computer to sync across your tracks and playlists, or link it up to a premium streaming account to sync music to the device wirelessly. Garmin's music watches support Spotify, iHeartRadio, Deezer and Amazon Music.
See related
4. Create A Workout
Garmin has an excellent workout creator that's easy to use, so you can sync your planned session to your watch to follow from your wrist. Unfortunately that creator is inexplicably tucked away at the back of Garmin Connect and accessed by hitting More, then Training.
You can create workouts for all kind of sports, with running sessions based on time, distance, pace or even cadence, and on certain watches you can also sync across pre-made Pilates, yoga and strength workouts, with on-screen animations showing you how to perform each move.
If you're planning on a simple interval session, you can set that up directly on the watch in the options menu when you start a sport. Many Garmin watches now also suggest workouts for you each day based on your fitness and recent training.
5. Map A Route
Pictured: Garmin Fenix 6 Pro
Also hidden away in the Training section of the Garmin Connect app is Courses, where you can map out routes to sync to your watch so it guides you through them when running, cycling or hiking. You can also create the routes online on the Garmin Connect website, which is slightly easier to do if planning a long activity.
Mid-range Garmin watches will show a simple breadcrumb trail of the route, with just a line and a pointer to keep you on track, and you can also fire up a "back to start" pointer during an outdoor activity if you've started without a route and got yourself lost.
Top-end Garmins like the Forerunner 945 and Fenix 6 Pro range offer full colour maps on the wrist, which not only makes it easy to follow pre-planned routes but also allows them to create new routes on the fly. If you're in a new place and need a route to run, you can set a rough direction and distance and the watch will create you three options based on paths that are popular with other Garmin users.
6. Give PacePro A Go
Pictured: PacePro on the Garmin Fenix 6 Sapphire
This feature is available on several watches, including the Forerunner 55, the Fenix 6 Pro range, Forerunner 945 and Forerunner 245 watches, and it could be the key for runners trying to set a new PB.
Set up a PacePro plan for a race and you'll get split-by-split (mile or kilometre) time targets based on your overall goal time and the elevation in that split, whether it's uphill or downhill. You can even set up the plan to pace you for an overall negative split, where you run faster in the second half of the race – the best way to smash a PB. It's basically a smart pace band, and a great help to have on your wrist if you're trying to avoid going out too fast in a race.
To do this you first need to set up the course of your event, either by mapping it yourself in Garmin's course creator or finding the route online on somewhere like Strava, downloading a GPX file and uploading it to Garmin. From there you can set up your PacePro plan for that route either on the Connect website, in the Connect app or even on your watch itself, once the course has been synced to it.
7. Choose A Watch Face
While Garmins don't offer much in the way of watch face customisation compared with, say, the Apple Watch, you do have some options to play with. Head to the main menu to adjust your watch face, which can be set up to show all manner of fitness stats, as well as things like the temperature and sunrise/sunset time. You can also find more watch face options in the ConnectIQ app store if Garmin's presets aren't doing it for you.
See related
8. Select Some Widgets
Scroll up or down from your watch to access your widgets, which show key info on things like the weather, your calendar, your activity that day and your overall training load. Use the main menu to add or remove widgets so you're getting only the info you want.
9. Set Up Emergency Assistance Just In Case
This is one feature you should set up on Christmas morning then hope never to have to think about again. With Garmin's Incident Detection feature, your watch can detect if you fall during an outdoor activity and then message a preset contact to alert them. You can also send these alerts manually by holding down the backlight button.
10. Link Garmin Connect To Your Strava Account
Activities tracked by your Garmin watch will sync automatically to the Garmin Connect app, where you can pore over your stats in great detail. However, many keen runners and cyclists will also have a Strava account where their activities can be posted for friends and followers to see and comment on (and give that all-important kudos, of course).
You can link the Garmin Connect app to your Strava account so that any activities you sync for your Garmin device are automatically uploaded. To do this, hit More in the app, then Connected Apps, and follow the simple guidance on linking the two accounts.
Sign up for workout ideas, training advice, the latest gear and more.
Thank you for signing up to Coach. You will receive a verification email shortly.
There was a problem. Please refresh the page and try again.