How To Buy The Best Garmin Fitness Tracker For You
By Nick Harris-Fry last updated
Use this guide to make sense of the dizzying range of Garmin trackers and find the one that's best suited to you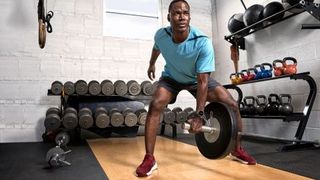 (Image credit: unknown)
Garmin is a company that seems to believe that there can never be too many choices for the consumer. And there's nothing wrong with that, because it means that whatever your particular circumstances and preferences, there is almost certainly a Garmin that will cater to your every whim.
However, it does mean that your first visit to the Garmin website will probably result in decision fatigue, and you may well give up in the mistaken belief that it's practically impossible to find the right device.
We're here to help. We've tested out all manner of Garmins and are pretty confident we have a good handle on what's available. Aside from the really expensive Garmin devices for sailing and aviation – we'll concede that we've not kept up with those.
The principal Garmin ranges for sporty types are the Forerunner and Fenix running and triathlon watches, the Edge cycling computers, and anything with Vivo at the start of its name, which indicates that it's some kind of fitness tracker or fitness-focused smartwatch.
---
---
Beyond that you'll find models whose names indicate what they're for, like the Garmin Swim 2 for swimming, or the Garmin Approach watches for golf. And then sometimes the name doesn't help at all. Like the Garmin Venu, which is a smartwatch.
Nearly all of Garmin's devices now have GPS and a heart rate monitor, right down to its cheapest running watches and even some of its fitness trackers, and almost all are waterproof too. To pick between them requires some serious analysis, then… or you can just use our guide to the best Garmin for different types of people below. That will be easier.
Garmin Forerunner 45
Best For Beginner Runners
(opens in new tab)
RRP £159.99 | Garmin Forerunner 45 review
Runners should head straight to the Forerunner range, and those new to the sport will be well-satisfied by the range of features you get with the Forerunner 45. Alongside giving you all your key stats on your wrist, the 45 can estimate your VO2 max and guide you through training plans for common race distances like 5Ks or half marathons, with all the workouts on the plan synced to the watch to follow from your wrist.
Buy from Garmin (opens in new tab) | £159.99
---
Garmin Forerunner 245 Music
Best For Runners
(opens in new tab)
RRP £299.99 | Garmin Forerunner 245 Music review
The Forerunner 245 Music builds on the impressive base provided by the 45, offering useful features for regular runners, including more detailed training analysis, breadcrumb navigation along routes created in the Garmin Connect app, and music storage and streaming to Bluetooth wireless headphones. As well as being able to transfer music files, the 245 Music can also log in to a Spotify premium account to wirelessly sync playlists. Prefer to listen to the beat of your feet? There's a 245 without music (opens in new tab) that's £50 cheaper.
Buy from Garmin (opens in new tab) | £299.99
---
Garmin Vivosport
Best Fitness Tracker
(opens in new tab)
RRP £149.99 | Garmin Vivosport review
If you prefer a band to a watch, the Vivosport is the best Garmin for you. It has built-in GPS and a heart rate monitor despite its slender design, along with a colour screen to show your everyday activity and sporting stats. It's also been around for a little while, and that means you can now pick up a Vivosport for under £100, which is quite a bargain.
Buy from Garmin (opens in new tab) | £149.99
---
Garmin Venu
Best Smartwatch
(opens in new tab)
RRP £329.99 | Garmin Venu review
While the Venu can't compare to the Apple Watch or Samsung Galaxy Watch because the Garmin Connect IQ app store is very limited, it is the best option in Garmin's range for those seeking a smartwatch-style experience. That is down to the bright AMOLED touchscreen, which is much more vibrant than the more functional, battery-friendly screens on most Garmin sports watches.
The Venu will still last three or four days on a single charge, and it naturally includes Garmin's excellent sports tracking, which is significantly better than the native offering you'll get on true smartwatches. It also offers music storage and can be linked to streaming services, notably including Spotify, to wirelessly sync your playlist across, and it has guided strength, yoga and Pilates workouts with on-screen animations to show you how to do the exercises.
Buy from Garmin (opens in new tab) | £329.99
---
(opens in new tab)
RRP £229.99
The Lily is designed for women and makes a welcome change to the bulky black watches that make up most of Garmin's range. The watch has a jewellery-esque look with T-bar lugs, and the smaller case comes in a range of colour combinations. The touchscreen also has a patterned effect that again helps it stand out in Garmin's range.
While it can connect to your phone's GPS to track outdoor sports, the Lily is more focused on health tracking. That includes 24/7 heart rate tracking and blood oxygen saturation monitoring, keeping tabs on your stress levels, and menstrual cycle and pregnancy tracking.
Buy from Garmin (opens in new tab) | £229.99
---
Garmin Swim 2
Best For Swimmers
RRP £219.99
The Swim 2 watch does track everyday activity and other sports, including cycling and running, but it's all about getting wet, providing detailed analysis of pool and open-water swims, and even tracking your heart rate in the water. All the key swimming stats like SWOLF are there along with advanced features like drill logging, pace alerts to help you stay on track during workouts. The cherry on top is a Critical Swim Speed measurement, which estimates your aerobic swimming threshold and is perhaps best equated to the functional threshold power measure used by cyclists.
Buy from Garmin (opens in new tab) | £219.99
See related
Garmin Epix 2
Best If Money Is No Object
(opens in new tab)
RRP £799.99-£999.99 | Garmin Epix 2 review
The Epix 2 is no-one's idea of cheap, with the most basic version costing £799.99, but for that money you're getting the sports tracking features of the amazing Garmin Fenix 7 in a watch with an AMOLED touchscreen. That screen upgrades the experience of using the Epix 2 considerably compared with the Fenix, especially when following a route using the colour maps, which are brighter and clearer on the AMOLED display. On top of the great sports tracking, training analysis and maps, the Epix 2 can store music and link up with a Spotify Premium or Amazon Music account for offline playback.
Buy from Garmin (opens in new tab) | From £799.99
---
---
Garmin Fenix 7
Best For Battery Life
(opens in new tab)
RRP £599.99-£1,049.99 | Garmin Fenix 7X review
The Fenix 7 offers the same fantastic array of sports tracking and smart features as the Epix 2, but the less battery-intensive transflective display means that it lasts several weeks on a charge, rather than five days or so (which is how long the Epix 2 lasted when we tried our very hardest to drain it). In fact if you buy the larger – and more expensive – Fenix 7X solar edition with solar panels on the face, the watch will last more than a month between charges. That will be music to the ears of ultramarathon runners in particular, and the Fenix 7 is the top Garmin pick for anyone who values a big battery over an AMOLED display, since it's more feature-rich than the similarly long-lasting Garmin Enduro watch.
Buy from Garmin (opens in new tab) | From £599.99
---
Garmin Forerunner 945
Best For Triathletes
(opens in new tab)
The Forerunner 945 is basically the Fenix in a lighter, slimmer plastic frame – perfect for triathletes and keen runners in particular, who will appreciate a little less bulk on their wrist, and the fact that the 945 is also a little cheaper than the Fenix doesn't hurt. We've found when testing the watches that the 945's lighter build makes it more accurate when it comes to optical heart rate tracking than the Fenix 6 Pro, which is something to consider if heart rate is crucial to your training and you don't want to wear a chest strap.
Buy from Garmin (opens in new tab) | £519.99 | Garmin Forerunner 945
---
Garmin Approach S60
Best For Golfers
(opens in new tab)
RRP £399.99
The Approach has more than 40,000 golf course preloaded and will give you the precise yardage from your position to the green, as well as any hazards and doglegs you're attempting to negotiate. The AutoShot feature will also track the distance of your shots automatically, so you can admire the length of your drives in the bar after your round.
Buy from Garmin (opens in new tab) | £399.99
---
Garmin Edge 530
Best For Cyclists
(opens in new tab)
RRP £259.99
All Garmin's sports watches do a fine job of tracking your bike rides, especially when linked with other sensors like power meters, but it's far easier to keep an eye on your stats mid-ride using a handlebar-mounted bike computer than a watch. The Edge 530 also provides turn-by-turn navigation on colour maps, with the route chosen informed by where other Garmin-owning cyclists have opted to ride, so you're kept off unpleasantly busy roads where possible.
Buy from Garmin (opens in new tab) | £259.99
Sign up for workout ideas, training advice, the latest gear and more.
Thank you for signing up to Coach. You will receive a verification email shortly.
There was a problem. Please refresh the page and try again.