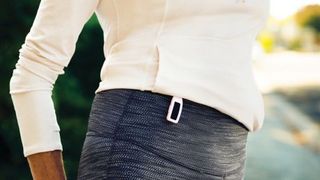 (Image credit: unknown)
The "10,000 steps a day" target most of us have heard of and vaguely aim for can actually be traced back to a Japanese marketing company rather than scientific research, but there's no denying that walking has all kinds of health and wellbeing benefits – especially when taken at a brisk pace.
Trying to keep track of steps in your head is a fool's errand, though. You could just time your walks, but using a pedometer is an easy way to keep tabs on your movement throughout the day and ensure every step is counted.
How To Choose The Right Type Of Pedometer
Your first decision should be to work out what kind of pedometer is right for you: a basic step counter that can be clipped to a belt or bag, or a fitness tracker worn on the wrist.
Basic pedometers can be found for less than £10, but even the best models are rarely more than £30, so we think it's worth spending a little more to assure yourself of quality. These devices offer a bare-bones experience, with simple read-outs of steps taken, distance covered and calories burned. They have limited memory so you won't be able to retrieve your stats after a week or so, and they won't be recording the data on your phone either. But as long as you have a working memory and don't care about specifics, they'll do just fine. Basic step counters tend to use replaceable coin batteries, which last several months.
Then there are fitness trackers, which have come on in leaps and bounds in recent years, meaning you can get surprisingly full-featured ones for under £50. Even the cheapest tend to come with heart rate monitoring and sleep tracking data, which they record automatically in an app to give you a more complete picture of your health. The downside of these is that they tend to need recharging every five to 28 days, which may not be ideal if you find yourself constantly hunting down your phone charger.
The Best Pedometers Of 2021
Onwalk 500
Best Cheap Pedometer
If all you need is a basic step tracker, then Decathlon's Onwalk 500 seems ideal for just £12.99. It can be clipped on a belt or carried in a pocket or bag, and will measure steps, estimated distance and approximate calorie burn.
It'll also give a total number of minutes and hours walked, and if you're dedicated to hitting a five-figure step count each day, you'll be pleased to hear that the pedometer will alert you when you hit the magic number of 10,000.
If you can spare a further £2, the Onwalk 900 (opens in new tab) improves on the 500 model by tracking walking speed and remembering step counts for up to seven days.
Buy from Decathlon (opens in new tab) | £12.99
---
Omron Walking Style IV Step Counter
Best Cheap Pedometer For Exercising
This pedometer looks rudimentary, but boasts one very smart feature: it can tell the difference between regular steps and aerobic walking at a brisk pace, the latter of which counts towards the NHS's recommendation of at least 150 minutes a week of moderate exercise. It will also track the distance you covered and the calories you've burned, although it only stores your numbers for a week and there's no app that allows you to monitor this for a longer stretch of time.
The Omron features an action mode that lets you record a specific walk or run, tracking steps, calories and distance for that period. It's clippable and its replaceable CR2032 battery will last a number of months.
---
See related
Xiomi Mi Band 5
Best Pedometer Under £50
Once upon a time, spending under £30 on a fitness tracker would be a brave choice, but Chinese company Xiaomi has really pushed the limits of what we thought possible. The Mi Band 5 combines a 1.1in (28mm) AMOLED display with a 14-day battery life, tracking not just your steps but 14 forms of exercise as well as sleep.
Technically it has a RRP of £40, but it's usually found at the £25 price point. That makes it a tempting upgrade over your more basic pedometers, considering all the extra data on offer, and the fact that it's all neatly synced to your phone, never to be forgotten.
---
Garmin Vivofit 4
Best Pedometer For Battery Life
The Garmin Vivofit 4 is a fantastic fitness tracker which boasts a small but clever screen, as well as an epic one-year battery life. It will track your steps and when you hit your daily target it will announce your achievement with a screen-based celebration. Better still, it will automatically increase or decrease your step target – so if you're consistently smashing your target, it will up the stakes, and if you're regularly falling short it will recalibrate it to something a little more achievable.
The Vivofit will also track your sports activities automatically, and even identify when you're on a particularly long walk and log it as an activity in its own right in the partner app, Garmin Connect. The waterproof design will protect it from the elements (or just the shower, if you want to make sure you count every step from the moment you leave your bed). The only feature conspicuous by its absence is a heart rate monitor.
Buy from Garmin (opens in new tab) | £69.99
---
Fitbit Inspire 2
Most Stylish Pedomete
The brand that popularised the fitness tracker has come a long way since its first wearable launched in 2009. Its following has grown hugely in the intervening years, meaning you almost certainly already have friends and family using the Fitbit app who can be engaged in friendly competition.
The Fitbit Inspire 2 is a smart-looking wristband with a crisp black-and-white OLED screen, packed with a heart-rate monitor, swim tracking and connected GPS for runs and bike rides. It may be overkill for those seeking a "pedometer plus" experience, but it does come with a year's free subscription to Fitbit Premium, providing guided workouts, custom fitness plans and deeper analytics, which gives you a whole lot of extra value.
The Inspire can also be slipped into a belt clip accessory, or one of Fitbit's fashionable straps, and it can last up to ten days on a single charge.
Buy from Fitbit (opens in new tab) | £89.99 (currently reduced to £79.99) | Fitbit Inspire 2 review
Sign up for workout ideas, training advice, the latest gear and more.
Thank you for signing up to Coach. You will receive a verification email shortly.
There was a problem. Please refresh the page and try again.