Three Ways The TomTom Spark Just Became A Better Fitness Tracker
By Nick Harris-Fry published
A software update has made an already excellent tracker even more impressive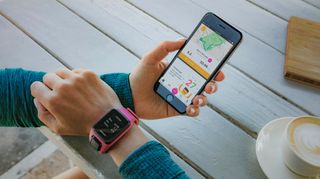 (Image credit: Unknown)
When looking to create a splash in the fitness tracker market, most companies tend to go the route of producing an entirely new wearable, but TomTom has instead opted to update its line-up of existing devices with a trio of new features – and these make the Spark, Runner and Adventurer watches far more impressive propositions.
That's not to say they weren't already great trackers. We gave the Spark 3 Cardio + Music a five-star review when it was released. However, with Polar launching the excellent M430 and Suunto the Spartan Trainer Wrist HR since then, the mid-range GPS tracker market has become a little more crowded, so TomTom's updates are welcome.
RECOMMENDED: The Best Running Watches Of 2017
Those updates consist of three new features: Fitness Age, Fitness Points and Personalised Workouts. The first two improve the everyday tracking capabilities of the Spark, while the last should prove a very useful addition for runners and cyclists.
Fitness Age and Fitness Points work together to provide an indication of how fit you are and how you can improve. Your Fitness Age is calculated using your VO2 max, which is compared against your age and sex. If you're a very fit 36-year-old, for example, you might be given a Fitness Age of 25.
TomTom also give you your VO2 max, which is a more useful measurement for very fit people than Fitness Age. Once you get down a Fitness Age of 20, it stops improving, because no-one wants to be a 14-year-old.
Once you know your Fitness Age, you aim to improve it by earning Fitness Points from your activities. The more intense the activity, the more Fitness Points you get for it. To maintain your fitness you need to earn 100 points a day, and to improve it you need 500 – TomTom suggests you should try to hit this mark three times each week. Earning over 1,500 points in a day is classed as Overdrive, and TomTom might suggest you take it easy the next day to recover.
The TomTom Sports app will also tell you how much activity you still need to do each day to hit 100 or 500 points. You can see in the app how much time you'd need to spend in a low or medium heart rate zone to hit your goal that day, with activities like walking, running, cycling and going the gym suggested.
Both features are presented engagingly in the app, and there is a clear point to trying to achieve the goals they suggest, because improving your VO2 max score is associated with better health.
RECOMMENDED: The Best Fitness Trackers Of 2017
The third new feature is Personalised Workouts for running and cycling. These aim to take all the fuss and planning out of interval training. Once your device gets to grips with your fitness level, a series of preset interval workouts based on your ability will be available on your wrist. These are grouped by intensity – you select how tough you want the workout to be overall from five different levels, then follow the instructions on screen as you run.
It's a nifty feature for those who want to incorporate some interval sessions into their training but don't know how hard to push themselves or lack the time or inclination to plan their workout meticulously. If you do like to fiddle, you can adjust the workouts or plan a completely new one easily via the TomTom website and sync it to your device.
All three features will be rolled out via software updates during September. While the original TomTom Spark is not supported, the Spark 2 and 3, Runner 2 and 3, and Adventurer will all receive the updates. That's assuming you have the Cardio version of the watch – the Spark 3 Cardio costs £169.99 (opens in new tab), and the Cardio + Music costs £219.99 (opens in new tab).
Sign up for workout ideas, training advice, the latest gear and more.
Thank you for signing up to Coach. You will receive a verification email shortly.
There was a problem. Please refresh the page and try again.