Six Exciting Features On The New Fitbit Ionic Smartwatch
By Nick Harris-Fry published
Fitbit has aimed high with its first smartwatch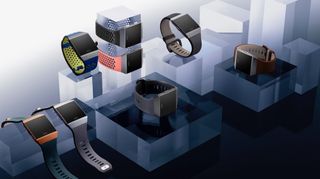 (Image credit: Unknown)
The smartwatch world has been waiting for fitness tracker trailblazer Fitbit to make its entrance. It has finally obliged with the Fitbit Ionic, which adds features like contactless payments, notifications and music storage alongside novel fitness tracking tech.
The design of the Ionic takes its cues from the Fitbit Blaze, with a square colour display and a multitude of swappable bands, but it offers far more in the way of fitness tracking, with built-in GPS and a waterproof design, as well as the smartwatch features, which include third-party apps like Strava.
You can pre-order the Ionic (which is due to ship in three to four weeks) for £299.95 on the Fitbit website (opens in new tab). To whet your appetite, here are six features we're excited about on Fitbit's new smartwatch.
New Sensors
As well as claiming more accurate GPS/GLONASS tracking than anyone else on the market with the Ionic, Fitbit has added a relative SpO2 (oxygen saturation) sensor, which estimates blood oxygen levels. That could lead to several new health metrics being tracked, including sleep apnoea, in the future.
Swim Tracking
One major criticism of many of Fitbit's trackers, such as the Charge 2 and Alta HR, is the lack of water resistance, so it's a relief that Fitbit hasn't hamstrung the Ionic by making it fit for dry land only. The smartwatch is waterproof and has a dedicated swimming mode, which Fitbit claims is more accurate than its competitors in accurately tracking your laps of the pool.
RECOMMENDED: The Best Waterproof Fitness Trackers For Swimmers
Music
You can sync your own songs and playlists to the Ionic, which has 2.5GB of space, or if you have a Pandora premium account you can listen to music through the dedicated app. This isn't even close to being a first for smartwatches, but music playback is a key feature for people keen on leaving their phone behind when they exercise with their fancy new tracker.
Automatic Run Detection
Most of Fitbit's trackers automatically record runs without you having to press a single button, but this feature is even more impressive on the Ionic, which fires up its GPS as soon as you set off. We'll be very interested to see how this works in practice, seeing as most GPS watches need a moment to find satellites when you start a run.
Four-Day Battery Life
Four days of juice, including ten hours when using GPS, is not much to shout about in the fitness tracker market but it's a good chunk more than you'll get from other smartwatches. For comparison, the Apple Watch Series 2 might squeak through two days of use, but generally needs to be charged each night, and offers five hours of GPS battery life.
Fitbit Pay
It wouldn't be a proper smartwatch without NFC payments. The Fitbit Pay platform will allow you to buy stuff without your phone or wallet and will include major credit card companies like AMEX, MasterCard and Visa. Perfect for an emergency pit stop at the supermarket on a long run.
Sign up for workout ideas, training advice, the latest gear and more.
Thank you for signing up to Coach. You will receive a verification email shortly.
There was a problem. Please refresh the page and try again.