Eight Essential Tips For Strava Beginners
By Nick Harris-Fry published
How to get the most out of the popular training app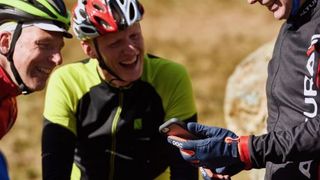 (Image credit: Unknown)
Many people will resist the idea of getting a tracker when they first start exercising, not least because no-one wants a permanent record of those wheezing early runs and cycles.
Once you're up to speed, however, the desire to see how well you're progressing overrides any self-consciousness or distrust of tech, and a tracking app becomes a must. Of the legion available, Strava is one of the most popular and comprehensive options for runners and cyclists.
RECOMMENDED: The Best Health And Fitness Apps
It's very easy to track your activities with Strava, but if all you're doing is setting it to record and glancing at the results each time, you're missing out on plenty that the app has to offer. Here are eight ways to use Strava to boost your training.
1. The Joy Of Segments
The segments feature is one of Strava's standouts and one that can become addictive. Created by Strava's many users, segments are popular stretches of road and trail where your time is recorded and posted to a leaderboard.
Those who set the fastest time over the segment are awarded Course Records (running) or the title of King/Queen of the Mountain (cycling) – until their time is beaten. Premium members can also see how their rate compared to others in the same age and weight group, so there's always something to compete for even if overall top spot is well out of reach.
2. Join The Club
If you want to stay active, joining a club is always a good bet and that extends to the virtual clubs on Strava as well. Many of the running and cycling clubs on the app link to their traditional, real-life counterparts, but there are also Strava clubs set up around a certain goal, event, brand or groups of friends.
The benefits of making your activity a bit more social might surprise you. Strava stats from 2016 found that on average, people who joined a club in the first 14 days after they set up an account uploaded 116.3% more activities than the average Strava user in the following six months.
3. Log Your Indoor Training
Strava is predominantly designed for outdoor activities but you can also keep tabs on your indoor workouts if you're keen on tallying an exact count for the kilometres you cover - something especially useful when training through the worst of the winter months.
To manually upload an indoor run or cycle, head to the Strava website and hit the + button in the top right corner of your profile screen.
4. Create Routes
It's surprisingly easy to while away hours creating routes on the Strava website, as the route builder offers far more than a standard map to drop markers on.
A global heatmap can be projected on to the map, showing the most popular routes for Strava runners and cyclists, so you can get an idea of where the cool kids go even if you're on unfamiliar ground. You can also drop segment markers on a map and design a route to hit as many of them as possible if you're on the hunt for records.
5. Break New Ground
As well as the route mapping feature, Strava ensures you can carry on exercising in new surroundings via its Strava Local service.
This provides a selection of great routes in major cities around the world, so you can see the sights while fitting in a run or cycle while on holiday.
6. Step Up To The Challenge
If competing over segments isn't enough, you can also motivate yourself by earning badges and topping leaderboards in the regular challenges posted on the app. Standard options including distance and climbing challenges each month, and you can also pick up special badges for completing a 10km run, 100km ride or some other distance in a set period.
7. Repeat Routes To Track Progress
If you have a favourite running route that you cover regularly Strava will automatically produce a graph on how you're faring over time. On the page for the most recent activity, a graph pops up saying whether you're trending faster or slower on the run. Hopefully the former.
8. Connect To Your Wearable
"All this sounds great," you cry, "but what if I don't want to run with my phone?" Fear not. Strava links with all manner of wearable devices, heart rate monitors and other apps, allowing you to export your run and cycle data straight to Strava automatically.
RECOMMENDED: 21 Lessons In Strava Etiquette From @stravawankers
Sign up for workout ideas, training advice, the latest gear and more.
Thank you for signing up to Coach. You will receive a verification email shortly.
There was a problem. Please refresh the page and try again.