Fitbit Blaze: Our Favourite Features
By Joe Barnes , Nick Harris-Fry published
Fitbit is bidding for tracker supremacy with the Blaze. Here are our favourite features in the new gadget – out now for £159.99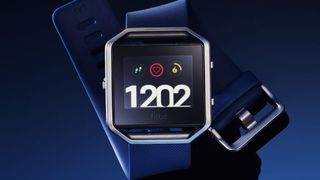 (Image credit: Unknown)
If you want a conversation starter, strap on a Fitbit – you'll get queries about it fired at you from all angles. And with the Blaze, Fitbit's new top-of-the-range fitness tracker and watch, there's a lot to talk about. We wore one for a month to track our activity and sleep – here are our answers to the most frequent questions.
Does it track steps?
The Blaze is keen for you to hit that magic 10K steps a day. It displays updates on the clock face, and when you reach your target the watch vibrates and lights up – like a high-five on your wrist. It records steps taken, heart rate and all your stats on easy-to-use smartphone companion app.
Does it track your heart rate?
Although it's not quite as accurate as a chest strap during intensive training, we found the 24-hour heart rate tracking consistent and the resulting stats useful – if nothing else, for encouraging us to get out of bed for a run on a Sunday morning.
Any good for running?
There's no built-in GPS, but hook it up to your phone and you'll get a map of your route for posterity and Facebook boasting. Casual runners should be happy with the mile splits, pace and calories burned, but if you're training for a sub-3hr 30min marathon, you may need a sport-specific device.
What about weights?
The Blaze automatically recognises a run or cycle, but to track a weights session or workout, you need to let it know with a few taps of the screen. The simple stopwatch and countdown functions let you time intervals and rests.
Can you change the strap?
Yes. Business meeting? Try a stainless steel band (£90). Working out to Slayer's "Raining Blood" again? You'll need a genuine black leather option (£60). There are seven to choose from to match your current mood or workout vibe.
Is it as good as the Apple Watch?
Fitbit stresses that the Blaze is a fitness watch, not a smartwatch. You can set it so your text messages pop up on your wrist, but if you want something that can tell you the weather in Vegas in seven languages, be prepared to cough up at least £90 more for an Apple Watch.
RECOMMENDED: Fitbit Surge review
Our Favourite FitBit Blaze Features
1. Fitstar
There are three pre-installed workouts from the Fitstar app baked into the Blaze: Warm it Up, 7 Minute Workout and 10 Minute Abs. Each has animations to guide you through the exercises involved, and the Blaze buzzes to move you on to the next part of the workout. They're simple, effective and the kind of thing you could slip into doing any day.
2. SmartTrack
For all the marvellous tech crammed into fitness trackers, if you forget to tell them you're about to exercise, most won't register your workout. You can tell the Blaze when you're about to work up a sweat – but if you forget, it will automatically recognise certain activities and record them.
3. Battery Life
It's very frustrating when a tracker designed to record activity all day and night needs to be charged every one or two days, so the Blaze's bulked-up battery life – which will last you five days – is a real bonus.
4. Design
A slim, light design makes the Blaze very comfortable to wear, and its screen is clear and easy to read on the move. It can also be customised with a range of rubber, leather and metal options for the band.
5. The Fitbit App
No matter how good the hardware, a tracker lives and dies by the quality of its software, and all Fitbit devices have an edge in this regard. The Fitbit app is bright, provides loads of information at a glance and allows you to set challenges and challenge friends. It's also compatible with a host of other fitness apps, including Strava and MyFitnessPal, so it can provide a complete picture of your lifestyle.
Our verdict: If you want a tool to push you through the hardest barriers, you'll need to pay more. If not, for £160 the Blaze is a great training buddy, loads of fun and a conversation starter for all the right reasons.
RECOMMENDED: Fitbit Flex review
Fitbit Blaze is out now, £159.99, buy on fitbit.com (opens in new tab)
Sign up for workout ideas, training advice, the latest gear and more.
Thank you for signing up to Coach. You will receive a verification email shortly.
There was a problem. Please refresh the page and try again.