The Best Apple Watch Fitness Apps
By Nick Harris-Fry last updated
Put that smartwatch investment to good use with these free and cheap fitness tools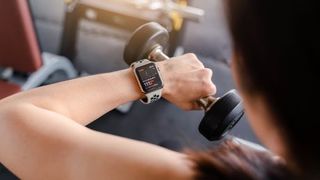 (Image credit: unknown)
If you never downloaded a single app to the Apple Watch it would still be a good fitness device, with its native tracking covering all the bases and improving every time Apple updates the software. However, to really get the most from the Apple Watch you need to take advantage of its key strength: the biggest and best app marketplace. To start you off, we've picked some of our favourites.
Fitness+ is one of the best guided workout apps and if you have an Apple Watch then it's certainly worth giving the free one-month trial a whirl. The app contains a range of training types, including strength and HIIT sessions, yoga, and workouts you can do on cardio equipment like treadmills and exercise bikes if you have access to one. It works seamlessly with the Apple Watch, so you can start, pause and end workouts from the watch, and your heart rate and calorie stats are taken from the watch and shown on-screen during workouts. The Fitness+ service is contained within the native Fitness app, so you don't need to download anything new to use it – just sign up for the service.
Buy from Apple (opens in new tab) | £9.99 a month (one-month free trial available) | Apple Fitness+ review
---
If you love the smart features on your Apple Watch but wish it had the functionality of a sports watch, WorkOutDoors will make any regrets you had over choosing Apple disappear. The app transforms your Apple Watch into a proper sports watch at a stroke. The only things missing are an always-on screen (though this could be coming through an update, since Apple now allows third-party apps to use it) and the beefier battery life of a Garmin.
Download from App Store (opens in new tab) | £5.99
---
If you've been diagnosed with a chronic condition or are returning to exercise after a long sedentary period, and you aren't sure how to start working out safely, EXi is the solution to all your exercise-related problems. This NHS-recommended app has been created by a team of medical experts and will generate a free personalised 12-week training programme for you based on your fitness level and any medical conditions you have. This programme will automatically take into account the medical guidelines for your condition, so you can be confident you're not taking any unnecessary risks.
The smartphone app is great for everyone, but a dedicated app means it's even better for Apple Watch owners. The device will guide you through the workouts in your plan, making sure you're working at the right intensity using your heart rate. As well as giving you visual feedback on your heart rate on the screen, the app provides haptic feedback that alerts you if you're in the wrong effort zone.
Download from App Store (opens in new tab) | Free
---
Built for Apple devices, the Tempo app pulls your run data from the Health app, then draws out hidden detail and offers in-depth analysis for you to pore over at length. The most useful part, however, is the ability to see your cumulative totals for the week, month and year. Your training is also given an intensity rating so you can judge whether you're working at the right level.
It brings to the Apple Watch a lot of the tools you get through apps like Garmin Connect or Polar Flow that partner with those companies' running watches, which is welcome because the Watch's native Workout app does lack post-run detail.
Download from App Store (opens in new tab) | £9.49 a year
---
This run-tracking app's main screen looks similar to the native Workouts app, but it has a smarter second screen that makes it far more useful for keen runners. The second screen can be set to race or interval mode, and each has a special trick. In interval mode, double-tapping the screen starts a new interval, meaning you'll get more useful stats on interval workouts. The race mode is even niftier though, since a double-tap while on that screen will adjust the distance tracked when you pass a kilometre or mile marker in a race, jumping to the nearest whole mile or kilometre. That means if your GPS goes awry on race day you can simply correct the distance at a marker and get accurate pace and distance stats from your watch. The race mode also provides an estimated finish time that updates when you correct the distance.
Download from App Store (opens in new tab) | Free
---
Adding this app to your watch is a no-brainer, since it's free and could save your bacon if you find yourself in trouble in the great outdoors. What3words divides the world up into 57 trillion 3m squares, each of which has a unique three-word code assigned to it. If you're lost or hurt and can't see a landmark that will help describe your position, then simply giving the three-word code for your location will help your contacts or the emergency services find you. The app is used by over 85% of the UK's emergency services, including 100% of ambulance services. The watch app will show your current location and code when you open it up, and you can also use a voice search to find other people using it.
Download from App Store (opens in new tab) | Free
---
The wildly popular run- and ride-tracking app has a standalone version for the Apple Watch, which gives basic details on eight types of activity. The opportunity to customise which data is shown would be good, but the app gets the job done and naturally syncs very quickly to your Strava account.
Download from App Store (opens in new tab) | Free, premium £5.99 a month
---
It's the biggest and best diet-tracking app around, and MyFitnessPal's watch app provides the info on how many calories you have left for the day, and breaks them down by protein, carbs and fats. It also tracks your step count and tells you how many calories you've earned by pounding the pavements.
Download from App Store (opens in new tab) | Free, premium £7.99 a month
---
The king of bodyweight exercise apps, Sworkit builds workouts for you to follow based on four different categories – strength, cardio, yoga or stretching. You can also choose which part of the body you want to focus your workout on, or opt for a full-body session, and set how long you want to exercise for.
The instructions on the phone app are good, but it's even better to have them beamed to your smartwatch, which displays what you're meant to be doing and buzzes when you need to switch up your exercise.
Download from App Store (opens in new tab) | Free, premium £3.99 a month
---
If you've opted for the Nike version of the Apple Watch then this popular running app is baked into it, but even if you have the regular Apple Watch, runners of all stripes should give the Nike Run Club a try.
The clear interface excels on the small screen, showing all the info you need about your run, but it's the added extras – particularly the guided runs – that make Nike Run Club stand out. You can do training sessions where elite athletes like Eliud Kipchoge or Mo Farah talk you through the intervals, or relax with runs produced in partnership with mindfulness app Headspace.
Download from App Store (opens in new tab) | Free
---
This popular mindfulness app is full of guided meditation sessions that can help you relax and get to sleep. Having Headspace on your wrist is often even more useful than having it on your phone, because you can fire up a quick session to help you take a moment on, say, a busy train.
Download from App Store (opens in new tab) | Free, premium £9.99 a month, £49.99 a year
---
Watch To 5K
Running Program
If you're completely new to running, there is no better way to get into the sport than completing a Couch to 5K programme. There are many great options out there, including the NHS's plan (opens in new tab) and our free eight-week plan, but if you have an Apple Watch you can use the Watch to 5K app to guide you through every step.
The nine-week couch to 5K plan costs £2, but the app has a number of extras that may justify the cost. It will guide you through each of the three weekly runs on the plan with clear on-screen instructions and haptic feedback to alert you when you need to go from walking to running and vice versa. It will also tell you when you're halfway through the run, so you know when to turn back and head for home.
The Watch to 5K app works independently from your phone so you can leave the latter behind when running, though the runs will sync to the Apple Health app once you get home. It also works simultaneously with music and podcast players on the watch, temporarily lowering the volume on what you're listening to when the app plays audio instructions.
Download from App Store (opens in new tab) | £1.99
---
There are several great couch to 5K apps available on the Apple Watch, and we've picked one out below, but if you find that programme too challenging then None To Run is a fantastic alternative that tweaks the approach to give beginners another shot at getting into running. The 12-week programme advances slowly and focuses on running for time, rather than completing a set distance, and it also includes strength workouts which can help you avoid injury as you start to exercise more frequently. The first week of the plan in the app is free, but from then on it costs £4.99 a month, though you can also get the complete plan for free on the None To Run website (opens in new tab).
Download from App Store (opens in new tab) | £4.99 a month, £29.49 a year. Seven-day trial available.
---
This app can take complete control of your diet. It creates a meal plan tailored to your health goals and dietary preferences, then provides the recipes for each day plus a shopping list to make it easy to ensure you have the ingredients required, as well as tracking your macros for you after you've logged each meal as eaten.
You'll quickly find the Apple Watch app becomes an essential part of this process, because you can easily see the meals you have lined up for the day, track your daily macros and water intake, and tick items off the shopping list right there on your wrist.
Download from App Store (opens in new tab) | Free, premium £6.99 a month
---
Another great option for obsessive runners, iSmoothRun has several features you'd find in a dedicated running watch that you don't get from Apple's native run-tracking or from popular alternatives like Strava and Nike Run Club. The killer feature is the ability to set up custom workouts and follow them from your wrist. You can also set up data fields of your choice to show across two screens while running, with in-depth options like your pace over the past 30 or 60 seconds. The app connects easily to Bluetooth sensors like the Stryd footpod.
Download from App Store (opens in new tab) | £4.99
---
Golfers are well served by this excellent app, which allows you to track your score across a round and provides distance to the front, middle and back of the green throughout each hole you play. The app also lets you note down how many putts you hit on each hole and whether you landed on the fairway with your drive, so you can pore over the stats at the end of your round.
Download from App Store (opens in new tab) | Free, premium £6.99 a month
---
The Endomondo app allows you to track more than 60 different sports, making it a good choice for those who like to mix up their activities. You can also set goals within any given activity and get audio coaching to help ensure you hit them, and the premium version includes training plans and an interval training mode.
Download from App Store (opens in new tab) | Free, premium £2.29 a month
See related
Explore new places with one of the 100,000+ voice-guided running routes this app offers, any of which can be downloaded to an Apple Watch so you can leave your phone behind when you run. Many of the routes are designed to pass by local landmarks, so if you're in a new city you can get your sightseeing and your exercise done in one fell swoop.
Download from App Store (opens in new tab) | Free, premium £1.99 a month
---
A very simple, nicely-designed app that allows you to record any kind of streak you like, although we'd recommend opting for healthy ones. So you can set the aim to eat at least one healthy meal a day, or walk 10,000 steps, or drink a glass of water (you probably don't need an app to remind you not to die of dehydration, but still). Then you tap to record when you hit your aim for the day.
Download from App Store (opens in new tab) | £4.99
---
Gymaholic provides a selection of workout plans for all abilities, and you can also create your own from the vast library of exercises, each of which comes with a guide to how to do it correctly and which muscles it targets. The free version of the app will provide enough depth for most, but there's also an option to upgrade for even more stats.
Download from App Store (opens in new tab) | Free, premium packs from £3.49
---
This app features maps that can be downloaded for offline access and suggested routes for hikes and cycles that can also be saved locally, so the lack of internet in the great outdoors won't turn your day trip into a nightmare. The app and your local area map are free, but other regions are £3.99 each, or you can get the entire world for £29.99.
Download from App Store (opens in new tab) | Free, £3.99 a region
---
For those keen to take to the yoga mat, but not quite ready to do so under the scrutiny of a group class, this app can be your guru instead. Over 200 different poses are explained and used in 27 different sessions, and having the images on your wrist as well as your phone means you can keep an eye on the guide no matter what contorted position you end up in.
Download from App Store (opens in new tab) | £2.99
---
Put your whole body through its paces in just seven minutes, using only your bodyweight, a wall and a chair. The workouts are based around a frenetic 30 seconds of activity followed by a quick break before the next exercise. The standard full-body workout is free, and then it costs £9.99 for any other workout you're keen to try, or you can sign up for a monthly membership that gives access to all the workouts.
Download from App Store (opens in new tab) | Free, premium £9.99 a month
Sign up for workout ideas, training advice, the latest gear and more.
Thank you for signing up to Coach. You will receive a verification email shortly.
There was a problem. Please refresh the page and try again.