The Best Running Route Planners
By Nick Harris-Fry last updated
Map out your runs with these route planning apps and websites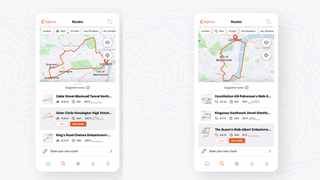 (Image credit: unknown)
It's all too easy to fall into a pattern of running the same handful of routes, and while you will still be getting all the fitness benefits of the sport, after a while you might start to lose your mojo in the face of experiencing the exact same scenery on every outing.
You can opt to simply veer off these well-trodden paths at random – but while that will undoubtedly liven up your run it can lead to extended trips where you're completely lost, have to navigate main roads or hit dead ends with annoying regularity.
The solution is to plan your routes using an app or website, and then, if you have a running watch capable of showing those routes, pinging them to your wrist to follow. Even if you don't, you can pop your phone in an armband or running belt and check it occasionally; or if you have the memory for it, just map out your preferred path and keep it in mind when you run.
Below you'll find five of the best route planning options currently available. Some require a paid subscription while others are completely free, but all will require you to set up an account to create and use the routes.
The Best Running Route Planning Apps And Websites
Strava Route Builder
If you're a keen runner the chances are you already use Strava to track or just share your training. The good news is that this year Strava dramatically improved its Route Builder tool, adding a dedicated section in the app which you can use to get recommended routes near you based on where other app users run. You can also alter the app's suggestions based on how far you want to run, the terrain and whether you want to avoid hills. The web browser route builder is also useful for creating your own routes and sharing them with others or exporting it to your device. If you have a Garmin running watch with mapping capabilities, you can also set up an automatic sync, which is handy.
That's a lot of good news, but here's the bad: along with the improvements Strava also moved these features behind a subscription paywall. Members of the Coach team have found the route builder very useful breaking away from their usual park loops, but £6 a month is only worth it if the other Strava premium features appeal. strava.com (opens in new tab)
Download from App Store (opens in new tab) and Google Play (opens in new tab) | £5.99 a month | Is Strava Premium Worth It?
Komoot
Komoot's route planning software is impressively advanced and is great for point-to-point planning, generally keeping you off busy roads where possible. You need to create an account to save routes and send them to your phone and watch via Komoot (which like Strava also offers Garmin auto-sync), but you do get one area free – choosing your local area as a default – when you sign up, with it then costing £3.99 to unlock a new region, or £29.99 to unlock the entire world.
A great idea is to take a bus ride somewhere and then run back (or vice versa), and the route planner will also tell you what surfaces your planned route covers, so you can see if your road running shoes will need to cope with trails. It won't suggest looped routes like Strava, but it does highlight "Running Highlights" on the map so you can string a few together and explore some new places on your run. komoot.com (opens in new tab)
Download from App Store (opens in new tab) and Google Play (opens in new tab) | One region free, extra region £3.99, region bundle £8.99, unlock world £29.99
See related
Garmin Connect
You don't have to own a Garmin device to use the Garmin Connect route planner in the app and on the website (although you will need to create an account), but naturally the main point of creating a route there is to sync it to a compatible watch to follow on the run. The route planning is easy enough to use and you can export runs you've done previously to use the routes again or send them to someone else. connect.garmin.com (opens in new tab)
Download from App Store (opens in new tab) and Google Play (opens in new tab) | Free
MapMyRun
This is another app and website that requires you to create a free account to get access to the route planning tools, and like Strava, MapMyRun is a run tracker as well. You can find routes created by other users too, though this works better in the USA where more people use MapMyRun than in the UK. mapmyrun.com (opens in new tab)
Download from App Store (opens in new tab) and Google Play (opens in new tab) | Free
Plotaroute
It's not the slickest-looking website, but Plotaroute is a free route planner that's pretty easy to use for creating and exporting routes to use with your preferred app and watch. You will have to create a free account to save your routes and share them, though. plotaroute.com (opens in new tab)
Sign up for workout ideas, training advice, the latest gear and more.
Thank you for signing up to Coach. You will receive a verification email shortly.
There was a problem. Please refresh the page and try again.