Rosi Sexton interview: UFC Fight Night 30
By Coach Staff published
The British UFC fighter talks to MF ahead of her bout with Jessica Andrade at UFC Fight Night 30 in Manchester on 26th October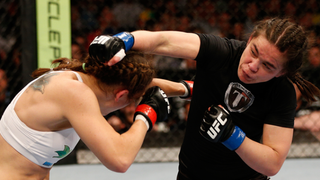 (Image credit: unknown)
Rosi Sexton made her debut at UFC 161 in Canada last June in a thrilling fight with Alexis Davis, which she lost on points. She now faces Brazilian Jessica Andrade in the first women's UFC match-up to be held in Europe.
It's taken years for women to get to fight in the UFC. Now they are, what does it mean to you?
It's huge for women's MMA in general. For myself in particular, it's a fantastic opportunity. I've been involved in the sport since 2002 and most of that time I never thought I would have the opportunity to fight in the UFC, so to finally get that call was a dream come true. Add that to the fact I have the opportunity to fight in my home town of Manchester in the first women's UFC fight taking place in Europe and I'm ecstatic. It doesn't really get any bigger than that.
There is only one weight category for women in the UFC. How fair do you think that is?
I would like to see more weight classes and I think it will happen in time. It's still very early days though. The UFC is looking to develop the division and introduce more fighters to the fans so they can get to know them. It's going to take time, but once there's a larger roster of fighters they might look at introducing another weight class
Do you think UFC fans will warm to the female fighters?
So far, the women's fights in the UFC have been well received and very popular. They have actually gone down much better than people had anticipated, which is promising. It's also important to remember the UFC does actually have quite a large female fan base – the stereotypical fan is a 20-something male, but actually there are a lot of people you wouldn't necessarily expect to be UFC fans who are interested in the sport. The way I look at it, not every UFC fan is going to be blown away by the women's division, the same way not everyone likes watching heavyweights. There are so many weight divisions, and each weight division has a character of its own, the fighters and the way the fighters tend to fight – that means they appeal to different people and the women's division is no different. It will appeal to different people and so far it's gone down really well.
You had to go up a weight category to compete in the UFC at bantamweight. How did you find that transition?
I think I can hold my own at bantamweight. My last fight was a good back and forth and I held my own against one of the most highly ranked fighters in the division. I think that is proof that I deserve to be here and I'm very much looking forward to my next fight, and hopefully getting my first win.
What changes have you made to your training in preparation for your upcoming fight with Jessica Andrade?
Obviously I change my training slightly for each individual opponent. With this one, I'm looking to use my wrestling and jiu jitsu. I think the way our individual styles match up will make for an exciting, fast-paced fight, so I'm making sure my fitness and conditioning are both top-notch.
Are there any specific exercises or drills that are most beneficial in terms of your conditioning for a fight?
I do a range of different stuff, starting from before the fight camp where I usually do a lot of heavy lifting. As the fight gets closer I do more speed work, lifting lighter weights at a quicker pace. Then as the fight draws closer I'll do less weights work and more technical fight-specific training and sparring. It's always a question of keeping the balance. There are so many aspects to MMA it would be easy to find yourself overtraining and doing too much. It's all about training intelligently to ensure you keep everything in balance.
You studied osteopathy at Oxford Brookes University, maths at Cambridge and computer science at Manchester. How has this varied education helped inform your approach to fighting?
If I find something interesting I want to find out as much about it as I can and fighting is just an extension of that. I actually work part-time as an osteopath, which fits in nicely with MMA. It allows me to be flexible with my training. Also, obviously, when you are around any group of athletes there's always going to be a certain number of injuries to deal with.
So rather than specific transferrable skills, is it your thirst for knowledge that's carried over into fighting?
I think so. That attitude of constantly learning is needed if you want so be the best fighter you can be. MMA is so technical and there is so much to learn about it that every time I go in the gym I learn something new. Even after being in the sport for ten or 12 years, there is always something new to pick up, always something you can refine or do a little bit better or there's a new way of looking at something, and I find that fascinating. Having said that, with osteopathy there are certain things that do transfer. My knowledge of anatomy and how the body moves, works and by extension what happens when it goes wrong, for example, all comes in handy with MMA training.
The current series of The Ultimate Fighter has two female captains. Have you got a favourite team or picked out a potential winner?
It's certainly going to be an interesting watch. There is a lot of talent in there and I know a few of the women who are competing fairly well. Some of them have been around in the sport for years. One of the girls in there, Sarah Moras, lived with me for a year in training. And there's another girl there who I fought a couple of fights back [Roxanne Modafferi], so I'm interested to see how she gets on. I'm going to be following this one quite closely, but I'm not going to pick anyone in particular to win right now because there is so much talent in there.
If you could fight anyone in the UFC, past or present, who would it be and why?
With the women's division being the way it is, the person everyone has their eyes on is [current champion] Ronda Rousey. Everyone wants a shot at her and I'm no different. I'd love to get that call and I think she's a great fighter who would be a really interesting challenge. I don't know how it would go, but I would love to get a chance.
What does being a fighter mean to you?
For me it is all about the personal journey and the challenge. The reason I got into the sport in the first place was purely to see if I could do it. It was about the challenge and learning something about myself. The wins are nice, the recognition is nice, but the thing I will take away with me – the thing I will look back on 20 years from now – will be the lessons I've learned by doing it.
Rosi Sexton takes on Jessica Andrade at The Phones 4U Arena in Manchester on 26th October. Tickets for UFC® MANCHESTER 2013: BISPING vs. MUNOZ are available from ticketmaster.co.uk (opens in new tab) and www.phones4uarena.co.uk (opens in new tab) .
Coach is the place to come for all your health, fitness, and personal wellness needs.
Sign up for workout ideas, training advice, the latest gear and more.
Thank you for signing up to Coach. You will receive a verification email shortly.
There was a problem. Please refresh the page and try again.