Try These Mental Health Tips If You're Feeling Lonely On Valentine's Day
By Nick Harris-Fry published
Start with self-acceptance if being single is getting you down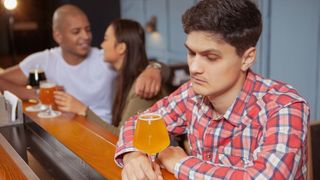 (Image credit: Unknown)
While adding a little romance to the world is no bad thing, Valentine's Day can also be hard for many people. If you're single, it's all too easy to feel lonely in the face of the onslaught of love and affection on social media.
If you are feeling down this Valentine's, or have found that using a dating app has started to negatively affect your mental health, then heed this advice from Pablo Vandenabeele, clinical director for mental health at Bupa UK (opens in new tab).
Can your mental health be affected by being single, on Valentine's Day or at other times?
Valentine's Day can be tough on your mental health, whether you're in a relationship or not. Days which are supposed to celebrate love and togetherness can sometimes highlight how different, alone or low we feel.
Feeling lonely isn't a mental health problem in itself, but it's something that a lot of people with mental health conditions struggle with. Valentine's Day is often full of people sharing their happiness on social media, and this could make you feel worse.
Feeling lonely can be very stressful and it can affect our wellbeing. Valentine's Day can also be tough on our self-esteem, because there are a lot of unrealistic and idealised relationships to measure yourself up to.
Practising self-acceptance is a good place to start, if you're feeling alone or low. Self-acceptance is about embracing all the different parts of yourself – both the good and the bad. Try to be compassionate with yourself. Tune in to your inner voice and take note of how it speaks to you. If you recognise that it isn't caring towards you, practise talking to yourself in a way that you would to someone you care for. It might feel strange to do this at first but give it a try and see if you notice a difference.
How can dating apps affect mental health?
Dating apps can be great for meeting new people and stepping out of your comfort zone. They allow you to check compatibility before you meet in person, meaning fewer awkward dates. But if they're not used in a healthy way, they could affect your self-esteem, body image and stress levels.
Feeling rejected can be a frequent experience on dating apps, and this feeling can wreak havoc on your self-esteem. As with loneliness, having low self-esteem isn't a mental health problem in itself, but if you experience low self-esteem for a while, you may start to feel depressed or anxious.
There are many ways you can try to improve your self-esteem and it's important to remember that different things work for different people, so try what you feel comfortable with. Aim to be kind at times when you feel like being self-critical, and surround yourself with people who help build you up, rather than those who criticise and put you down.
See related
What can you do if your wellbeing is affected by dating apps?
If you notice that certain apps are consuming too much of your time, this could be a sign to switch off. Likewise, if you find yourself feeling worried, panicked or anxious when you use the app, it's probably time to take a break. Experiencing low self-esteem or having worries about your body image are warning signs to watch out for, too.
Here's a few tips on how to have a positive relationship with dating apps:
Remember, you are not your profile. It's impossible to show all your unique and individual qualities in a handful of photos and captions, so be mindful that swiping left isn't a rejection of your complete self.
Practice self-compassion. We all have an inner voice that comments on what we do and say. Think about yours for a moment: if things go well, do you mentally congratulate yourself or are you dismissive? Are you overly critical of yourself? Lots of us don't talk very kindly to ourselves and it's important that we change this.
Be mindful. Keep track of how you feel when you interact with dating apps. If you notice that certain apps leave you feeling anxious, worried or low, it's time to switch off.
Sign up for workout ideas, training advice, the latest gear and more.
Thank you for signing up to Coach. You will receive a verification email shortly.
There was a problem. Please refresh the page and try again.