Make This Healthy Banana Flapjacks Recipe With Your Kids
By Jonathan Shannon published
Keep the little ones occupied for a bit, then teach them the importance of sharing… these delicious flapjacks with you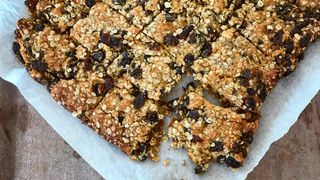 (Image credit: Unknown)
There's been a big ol' brouhaha around kids' snacks to kick off the year, with a Change4Life campaign (opens in new tab) telling parents to limit kids' snacks to 100 calories, with a two-a-day max. Except one crucial part of the advice always seems to be left out in the press. It's a rule for packaged snacks.
So when Amelia Stewart – food writer and founder of Cook First (opens in new tab), a way of teaching people how to eat healthily in an uncomplicated way on a tight budget – suggested to us that we share her recipe for a simple, healthy, entirely unprocessed flapjack (opens in new tab), we jumped at the chance. It's not just a great alternative to packaged snacks – it's also a fun way to spend time with the kids.
"These flapjacks are a great way to get your kids into cooking," says Stewart. "Don't worry about little fingers or creating a mess; there are no knives or complex kitchen equipment involved. This recipe also provides an opportunity for you to engage your children in the sugar debate and show them how natural fruit sugars can taste just as great while being less harmful."
I tried the recipe with my three-year-old and the measuring, pouring and stirring held her attention throughout. I've even had a request to make them again.
Even better, the recipe accommodates guys like me who fall short of domestic goddess status. Could't find jumbo oats, but boxed rolled oats worked; couldn't find dried apricots but a raisin mix did the job; couldn't find… well, you get the idea.
Of course you don't need to have kids to make these delicious flapjacks. In fact, you'll probably be able to whip up a batch by yourself in less than ten minutes once you've run through the recipe a few times. And you won't have to share.
Healthy Banana Flapjacks
Ingredients (Makes 12 Servings)
2½ cups (around 225g) jumbo oats
2 very ripe bananas
1 apple
½ cup (around 80g) mixed seeds
½ cup (around 75g) raisins and dried apricots
1tsp cinnamon
½tsp ground ginger
50g butter or ½ cup (around 125ml/100g) coconut oil
3tbsp runny honey
Method
Line a small baking tray with baking paper and turn on the oven to 180°C/gas 4.
Measure the oats, seeds and raisins and place in a bowl. Then chop up the apricots and add them to the oat mix.
In another bowl, mash the two bananas with a fork. Then coarsely grate the apple into the bananas and add the cinnamon and ground ginger.
Next, take a saucepan and place it on a low heat. Add the honey and butter or oil. Once the butter has melted, add the banana/apple mix and the oats/dried fruit mix.
Stir well until the honey and butter or oil has completely covered the fruit and oats and it's all well mixed.
Pour this mixture into the baking tray and flatten with the back of a spoon or spatula so that the flapjacks will be the same height all over.
Place in the oven and bake for around 30 minutes, until the top starts to go golden brown.
Wait until it has completely cooled, then slice and enjoy!
Jonathan Shannon has been the editor of the Coach website since 2016, developing a wide-ranging experience of health and fitness. Jonathan took up running while editing Coach and has run a sub-40min 10K and 1hr 28min half marathon. His next ambition is to complete a marathon. He's an advocate of cycling to work and is Coach's e-bike reviewer, and not just because he lives up a bit of a hill. He also reviews fitness trackers and other workout gear.
Sign up for workout ideas, training advice, the latest gear and more.
Thank you for signing up to Coach. You will receive a verification email shortly.
There was a problem. Please refresh the page and try again.