Freddie Flintoff: Father's Day Is About Spending Time Together, Not Extravagant Gifts
By Jonathan Shannon last updated
The ex-cricketer talks Father's Day plans and how fatherhood has changed him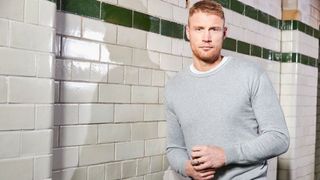 (Image credit: Unknown)
What are you planning on doing for Father's Day?
Rumour is we're going out for something to eat – me and my missus, kids, and my mum and dad. It'll be nice.
Are you expecting a present?
I hate getting presents, but I'll get something. I'd rather give a present than receive one.
Are you planning on giving something to your dad?
I will do, probably something around fishing I bet.
What's the most expensive or memorable thing you've bought your dad for Father's Day?
I don't know. I don't think it's about that, it's about spending time together. The few times I've been fishing with my dad, it's not really about the fishing – it's about just spending time together and not buying any extravagant gifts. My dad's in his late 60s, I don't think he wants much. But he'll get to see me, his grandkids, the missus. That's more important to them than getting a pair of socks or shoes or something.
RECOMMENDED: Five Father's Day Experiences In London Sure To Please Pops
What life lessons did your father teach you?
Hard work. He worked for British Aerospace for God knows how many years, worked 12 hour days – all for the family. Although growing up we didn't have a great deal financially we had what we needed, and we had support and love from both parents. Without my mum, my dad and my brother I wouldn't have been able to have done what I've done playing cricket.
Did your outlook change when you became a dad?
Yeah. I had my daughter when I was 26 and it had the best effect. My career had an upturn when we had her because she was the most important thing. From two or three days old she travelled with us everywhere and it just put everything into perspective. Come good day or bad day, she's not bothered – she doesn't care. It had a great effect on the way I played because it just frees you up a little bit.
What's your approach to parenting?
I want my kids to express themselves. I want them to find something they're really into and hopefully they'll do that as a job. I don't care what it is, but what I can't handle is not trying. If you're doing something you commit to it – you don't do it half-arsed. That's something I'm trying to pass down to the kids. Nothing's given.
What's been the hardest thing you've had to deal with, as a dad?
I think the hardest thing is that you want to protect your kids. You want to keep them safe.
Then because the boys both play cricket, it's trying to make them work hard enough to do well, because they love it, but then trying not to put too much pressure on them.
Sometimes it's just disciplining them. Some things they do and say… it's funny. You want to laugh but you think, no… that's not right.
I took Rocky, the youngest, to the gym when he was five or six. We were getting changed and there's this fella naked and he's looking for stuff in his locker. I knew Rocky was thinking of doing something – I could see it on his face. He just smacked this fella on the arse, there was a handprint on him, but it was funny. This poor fella…. And I was like, sorry mate.
But the one thing that is non-negotiable is respect – and that's a bad example! – but it's respect and manners.
Flintoff was speaking at the launch of his new fashion line for Jacamo. The Flintoff by Jacamo (opens in new tab) AW17 range is available from August
Jonathan Shannon has been the editor of the Coach website since 2016, developing a wide-ranging experience of health and fitness. Jonathan took up running while editing Coach and has run a sub-40min 10K and 1hr 28min half marathon. His next ambition is to complete a marathon. He's an advocate of cycling to work and is Coach's e-bike reviewer, and not just because he lives up a bit of a hill. He also reviews fitness trackers and other workout gear.
Sign up for workout ideas, training advice, the latest gear and more.
Thank you for signing up to Coach. You will receive a verification email shortly.
There was a problem. Please refresh the page and try again.