Five Father's Day Ideas – London Experiences Sure To Please Pops
By Nick Harris-Fry last updated
Avoid the obvious gifts this Father's Day by opting for one of these grand days out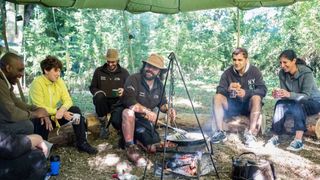 (Image credit: Unknown)
This year Father's Day falls on Sunday 18th June, which means that on Saturday 17th June shops across the UK will sell out of whisky, wallets and fancy shaving sets. Instead of joining the panicked masses in trying to come up with a suitable gift at the last minute, one that will probably be left in a drawer for the rest of time, why not treat your old man to a special experience? Could there be a better gift than spending time with you? (Disclaimer: results may vary).
Here are five top ideas for ways to spend time with Dad in London on Father's Day.
Head For The Woods And Learn Some Bushcraft Skills
There's nothing like fresh air, discomfort and pretending to be Bear Grylls to stimulate intergenerational bonding, so book a place on this overnight course at the Lee Valley Almost Wild Campsite in Broxbourne (just outside of the M25) where you'll learn all manner of survival techniques. We're talking fire-lighting, shelter-building, water-purifying and wild food-prepping. 17th-18th June, adults £100, children £50, book at visitleevalley.org.uk/whatson (opens in new tab)
Sign Up For A Butchery And Cookery Course
Learn how to cut and cook a perfect steak with this Airbnb experience in Clapham. The three-hour outing starts with a visit to M Moen & Sons butchers where you'll watch a master meat-wrangler at work. Then you take your freshly cut steaks to the Cactus Kitchens cookery school to prep and eat them. £76 per person, book at airbnb.co.uk (opens in new tab)
Try An Unusual, Free Running Challenge
One for the fitter dads out there, or indeed the dads you think should be trying to get a little a fitter. You'll get full marks for innovation by taking your father on any of these three running trips in London: collecting blue plaques, crossing every bridge in the centre of the city, or visiting the streets on the London edition of Monopoly.
Fly Down The Rapids In A Hot Dog
That's right, it's not only a suspiciously delicious form of meat but also an inflatable two-man kayak that can transport you and your dad down the rapids at the Lee Valley White Water Centre. If you've never paddled a hot dog before, and it seems a safe assumption, don't fear – you get plenty of time to practise with pops before you head for the rapids. £90 per boat, book at gowhitewater.com (opens in new tab)
Brew Your Own Beer
Another excellent Airbnb experience option to consider this Father's Day, especially if you're dad is a fan of beer. Actually, only if your dad is a fan of beer. Spend the day at Brew Club in Clapton, learning about the different types of beer and brewing one of your own. And drinking, you'll also drink some beer. £50 per person, book at airbnb.co.uk (opens in new tab)
Sign up for workout ideas, training advice, the latest gear and more.
Thank you for signing up to Coach. You will receive a verification email shortly.
There was a problem. Please refresh the page and try again.