CrossFit Couples: "It Brings Unity To The Relationship"
By Chris Sayer published
What have you got planned for Valentine's Day? This pair will be working out together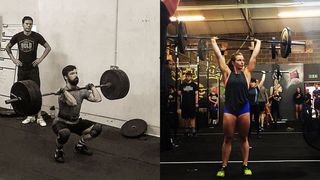 (Image credit: Unknown)
In This Series
CrossFit Couples: "It Brings Unity To The Relationship"
Pedro Ramos, 35, graphic designer/CL1 CrossFit coach and Talia Galati, 26, key leader at Lululemon
Time together: Six months
Favourite part of CrossFit: Pedro "loves a good chipper and barbell cycling workout", while Talia's always game for the Diane and Snatch WODs.
So who plucked up the courage to approach whom?
Pedro: I coach at the gym and so by default I try to feel connected with everyone a bit, but Talia was the girl I found really pretty and very nice right away. I also noticed her very natural talent for weightlifting. I started coaching her more on the movements and giving some tips. She was always amazing to coach and very polite, and things started rolling from there.
Talia: When I first started at CrossFit I was in a relationship, so meeting someone wasn't on my mind. I think I was initially shy to get involved as I didn't know many people and it was a new environment for me, but our box is so social and friendly you start to chat with new people eventually. I found Pedro very interesting, loved hearing his stories and learning about him. Eventually I started transitioning my class times to 6pm as I found out he often trained then. That's when the crush really sank in.
RECOMMENDED: CrossFit For Beginners
Why is a CrossFit box such a good place to find romance?
Talia: It really is! We know about eight couples that train together. CrossFit has such a great community, so you're able to connect with people who share the same passion and look to create an active healthy lifestyle.
Is CrossFit training something every couple should do together?
Pedro: It depends. I've met some couples that couldn't stand training together as they wouldn't accept advice from their partner or don't like the competition between themselves. But I've never seen that happen at our gym – every couple really enjoys training and pushing each other to get better. I really love training with Talia and we try to do it as much as we can. It brings some kind of unity to the relationship, as we're going through the same thing on every workout.
Talia: I think training together is great. As much as CrossFit can be an individual sport, it's also a team sport. Every relationship is different, but I think for Pedro and I it reminds us we're in life together as a team as well as to have patience with one another.
Any advice for couples who want to start training together?
Pedro: It's always got to be fun. We sometimes play a friendly game of whoever stays in second place on the WOD has to take all the gear away back to the storage.
Talia: I love that Pedro is so supportive of all my achievements when it comes to CrossFit. He keeps me grounded, and reminds me to "do it for you". And "always have fun".
Which particular move gets you competing the hardest?
Pedro: Trying to keep up with Talia's burpees is often painful.
Will CrossFit feature in your Valentine's Day plans?
Talia: Definitely. Most likely the 6pm class followed by a well-cooked meal – cooked together of course!
Craft beer drinker, Devonian, fisherman and former content director of Coach online, Chris contributed style coverage and features between 2016 and 2019.
Sign up for workout ideas, training advice, the latest gear and more.
Thank you for signing up to Coach. You will receive a verification email shortly.
There was a problem. Please refresh the page and try again.