CrossFit Couples: "Never 'No Rep' Your Girlfriend"
By Chris Sayer last updated
Essential advice from a couple who set up their own box together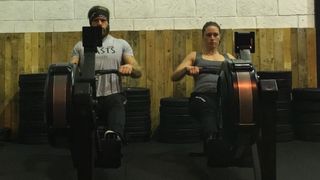 (Image credit: Unknown)
In This Series
CrossFit Couples: "Never 'No Rep' Your Girlfriend"
With Valentine's Day creeping up, our special CrossFit Couples (opens in new tab) series continues. Coach meets Tim and Jess, our third romantic pairing that not only train together, but gave up their day jobs to set up a CrossFit box together, too...
Time together: Nine year
Favourite part of CrossFit: Tim is a definite wall balls and rowing guy, and Jess loves "anything upside down"
You guys didn't actually meet at CrossFit, but now run and train together at your very own CrossFit box…
Tim: Yeah, we met at a mutual friend's birthday party ten years ago. When we met we both trained a lot. I had heard of CrossFit but there weren't any boxes local to us so I did a few bits and pieces in my garage alongside going to a normal gym. It was when we moved to London that we both really got hooked on CrossFit and started training under its methodology full-time.
Jess: Back then, we were both working normal full-time jobs in which we weren't particularly happy. We were coaching CrossFit alongside our regular work and both wished we could take it up full-time. After a particularly rough few months of work we decided to go for it. We moved back to our native Norfolk, saved up some money and took the plunge. We haven't looked back since.
How much time do you spend training together?
Tim: Lots. We're together pretty much all day every day. We train together five or six days a week for a couple of hours and try to have the same rest days so we can chill out together.
Why do you think romance is a fairly common occurrence at CrossFit?
Tim: I think it's the amount of engagement people have with one another. In regular gyms people wear headphones and do their own thing, which can make it quite an isolating experience. At CrossFit you socialise, you talk to one another, you cheer each other on and form relationships.
RECOMMENDED: CrossFit For Beginners (opens in new tab)
What does CrossFit add to your relationship?
Tim: I think it's great to have that shared experience, knowing that you've both worked hard on something that's important to you.
Jess: I can only describe it as camaraderie. Having shared some tough workouts with Tim I know it has made us closer!
What's the most unexpected challenge you've faced in setting up Saxon?
Tim: Switching off. The day doesn't end when the classes do and there is always something you could be doing. It's tough to know when to leave the work and relax. We now make sure we have time together where we don't talk about the box, training or anything else CrossFit-related!
Which particular move gets you competing the hardest?
Tim: I dread going head to head with her on handstands and handstand walking.
Jess: Rowing! I know I won't beat him but I try to set a pace with him that will make me work hard!
Will CrossFit feature in your Valentine's Day plans?
Tim: We will both be coaching together on Valentine's Day starting at 6am. At least we'll be together all day!
Give us one piece of advice to remember when training with your partner
Tim: Remember your relationship is bigger than any one workout. Don't get too serious with it all and enjoy training with someone whose company you enjoy.
Jess: Yeah. That and never "no rep" your girlfriend [claim the rep wasn't executed properly so it doesn't count].
Craft beer drinker, Devonian, fisherman and former content director of Coach online, Chris contributed style coverage and features between 2016 and 2019.
Sign up for workout ideas, training advice, the latest gear and more.
Thank you for signing up to Coach. You will receive a verification email shortly.
There was a problem. Please refresh the page and try again.