CrossFit Couples: "People See You For Who You Really Are"
By Chris Sayer published
"A sweaty mess most of the time!"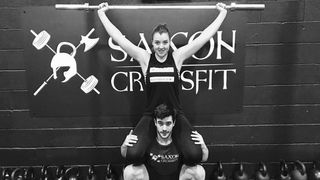 (Image credit: Unknown)
In This Series
CrossFit Couples: "People See You For Who You Really Are"
With Valentine's Day creeping up, our CrossFit Couples (opens in new tab) series continues. Meet Eden and Jordan, our second romantic pairing that found love in the CrossFit box, and prove that couples who train together, stay together...
Eden Ross, 22, nurse and Jordan Gilmour, 22, mechanical engineer
Time together: Almost two years
Favourite part of CrossFit: Eden "always get excited" when she sees cleans, while Jordan likes any workout with barbells and gymnastics.
Take us back to where it all began...
Eden: I was early to my foundations class one Sunday back in 2015 and a strongman class was finishing off at the same time, so I watched them while waiting, wondering what I was letting myself in for. When the session had finished, a nice-looking guy walked over and I wondered what he was going to say... he asked me to move out of the way so he could reach his bag.
RECOMMENDED: Crossfit for Beginners
After my foundations I was totally hooked, and trained five or six days a week. The same guy I'd seen on the Sunday was at the majority of my classes. The coach, Jess, soon mentioned that he couldn't take his eyes off of me! I told her not to be silly, but I rather liked the look of him too. Then a few weeks later he'd tracked me down on Facebook, messaged to ask why I wasn't training that day (it was my rest day) and subsequently called me lazy. That's where it all began.
Good job, Jordan! Especially as chatting up someone from the gym often comes across as kinda creepy.
Jordan: For the first few months, I tried to avoid fatal eye contact during deadlifts and squats. But really, we're both easy-going people and I never found it awkward talking to Eden. Mainly because I couldn't ever get a word in edgeways…
What happened next?
Jordan: Well we now have a flat together, so you could say it escalated quickly!
Why is the CrossFit box such a hotbed for romance?
Eden: I know of loads of CrossFit couples. I think the lovely thing about CrossFit is that you can only be yourself. You can't fake your strength or fitness. It's also such a motivational environment where everyone gives you encouragement whatever level you're at. People see you for who you really are... a sweaty mess most of the time!
Why should couples consider CrossFit training together?
Eden: It definitely gives us something to talk about and it's a great excuse to spend time together. Being in competitions together is awesome fun too, although Jord gets pissed when I'm not burpeeing fast enough!
Jordan: You get a great release of endorphins and hormones while training, which really helps to de-stress us both. It helps keep us happy at home after a busy week.
Which particular move gets you competing the hardest?
Jordan: With any lifts I always try and double Eden's max weights. That always keeps me training!
Read more from our CrossFit Couples by clicking here (opens in new tab)
Craft beer drinker, Devonian, fisherman and former content director of Coach online, Chris contributed style coverage and features between 2016 and 2019.
Sign up for workout ideas, training advice, the latest gear and more.
Thank you for signing up to Coach. You will receive a verification email shortly.
There was a problem. Please refresh the page and try again.