CrossFit Couples: Stress Is Taken Out In WODs Instead Of Arguments
By Chris Sayer last updated
But "never attempt to give your partner any CrossFit advice. Yep, I'm talking from experience"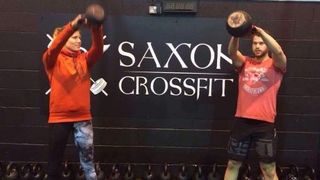 (Image credit: Unknown)
In This Series
CrossFit Couples: Stress Is Taken Out In WODs Instead Of Arguments
With Valentine's Day right around the corner, we met with four romantic partners that found love at their CrossFit box and prove that couples who train together, stay together. First up in our CrossFit Couples series is Lisa and Alex...
Lisa Johnson, 26, junior consultant and Alex Winter, 22, assistant manager
Time together: 11 months
Favourite part of CrossFit: Lisa's all about EMOMs (Every Minute On the Minute workouts) and Alex loves Olympic lifting.
So where did this all begin?
Lisa: I first noticed Alex at our CrossFit Christmas meal. He was tall, and wore a nice collared shirt and glasses. He doesn't wear his glasses at the gym so I didn't recognise him straight away. Did I think he was cute? Yes I did. On the following Saturday, we were out in Norwich for the post-competition social and Alex made the first move. He followed me to the bar (in a non-creepy way) to help with a round of drinks. While I was waiting to be served I was asking him all kinds of questions so things didn't get awkward. We continued talking for the rest of the night and he gave me a lift home, as a gentleman would. We went on our first date the following week.
Is meeting romantic partners at CrossFit a fairly common thing?
Alex: I know of three couples we train with, but I'm sure there are more. I think it's common because you're able to talk to the other members while training and get to know them on a personal level. There is also a common ground between everyone, so you're never short of conversation.
What does CrossFit add to your relationship?
Lisa: It gives us a common hobby that we both love doing, together and individually. We use CrossFit as an escape and a stress reliever – our stress from the day's work is taken out while dying in the WOD [workout of the day] instead of arguments.
Can you think of anything that's really important to keep in mind when training together?
Alex: Never attempt to give your partner advice on CrossFit, or how to do something better. Even with the best intentions it never comes across the way you say it in your head. It tends to be annoying and condescending. And yep, I'm obviously speaking from experience.
Which particular move gets you competing the hardest?
Alex: AMRAPS [As Many Reps As Possible] containing wall balls and burpees make us compete the hardest. I always win but she gives it a good go, bless her.
Craft beer drinker, Devonian, fisherman and former content director of Coach online, Chris contributed style coverage and features between 2016 and 2019.
Sign up for workout ideas, training advice, the latest gear and more.
Thank you for signing up to Coach. You will receive a verification email shortly.
There was a problem. Please refresh the page and try again.